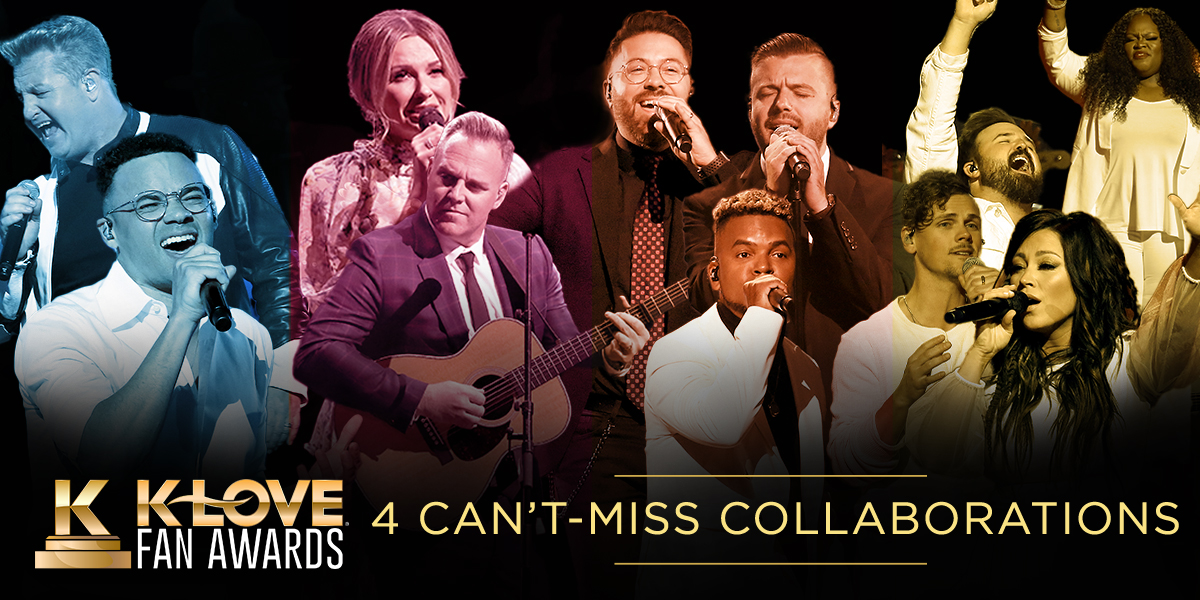 Now in its eighth year, the K-LOVE Fan Awards is known for bringing one-of-a-kind collaborations to the stage—and straight to the fans—year after year. This year was no exception. From Country crooners to Latin sensations and Gospel hitmakers, the diverse collaborations at the 2021 K-LOVE Fan Awards offered stand-out moments of worship, vulnerability, and celebration. Without further ado, here are four collaborations from this year's K-LOVE Fan Awards you don't want to miss.
1. Tauren Wells & Gary LeVox, "Until Grace"
Hitmaker @Tauren Wells and Rascal Flatts' Gary LeVox teamed up for a powerful performance of their new single, "Until Grace." The duet, plucked from Wells' latest project Citizen of Heaven, found the soulful singers matching vocal runs note for note with an enduring message laser-focused on the grace and mercy of Christ. In addition to performing, Wells was nominated for "Male Artist of the Year" and "Worship Song of the Year" for his collaboration with @Jenn Johnson on the former No. 1 smash, "Famous For (I Believe)." Meanwhile, LeVox presented the award for "Breakout Single of the Year."
2. Matthew West & Carly Pearce, "Truth Be Told"
Country music sweetheart Carly Pearce made her first appearance at the K-LOVE Fan Awards this year, performing "Truth Be Told" alongside @Matthew West. The duo stripped down the thoughtful track for a bare-bones performance that focused solely on the honest lyrics. Prior to taking the stage, Pearce explained that the opportunity to collaborate with West on the vulnerable song felt like a "wink" from God and right in lockstep with the music she wants to sing—songs full of grit and transparency. West, who hosted for the sixth year, also vied for "Male Artist of the Year."
3. Danny Gokey, Evan Craft & Redimi2, "Be Alright" / "Love God Love People"
Four-time K-LOVE Fan Award winner @Danny Gokey, Latin superstar @Evan Craft and hip-hop artist Redimi2 brought Craft's "Be Alright" to life on the Fan Awards stage before mashing it up with a special bilingual version of Gokey's "Love God Love People" from his latest effort, Haven't Seen It Yet. The upbeat performance marked both Craft and Redimi2's first appearance at the annual awards show. No stranger to the Fan Awards, Gokey, on the other hand, was once again nominated for "Male Artist of the Year," a title he won in 2016, 2017, and 2019.
4. Kari Jobe, Cody Carnes, Tasha Cobbs Leonard & Chris Brown, "The Blessing"
@Kari Jobe and her husband, @Cody Carnes, closed out the evening with a heavenly rendition of "The Blessing." Dressed all in white, the couple was joined onstage by Gospel songstress @Tasha Cobbs Leonard, Elevation Worship's Chris Brown, and a choir of voices. The "Song of the Year" contender has traveled all around the globe since Jobe, Carnes, Brown, and Elevation Worship's Steven Furtick penned the track weeks before the pandemic gripped the U.S. Moreover, Jobe was also up for "Female Artist of the Year," and Elevation Worship was nominated in a record three categories.
Ticket packages for the 2022 K-LOVE Fan Awards Weekend are now on sale. Next year's event will take place May 27-29, 2022 in Nashville.
---
Don't Miss a Beat & Sign Up for K-LOVE's Music Updates!
Get monthly emails with updates on new music, videos, and exclusives from your favorite Christian artists on K-LOVE!