As one of the premier bands in Christian music, Newsboys has always delivered melodic moments that remind fans of the truth of who they are and Whose they are. Their latest offering, "Magnetic," is no exception. The lead single from their forthcoming full-length project, STAND (available Oct. 1, 2021), "Magnetic" serves as an upbeat introduction to the group's next chapter.
"Coming out of COVID, we wanted to lead with a happy, fun, summertime song. But it still has a message, which is important. We were sitting in the studio one day; and once you get together, you never know what's going to come out. And we just started talking about Maroon 5 and how I love their grooves. When the chorus hit, we knew it was special," explains Newsboys frontman Michael Tait. "The song is about the relentless chase God has for His creation. He loves you so much that He lets you assert your free will. He puts it all out there and says, 'What are you going to choose?' But at the same time, He will pull you back into Himself. You can't escape at the end of the day."
Soaked in '80s vibes, the song's official music video reflects the vibrancy of the track itself with color and light. Lyrically, the song addresses how God's love is a greater force than any fear we might face. It paints a picture of what happens when the heart of the Father collides with the heart of His child.
WATCH NOW: Newsboys "Magnetic"
"Magnetic" marks the beginning of the next era of Newsboys as Tait and longtime bandmates Duncan Phillips, Jeff Frankenstein and Jody Davis bid adieu to Newsboys UNITED, which found them touring and recording with former band members Peter Furler and Phil Joel for the past few years—much to the surprise and delight of fans.
Heading into the fall, the iconic group returns to the road on the "God Loves You Tour" alongside evangelist Franklin Graham before headlining their own "Step Into The Light Tour," also set to feature Mandisa, We Are Messengers, Cade Thompson, and Adam Agee.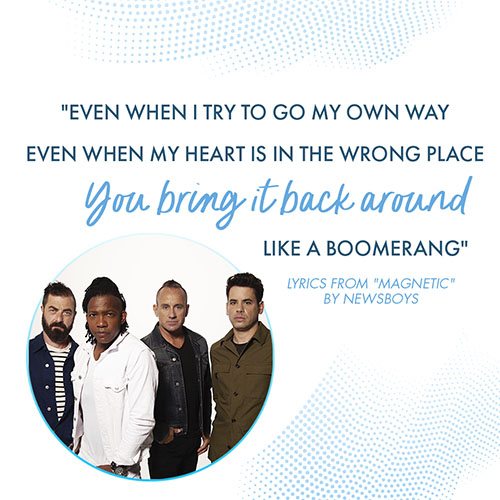 ---
Don't Miss a Beat & Sign Up for K-LOVE's Music Updates!
Get monthly emails with updates on new music, videos, and exclusives from your favorite Christian artists on K-LOVE!