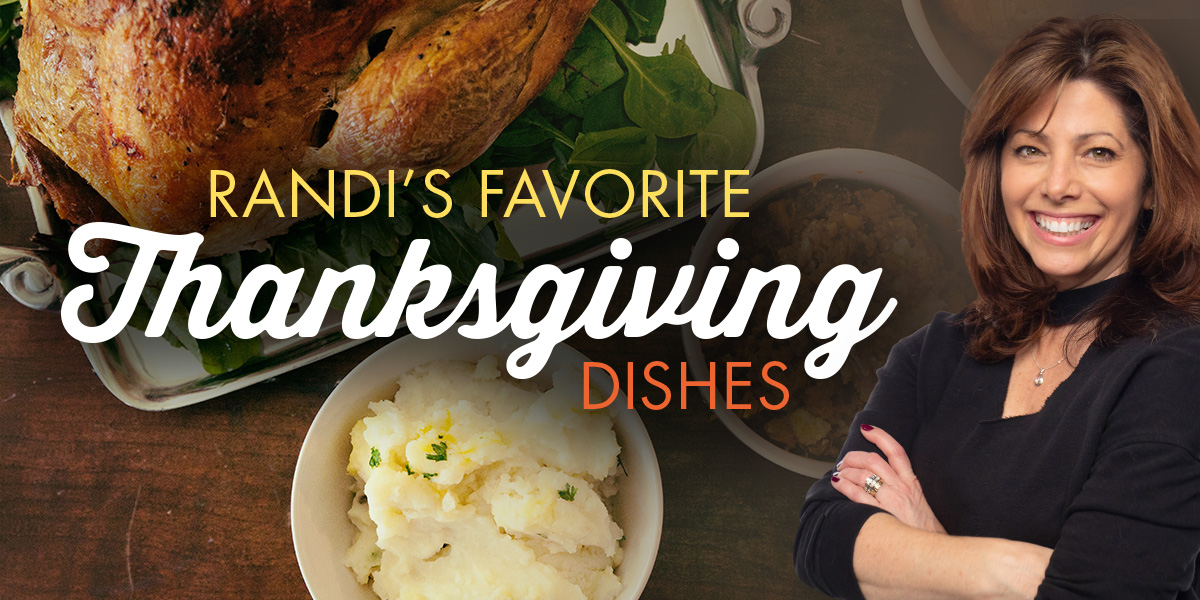 It's hard to believe that it's that time of year, again! Boy, oh boy, do we need some time off, some cozy comfort food, and our families. Bring on Thanksgiving 2020! The main dish in our house has always been the traditional Tom turkey, oven-roasted and fabulous BUT we also make sure there are some fun other "mains" for those that prefer something a little non-traditional. And because of my Italian blood, there will always be some kind of pasta or something we can throw sauce on!
---
Turkey Shepherd's Pie
So, if you choose not to throw a big ol' bird in the oven this year, why not serve up a yummy & cheesy turkey shepherd's pie! It pretty much combines your veggies, mashed potatoes, and gravy all in one yummy casserole dish! And let's face it who doesn't mash them all together on your plate anyway!
What You'll Need:
1 ½ lbs. Ground Turkey 93% Lean
Small yellow onion
3 Garlic cloves pressed
Cut green beans
Small kernel corn
Tiny peas
Diced carrots
Potatoes/Red and Russet mix
Sour cream
Crème Fraiche
Extra sharp cheddar
Chicken stock – 1ish cups
4 tbsp Butter
Salt
Black Pepper
Garlic powder
Basil
Instructions:
I use a 4-inch non-stick skillet to prep the meat and veggie mix.
Sautee the onion and carrots in a tbsp olive oil for five minutes before adding the garlic.
continue cooking until garlic is fragrant & then add ground turkey and cook through until lightly browned. You shouldn't have too much grease to drain the leaner the meat but you can still drain if you like. (Just a little tip into the sink with a heavy lid and say goodbye grease…)
Add peas, beans, corn, and gravy. You can make homemade or just use a jar of your favorite.
Gently toss to coat.
Boil potatoes – I'll do this while cooking the meat. Drain and put back in pot – Gently mash with hand masher then add 3 tbsp butter, salt, garlic powder, and basil. Add 2 tbsp of sour cream and a tbsp of creme fraiche and a cup or so of chicken broth and mix with a hand mixer – continue to add broth until the consistency you like – of course, you can sub milk for broth if you wish. Set aside. (Try not to mix too much or you'll get a "gluey" consistency.)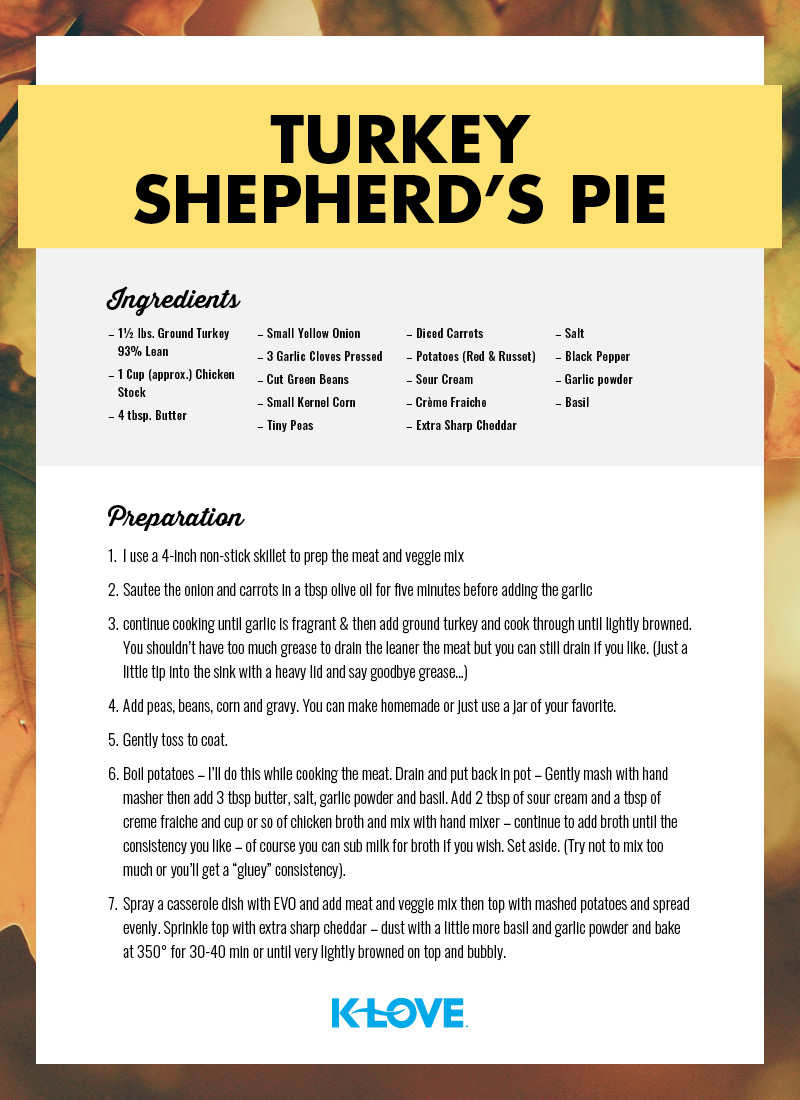 ---
Moms Sausage Stuffing!
Such a yummy memory and easy to make ahead of time for a side – also be sure to set aside a bit to stuff & cook in your bird!
What You'll Need:
2 big loaves of Italian bread, a day or two old is best. (3 if you're making a lot but then remember to add a little more of the other ingredients as well)
4 to 5 big celery stalks
1 red onion
5 garlic cloves pressed
6 links of sweet Italian sausage (or 1½ lbs ground sweet Italian sausage, you're gonna squeeze them out of the skins anyway) I use Turkey sausage for less fat.
2 tbsps. Bells seasoning or a combo of ground basil, oregano, thyme & rosemary
2 eggs
A good Sprinkle of kosher salt and good ground of black pepper
Instructions:
Pre-cook the sausage (if using links, squeeze the meat out of the skin) and sauté the onions, garlic, and celery till tender – set aside. (Remember to drain the grease from the sausage) Here's the weird part; Break the bread into big chunks and lightly run under warm water so you can easily crush and pull apart with your hands before adding to a big mixing bowl. Squeeze out as much of the water so the bread falls apart basically. Once the loaves are gone and your bowl is full – time to bring it all together. Add the sausage, the celery, onions, garlic, the seasonings, and the eggs, and get in there with your hands! (gloved for safety these days) but your hands are going to mix this best.
When it's all combined do the smell test. Lol. Basically, if you smell more bread than anything else – add a little more seasoning. You want to smell a yummy combo of celery, onions sausage, and seasoning and not just a boring bready smell.
Lightly spray a casserole dish and add stuffing. At this point, if you are stuffing the bird – stuff right before cooking and fill a casserole dish with the remaining mix.
On its own, cover & bake at 350 for 35-40 min (uncovered the last 15) or until lightly browned on top. Halfway through you can add/baste in a bit of turkey stock.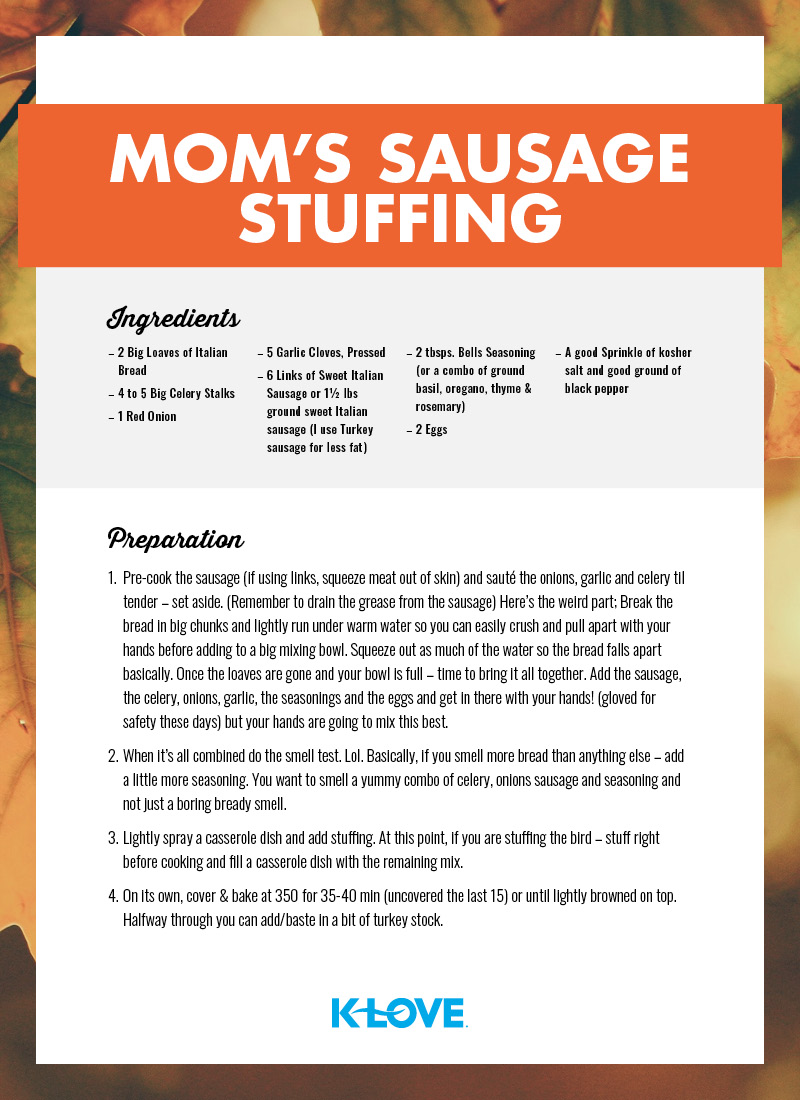 ---
Caprese and Olive Salad Starter
When you think Caprese salad you think of little balls of mozzarella and cherry tomato but this salad takes it up a notch. Saw it years ago and haven't made it any other way – it just looks too pretty!
What You'll Need:
3 Big Tomatoes on the vine or beefsteak
Fresh mozzarella balls – enough for at least 12 slices
Fresh Basil leaves – at least 12
Small bottle of Balsamic Glaze
1 Jar of Garlic or blue cheese stuffed green olives (or both!)
1Jar of small pimento-stuffed olives
1 Jar of Calamata olives
Can of large black olives
Block of extra, extra sharp cheddar - cubed
Block of pepper jack- cubed
(Optional – pepperoni, I use turkey or prosciutto)
Instructions:
With a sharp paring knife, make three to four slits in the center of each tomato, this is where you'll be inserting a slice of the mozzarella – I do three but depending on how big the tomato or how thin your slice you can do 4 or even 5.
Carefully wedge a piece of mozzarella in each slit and then with your knife slide a fresh basil leaf in the slit as well.
On a lovely serving platter arrange the three tomatoes and mozzarella in a row in the middle and then simply arrange the platter how you like. Olives mixed or separated on each side with cheeses in the middle – you can add anything else your family loves that's the best part! Radishes, cukes, goat cheeses…bring 'em on!
Simply drizzle with Balsamic glaze right before serving!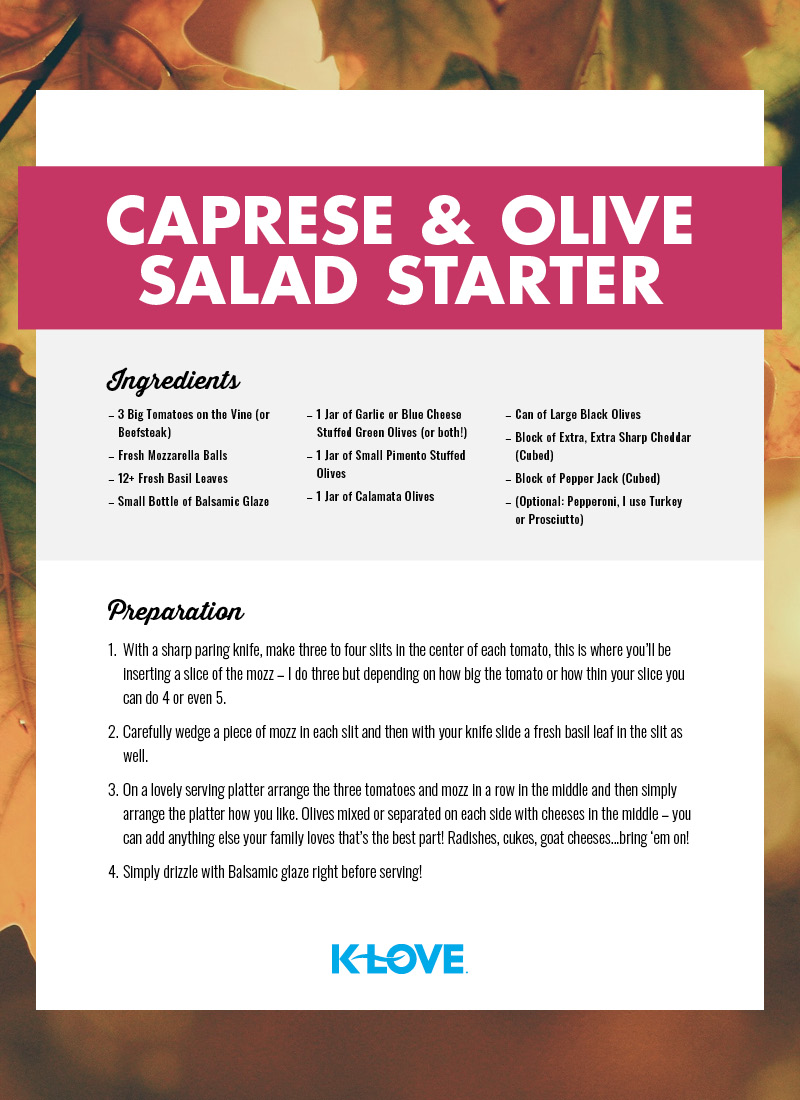 ---
Mini Apple and Cherry Pies
This is why we love the doughboy!
These crazy easy and yummy little bite-sized "pies" make a great addition to your dessert tray!
What You'll Need:
Muffin/cupcake baking tins
Pillsbury Pie Crusts – 1 or 2 packages depending on how many little pies you're making.
Your fav cherry pie filling
Your fav apple pie filling
Whipped Cream – Redi/Cool or Homemade with heavy – you choose!
Instructions:
Simple roll out pie crusts and cut dough in circles or squares with enough to gently fill your tins.
Gently fit the dough into ungreased muffin cups and spoon about 2 tablespoons pie filling into each crust-lined cup.
Bake at 425°F. 14 to 18 minutes or until edges are golden brown and filling is bubbly. Let cool - Top with whipped cream if desired and serve! SO good!