Posted on Wednesday, Sep 01, 2021 by K-LOVE Staff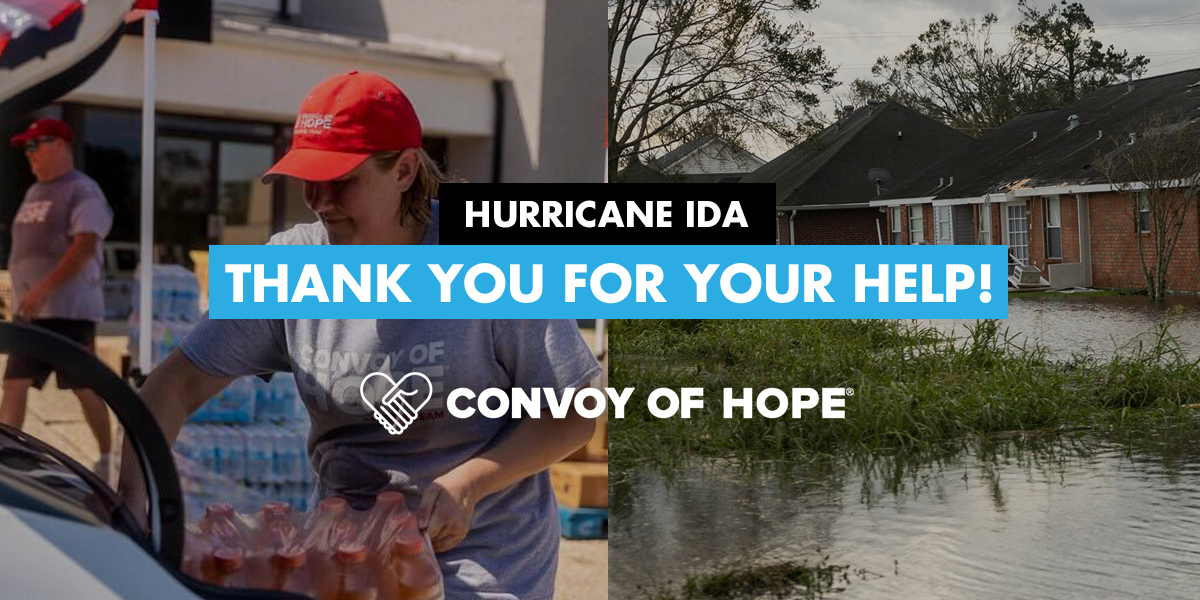 K-LOVE Audience Donates $3.5 Million to Hurricane Ida Relief Efforts Through Convoy of Hope
The crisis response to the monster storm, Category 4 Hurricane Ida was immediate.
Even before the 150-mph winds, torrential rain and flooding began this week, Convoy of Hope was in position in northern Louisiana to assist the tens of thousands of impacted families.
During a 20-hour, on-air fundraising drive and the surrounding days, the K-LOVE audience generously donated more than $3.5 million dollars. One hundred percent of the gifts go directly to Convoy of Hope, funding supplies and transport of more than 400 semi-trucks. The trucks deliver the supplies to local churches for distribution in areas hit the hardest. Convoy of Hope uses churches as their base in disaster areas to pass out needed food and relief supplies so locals see believers in action, aiding their community and meeting their needs.
"Every day, the ministry of K-LOVE goes forward to share the truth of the Gospel around the world because of you, our generous listeners," Educational Media Foundation & K-LOVE CEO Bill Reeves said. "When we know disaster relief and on-the-ground assistance is needed, we love to partner with Convoy of Hope for the excellent support they provide in conjunction with local churches. When you see the devastation, you want to help, and your generosity is outrageous!"
Utilizing their strategic partnerships, Convoy of Hope is able to multiply the reach of a donation to five times the retail amount, a single case of water becomes five when you give through Convoy of Hope. With Ida's widespread impact, additional deployments are expected in Mississippi, Pennsylvania, New York and New Jersey.
"We're blown away by the support of the K-LOVE audience and thankful for these funds and how your gifts will serve families who are in crisis and need our help physically, emotionally and spiritually," Reeves said. "Thank you!"

To further the relief efforts even further, give to Convoy of Hope by clicking here.