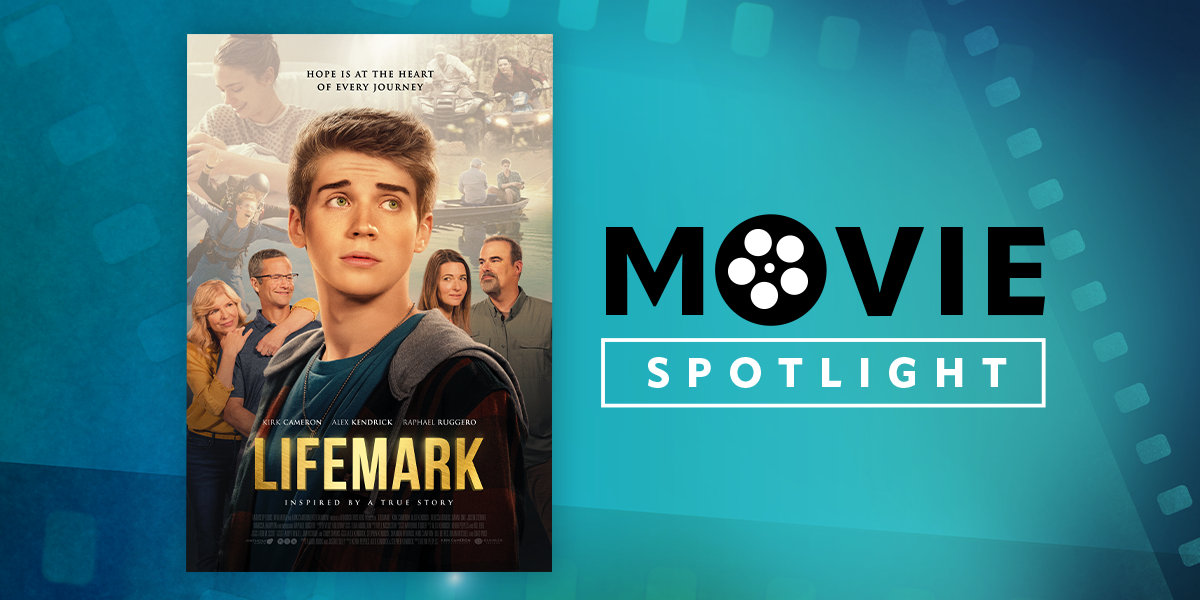 After teaming up for "Fireproof" in 2008, the Kendrick Brothers and Kirk Cameron, are reuniting for "LIFEMARK", a film that conveys how, ultimately, one decision can change the trajectory of your entire life and the lives of countless others. The movie, in theaters Sept. 9, 2022, for a limited run, advocates for adoption.
Based on the real-life story of David Scotton, as chronicled in the documentary, "I Lived on Parker Avenue," "LIFEMARK" follows 18-year-old David on an incredible journey to meet his birth parents. While David is the main character in the nearly two-hour film, his story is shared through multiple lenses thanks to a talented cast that includes Cameron ("Growing Pains," "Left Behind") — a dad in real life to four adopted children — Alex Kendrick ("Courageous," "Overcomer"), Rebecca Rogers ("Walking in Southport, Texas Rein), Dawn Long ("Treasure Lies," "Cowboys"), Raphael Ruggero ("The Assignment"), Justin Sterner ("American Detective," "Kid Combat") and Marisa Hampton ("The Reliant," "Dynasty").
Click HERE to Visit the "LIFEMARK" Website and Purchase Your Tickets!
Throughout the movie, the storyline dips into the past à la "This Is Us"-style, courtesy of a gifted hair and makeup department. In a series of flashbacks, viewers step into the events that led to David's adoption — from the birth mother finding out she's pregnant as a teen and choosing to give the baby up to the adoptive parents struggling to start a family and enduring the emotional peaks and valleys that often define the adoption process.
The storyline also explores the present-day nuances of David's biological parents, who have since both married other people and created lives and families far-removed from the baby they once shared and relinquished. In contrast, "LIFEMARK" also shows the loving Christian home David was adopted into.
True to how the narrative unfolded in real life, David's best friend captures the entire experience on video as he embarks on a trip from Louisiana to Indiana to meet his biological parents for the first time after his mother reaches out via social media. The beautiful story of reconciliation proves unpredictable at every turn as each character truly embarks on a respective odyssey of self-discovery. While the subject matter remains serious and the backstory is told with surprising depth and emotion, there's a bit of humor and hijinks thrown in to provide welcome moments of levity.
Asking big questions like, "Who am I?" "Where do I come from?" "Why am I the way I am?" and "Does my life matter?" "LIFEMARK" is a celebration of adoption, family and second chances. But, ultimately, it's a deep dive into the ripple effect of choices and consequences, for better or worse.
David's birth mother makes a choice to give him life, but then she also makes a choice to give him up. David's adoptive parents make a choice to choose him and raise him in a Christian home. And eventually, David makes a bold choice to courageously step out in faith to uncover where he came from.
"We believe 'LIFEMARK' will inspire countless people and churches at this pivotal time to get more involved in supporting life and adoption," says Executive Producer Stephen Kendrick. "This movie has something for everyone. It's inspirational, entertaining, and also life-changing."
His brother, Alex, echoes a similar sentiment. "It is a joy to be able to bring this real-life story to the big screen," he adds.
While "LIFEMARK," rated PG-13, is a family movie void of profanity or inappropriate content, the themes explored and openly discussed throughout the film, including unplanned teenage pregnancy, abortion and adoption, might not be suitable for young children. For more information, visit lifemarkmovie.com.
---
There is a novelization by Chris Fabry (Tyndale) as well as a Bible study taught by Kirk Cameron (Lifeway). Learn more about each here.