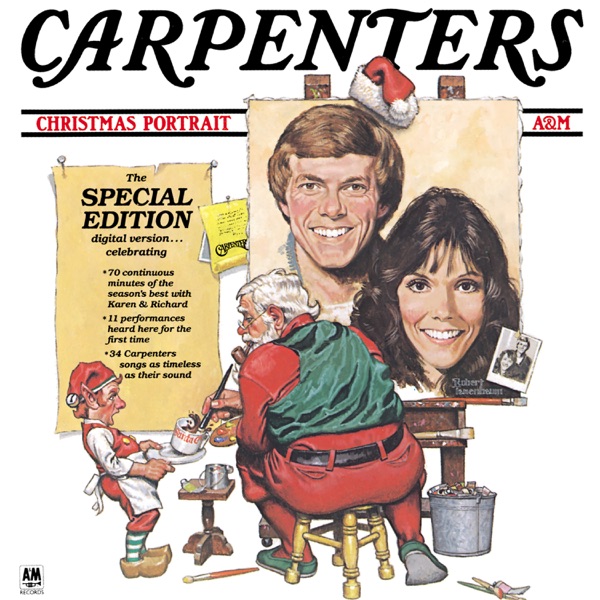 Christmas Portrait (Special Edition)
1978
Artist Info
A sweet memory. Your absolute favorite. An awesome discovery.
We've Only Just Begun. Yesterday Once More. Goodbye To Love.
With a trademark sound highlighted by brother Richard's multi-layered production and sister Karen's timeless voice, the Carpenters set a new standard for melodic pop.
The public caught on immediately, making the Carpenters the top-selling American artists of the 1970s.
Key critics were there from the start. And, over time, most opinion makers eventually came around. A 2017 Rolling Stone article reflected on Karen and Richard's work, noting there "has been a gradual reassessment and celebration of Karen's extraordinary contralto and The Carpenters' catalog."
Some 50 years on, the Carpenters remain among the best-selling legacy acts worldwide.
And now there's the newly produced Carpenters With The Royal Philharmonic Orchestra (dropping December 7), with fresh orchestrations augmenting the original recordings.
It's for those who fondly remember, those who have long loved, as well as for those about to be introduced to the music of Richard and Karen Carpenter.
The short-form story of the Carpenters is that Richard and Karen grew up with dad and mom, Harold and Agnes, in New Haven, Connecticut. Dad, who was an avid record collector, hated the frigid New England winters. So, in June of 1963, the family moved to a suburb of L.A., Downey, California. While there, Karen fell for the drums and Richard found Karen's voice. After glimmers of success in other iterations, by the late '60s, they became a duo: Carpenters.
After Richard and Karen signed with A&M Records on April 22, 1969, label co-founder Herb Alpert said, "Let's hope we have some hits." Seven months later, the duo delivered the first: a daring deconstruction of The Beatles' "Ticket to Ride." Richard and Karen transformed The Fab Four's raw, rocking classic into a lushly produced, plaintively sung ballad. Carpenters' version peaked at No. 54 on the Billboard Hot 100 singles chart.
The first album, Offering (later repackaged and retitled Ticket to Ride), was a collection of re-recordings of songs originally done in busy session bassist Joe Osborn's garage studio, along with some newly composed tunes and covers. Offering offered a hint of what was coming: masterful production and arrangements, and a voice on the verge of all-time greatness.
After Offering, Karen and Richard were almost immediately back in the studio working on the next record, when Alpert suggested they record a Burt Bacharach-Hal David song that had been tucked away for years: "They Long To Be Close To You." Neither Carpenter was thrilled with the choice. But Alpert believed that with an arrangement by Richard, Karen's marvelous alto and the duo's multi-tracked harmonies, the song could have potential, and he was absolutely right. The record was an overnight smash and on July 25, 1970, the Richard-repunctuated "(They Long To Be) Close to You" marked the first of a four-week run atop the Hot 100, marking the start of an unbroken string of top-20 Hot 100 hits that would continue for an astounding six years, including such classics as "For All We Know," "Rainy Days And Mondays" and "Superstar."
The Carpenters won three Grammy Awards, and an American Music Award. They topped the Billboard Top 200 album chart with The Singles: 1969-1973, scored three Hot 100 No. 1s. Globally, they were hugely successful, as well, with 1974 tour stops in Japan getting Beatlemania-like fan receptions.
Richard and Karen Carpenter were, indeed, on top of the world.
However, between 1971-75, they performed more than 800 concerts. That's a jaw-dropping number of live shows for any act — no less one that was best at delivering meticulously produced, often-dazzling studio recordings.
The touring combined with recording demands took personal tolls, but the hits just kept on coming.
In December 1976, The Carpenters' Very First TV Special landed at No. 6 in the Nielsen ratings, and led to an ABC contract resulting in four more specials. Back in the recording studio, Carpenters shook things up with the experimental 1977 Passage, which included an epic cover of Klaatu's otherworldly "Calling Occupants Of Interplanetary Craft (The Recognized Anthem Of World Contact Day)," which became a global chart success. Passage also took Carpenters for its one trip into the US country top 10 single chart, with the Juice Newton co-penned "Sweet, Sweet Smile."
A year later, Carpenters enjoyed one of its biggest hits. Eight years after producing an instant holiday classic with the single "Merry Christmas, Darling" came the long-awaited Christmas album, Christmas Portrait, which remains a strong seller each holiday season.
With Richard on a much-needed break, Karen went to work in New York with producer Phil Ramone on a solo album. But reception at A&M was tepid, the project shelved and it was back in the studio for Carpenters, which delivered the album Made in America. Released in 1981, it produced the duo's last Hot 100 top 20 single, and the last of 15 Billboard adult-contemporary chart No. 1s, "Touch Me When We're Dancing."
Karen passed from complications of anorexia nervosa February 4, 1983.
Richard forged ahead, producing four more complete collections of Carpenters material never released on albums, overseeing reissues and other Carpenters-related projects, releasing his own two solo albums, overseeing the belated release of Karen's solo effort, producing albums and tracks for other artists and performing occasional concerts.
For much of 2018, Richard has been working on Carpenters With The Royal Philharmonic Orchestra (RPO). He composed a huge new overture and between-track interludes, as well as the fresh orchestral arrangements to accompany the original Carpenters recordings. He conducted the RPO sessions at London's Abbey Road Studios in August. Then it was back to Los Angeles, for more recording and post-production at Capitol Studios in Hollywood.
Richard and wife Mary also keep busy with philanthropic efforts, including the Carpenter Family Foundation, The Carpenter Family Theatre in Westlake Village and Richard and Karen Carpenter Performing Arts Center at California State University in Long Beach California.