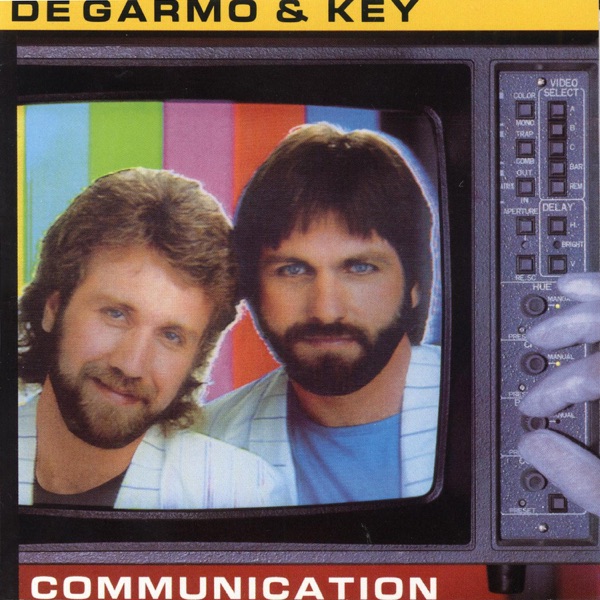 Artist Info
Edward DeGarmo and Dana Key met each other in first grade and began a lifelong friendship as they grew up in Memphis, Tennessee not far from the famed Graceland, the home of rock icon Elvis Presley. Forming their first band, The Sound Corporation in sixth grade, they wed their friendship with the bond of musical expression. While in high school their band Globe actually landed a recording contract with Hi Records, though no album was ever released. In 1972, Eddie attended a church service and saw Jesus Music pioneer Dallas Holm playing electric guitar, who that night led Eddie in prayer at the service. Soon sharing this experience with his friend, Dana accepted Christ, as well.
Both decided to leave the band, Globe, and this started their journey writing music together that reflected their new found faith. Since rock and roll was the music they knew, it became the style they wrote their songs in. Though facing some of the early resistance from the church towards rock being used for Christian expressions, they became convinced that sharing the Gospel through music was their destiny. Hearing Larry Norman's Only Visiting This Planet encouraged them in their musical calling.
Recording a demo of their new musical creations, Lewis Willis of Allied Recording Studio in Memphis, pitched the demo to Hi Records, but its parent company, London, did not know how to promote Jesus Music rock and roll. Christian record labels were pursued after this, but were not too keen on the duo's rock style. But a call from Pat Boone confirmed his interest in wanting to sign the band to his small label called Lamb & Lion.
In 1978, under the DeGarmo and Key designation, they recorded their debut album This Time Thru utilizing studio musicians. Two musicians, Ken Porter, who played bass on the debut and drummer Terry Moxley, who toured with the band, would become a part of the band for their second album, 1979's Straight On, regarded by many to be the band's masterpiece. Unable to support financially a full time band led to studio musicians being used for the band's third album, 1980's This Ain't Hollywood, which holds the distinction of being the first Christian rock album ever to be nominated for a Grammy award. This third album featured a duet with another Jesus Music pioneer, Amy Grant, who sang a duet on the song "Nobody Loves Me." This connection led to Amy using DeGarmo and Key as part of her backing band for her live concerts, who both appear on Amy's two concert albums released in 1981. The band also released their own in concert album, the sprawling double album, No Turning Back, in 1982, one of the finest live albums ever released in Christian music history.
Signing to Power Discs, the band released their fifth album, Mission of Mercy, and this signaled a change away from the more classic rock sound of the previous albums, to a more pop/rock sound. This stylistic change yielded greater success for the band gaining them more radio airplay, as the song "Let the Whole World Sing," co-written with Bob Farrell, reached #1 on the Christian charts in 1984.
The band continued to find success releasing successful albums, such as 1984's Communication, which featured "Six, Six, Six," the first Christian music video played on MTV, which also was removed by MTV and had to be reedited due to a scene in the video considered to be too violent before MTV would allow it back on the channel. 1985's Commander Sozo and the Charge of the Light Brigade featured a song "Destined to Win," which would go on to remain one of their most well-known songs, and reached #2 on the Christian music charts. 1986's Street Light saw the band return back to their classic rock roots, and featured a new version of the song "Addey," which first appeared on their debut album, This Time Thru, and the song "Every Moment," was played on MTV, and reached #1 on the Christian music charts. 1987's D&K continued their return to a more rocking sound, and is considered a high water mark for the band, featuring stand out classics like "Rock Solid," "When the Son Begins to Reign," which reached #2 on the Christian music charts, and "Stand," which reached #6. This was followed by another live album, Rock Solid: Absolutely Live in 1988, which is distinguished as being a true live album as no overdubs were added, as is often common on live albums. The Pledge followed in 1989.
Benson Records signed a deal with DeGarmo and Key in the late 1980s to give them the rights to all of their albums, which led to the formation of Forefront Communications. The band recorded three more albums under the Benson label, 1991's Go to the Top, 1993's Heat It Up, and 1994's To Extremes, before announcing their retirement. Eddie continued his involvement with Forefront Records, which established many notable artists, while Dana began a record label with Ardent Studio in partnership with Forefront. Forefront was eventually sold to EMI, with Eddie becoming the president of the largest Christian music publishing company, Capitol Christian Music Group. Dana went on to become the pastor of The Love of Christ Community Church in Cordova, Tennessee. Dana Key passed away in 2014 entering into his Heavenly home, and Eddie retired from his role with Capital Christian Music Group.
Inducted into the Gospel Music Association Hall of Fame in 2010, DeGarmo and Key have truly been pioneers in the history of Christian music, and their catalog of music stands the test of time as being some of the most influential and groundbreaking recorded output ever released in Christian music. Their legacy continues on for those who were there from the beginning to new fans today who are discovering this band's incredible output of high quality, Biblically based music. They truly were "rock solid in the Master's hand."