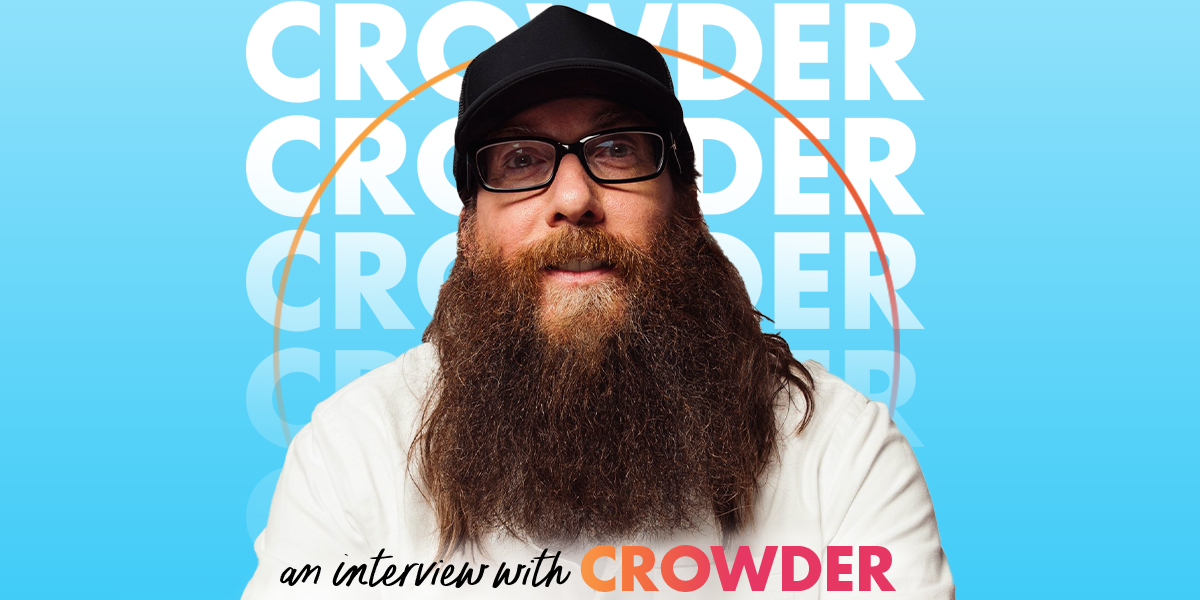 When Crowder logs on for our Zoom interview, it looks like he's calling in from space. Behind him, blue light illuminates an all-white minimalistic room, with the exception of a fiery orange couch. Wearing a ball cap, flannel, and his signature beard, the iconic singer/songwriter explains that his wife, Toni—an interior designer—actually designed the basement studio where he's now sitting and confirms that he is, indeed, calling in from planet Earth. (Atlanta, to be exact.) In fact, Toni designed their entire home—a residence built in the late '80s whose original dated aesthetic Crowder describes as a combination of Scarface meets Miami Vice.
"The home was voted the ugliest in Atlanta when it hit the market. I'm not kidding you," Crowder insists. "Curbed magazine is a real estate magazine in town, and it was like, 'This is the ugliest house on the market. Who in the world would buy this?' Of course, my wife will. She likes hopeless causes. That's why she's married to me."
Toni had the house remodeled down to the studs, and conveniently, Crowder's future-oriented studio was finished the week the world shut down at the start of the COVID-19 pandemic. Like a mad scientist, the hitmaker hunkered down to write songs that focused on the promises of God in his freshly tripped-out home studio. And soon, he had a full-blown album of new songs aptly titled Milk & Honey.
"The two words that were in my head this whole album process were harmony and unison," Crowder says, "and I love that those are musical terms because it looks like that's what we could use a lot more of." Then he quotes one of his musical heroes, Southern Gospel legend and award-winning songwriter Bill Gaither: "It's very difficult to argue when you're trying to harmonize."
Using Exodus as his blueprint, he followed the Israelites' journey out of exile and into Canaan, a land "flowing with milk and honey." He soon realized a global pandemic felt a lot like the wilderness the Israelites trudged through for 40 years; he could only hope the current quarantine didn't last four decades.
"I had the title of the album before I had written any songs for it," the singer admits. "I had the idea that we're not going to be here forever. We're headed some place, and there's something on the other side of this that looks more like the intentions of God. And I'm like, Please, hurry soon, dear Lord, because these Zoom calls are gettin' rough."
Looking forward, Crowder aimed to write songs we could sing together on the other side of this unprecedented season. "I loved that I knew I was writing in a moment that was a shared moment," he says. "Globally, we had a traumatic experience together. Psychologists tell you all the time that when you go through trauma, you bond with those that you go through it with."
The songs on Milk & Honey reflect this ethos. The 12-track collection sounds communal, emphasized by collaborations with Maverick City Music, Dante Bowe, and Hulvey, who complement many of the selections with a Gospel choir feel that evokes old-school singalongs.
Lyrically, the album focuses listeners' eyes and ears straight ahead. Sonically, it builds on Crowder's previous efforts starting with his first solo endeavor in 2014. That album, Neon Steeple, merged two very different genres into one spectacular amalgamation that intentionally set Crowder apart from his former work with David Crowder Band.
Wielding Appalachian stringed instruments like banjo, dobro, and acoustic guitar, Crowder created an entirely unique genre that he dubbed "porch music." Next, he added in his favorite electronic elements from the EDM world, likening DJs headlining huge international EDM festivals to what he was attempting to do in the church.
"The reason a DJ is a world-class DJ is because his talent lies in bringing a bunch of people together who come from disparate places and making them into one collective," he concedes. "On a Sunday morning, I'm trying to do the same thing. I'm trying to organize sound in a way that brings a lot of people that are coming from a lot of different places into somewhat of a whole so that the story of God can exist and be transformative among them. I'm always trying to mix different things to try to make something that feels really compelling."
Along with a dash of porch music and a hint of EDM, Milk & Honey also borrows the urban sounds found on American Prodigal and I Know A Ghost, both heavily influenced from the hip-hop beats coming out of his home-base of Atlanta—beats that subtly form the backbone of Crowder's No. 1 hit, "Good God Almighty." The upbeat track was an instant smash, earning a nomination at the 2021 K-LOVE Fan Awards; and no one was surprised by the song's immediate resonance more than the singer himself.
WATCH NOW: Crowder "Good God Almighty" Official Music Video
"I thought it was going to be too aggressive for radio," Crowder admits. "There's a defiance to it, and the statements are so big. It's like a turn of phrase with 'Good God Almighty' to say, 'I'm going to take something bad and make it good.' That's what God does. God is God, and He's still good, and He's still in control. After being in such a moment like this, we can still say that. So I was hoping that the sounds wouldn't prevent the song from having a life. I was hoping other people would be feeling the same stuff I was feeling."
Crowder was also feeling the tension of racial injustice, which was given a megaphone by nationwide protests in 2020. That's one reason why he wanted Maverick City Music, another product of the ATL, to bring their natural spirit of inclusiveness to the project.
"During this season, it's been incredible what I've seen happening in church music with Maverick City and a lot of what you might term modern, liturgical musician acts, or even communities that have music coming from them, like Elevation Worship," Crowder offers. "The cultural lines are so blurry. We're modeling the differences between one another in a way that looks beautiful. It feels like church music is ahead of culture in this conversation in a way that I couldn't be more excited about being a part of."
He's so excited, in fact, that it gets him "all wound up," as he likes to say. That's Crowder code for "animated." Thus, it's easy to understand why the East Texas native is resolute in his efforts to bring people together from all faith backgrounds, creeds, and ethnicities on Milk & Honey.
"Somebody put those lines here that do not exist, and they're sinful and have no place in the body of Christ," he remarks of current racial divides. "I definitely wanted to add whatever fuel to that fire I could to say, 'This is what it looks like to love Jesus and to love one another and to love your neighbor as yourself, to value one another in a way that looks like self-sacrifice.'"
It's actually reflective of the way Crowder and his younger brother were raised. The "Come As You Are" singer recounts many a VBS in the Lone Star State where he single-handedly survived on copious amounts of Kool-Aid and macaroni necklaces.
"My parents were super devout in their faith. We were at the First Baptist Church on Sunday mornings and then some Pentecostal or Assemblies of God—wherever the Holy Spirit was moving, where you could bring tambourines—that's where we were the rest of the time. So we got a really broad picture of the church early on. Me and my brother liked the more energetic services where we were given instruments," he remembers. "I'm amazed that I came from an environment that was so loving and intentionally shaped around how we could know and follow Jesus."
Crowder took this same mantra with him to Baylor University where he started writing songs for students that he felt better fit a collegiate setting. Thanks to a strong friendship with pastor Louie Giglio, Crowder became an integral leader in the Passion movement. Today, he's a part of Giglio's Passion City Church in Atlanta. For Crowder, Passion City is family. And it's this family he's missed the most during the pandemic.
"There's this thing that happens in community that is very difficult to replicate when we're distant from one another because we're not made for that," he attests. "I don't think anybody could've foreseen or prepared for church just not happening overnight. I totally took that for granted, that we could gather together on a Sunday. Never would I think, 'No, you can't go to church and be with your people.' That possibility just never entered my head. Boy, did we miss one another."
He also missed the kind of church he brings to venues across the country. This fall, he'll remedy that with a 30+ date tour in support of Milk & Honey, featuring fellow Passion City friends Chidima and Sean Curran.
Crowder will finally get to hear new songs like "Good God Almighty" sung in the way they were always intended to be sung—together. "I like to say I hope I never have to make an album like this again, but it was, in a lot of ways, an amazing, miraculous gift to be forced into a pace that allowed for a lot of introspection, as well as the ability to maybe see past the present," he remarks. "I think a lot of times we're so busy that it's very difficult to imagine where we are going to be in the future, and it feels like this is a very future-oriented album."
---
Don't Miss a Beat & Sign Up for K-LOVE's Music Updates!
Get monthly emails with updates on new music, videos, and exclusives from your favorite Christian artists on K-LOVE!