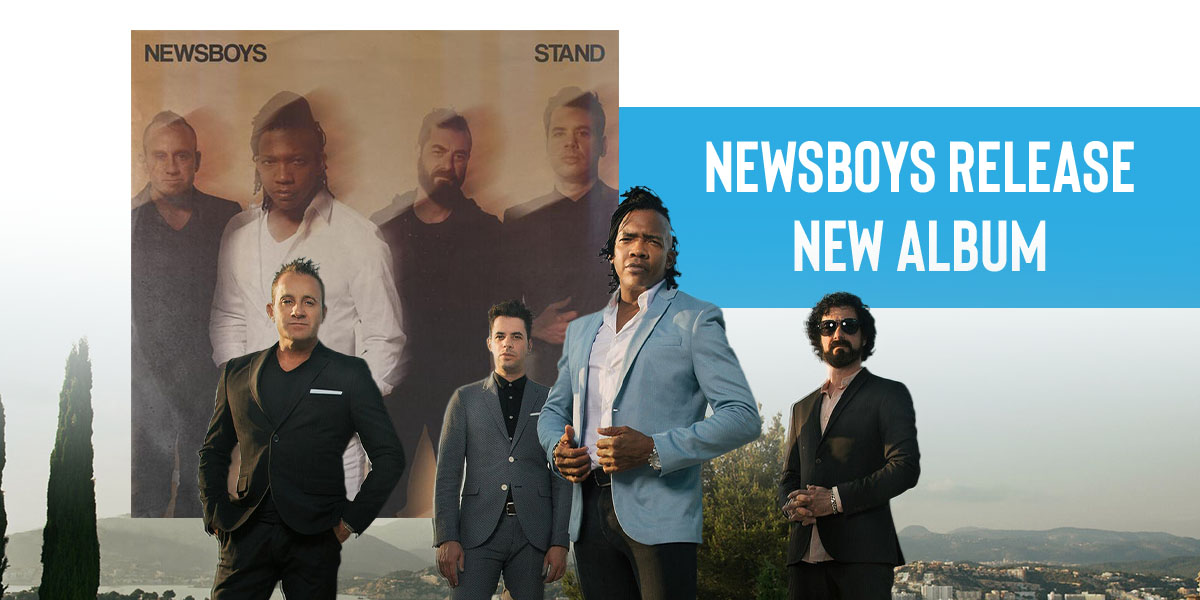 Newsboys Reaffirm Where They STAND With New LP
The @Newsboys have never been shy about their beliefs. In fact, ever since they began making music in Australia, the band has spent the last three decades sharing bold, faith-fueled songs that don't mince words like "Shine," "We Believe" and the 2x-Platinum mega-hit "God's Not Dead," which inspired an entire film franchise. Now, having clocked more hours in the studio than at any other point in their career, the group reemerges with an album that taps into that same fearlessness with STAND.
The band's latest offering follows a rewarding season of recording and touring that saw the outfit's current lineup—comprised of Michael Tait, Duncan Phillips, Jeff Frankenstein and Jody Davis—joining forces with former members Peter Furler and Phil Joel for Newsboys UNITED. While Furler and Joel have once again left the current iteration of Newsboys to their own devices, STAND draws on the collective strengths of the band, which have allowed Newsboys to remain at the top of their game through the years even while switching out lead singers.
While the record maintains the group's signature pop that has propelled them to the top of the charts countless times, STAND encapsulates one element that no Newsboys record has ever possessed—time. Although the recent pandemic unexpectedly forced the band off the road, it also afforded them ample time in the studio to experiment and perfect this new batch of songs. The result is an expertly crafted collection of 10 tracks pared down from nearly 50 contenders that Tait brought to the table.
As evidenced by its groove-laden lead single, "Magnetic," STAND boasts contagious hooks, hope-filled lyrics and just plain fun sonic elements. From front to back, the record is upbeat, laser focused on Gospel-led themes like God's ability to instantly change a situation ("Ain't It Like Jesus"), the power of gratitude ("Blessings On Blessings") and the promise-keeping nature of Jesus ("No Doubt").
WATCH NOW: "Magnetic" Official Music Video
Standout track "I Still Believe You're Good" is a post-COVID anthem of praise as we slowly emerge from the wreckage of a global pandemic and nationwide racial division. Meanwhile, the powerful title-cut reaffirms Newsboys stance.
LISTEN NOW: "I Still Believe You're Good" Official Visualizer
"We tried to write a song that speaks to the very purpose and mission of every human. We finished the song and were like, 'This feels like an album theme.' And especially nowadays in the face of so much hate. I mean, let's face it, I'm a man of color, and people are trying to tell me black and white can't get along; we don't like each other," Tait explains of the selection that gave the full-length project its name. "When people ask you, 'Where do you stand? Tell me the hope that lies within you,' believers in Christ should stand. The Bible says God would rather you be cold or hot, not lukewarm. You're not standing if you're standing in the middle. You have to choose a side. If you're going to be a bad boy, be a bad boy. If you're going to be a God follower, then be a Jesus freak."
The iconic band will take their new music from STAND across the country this fall on the "Step Into The Light Tour" where they'll share the stage every night with @Mandisa, @We Are Messengers, @Cade Thompson and Adam Agee.