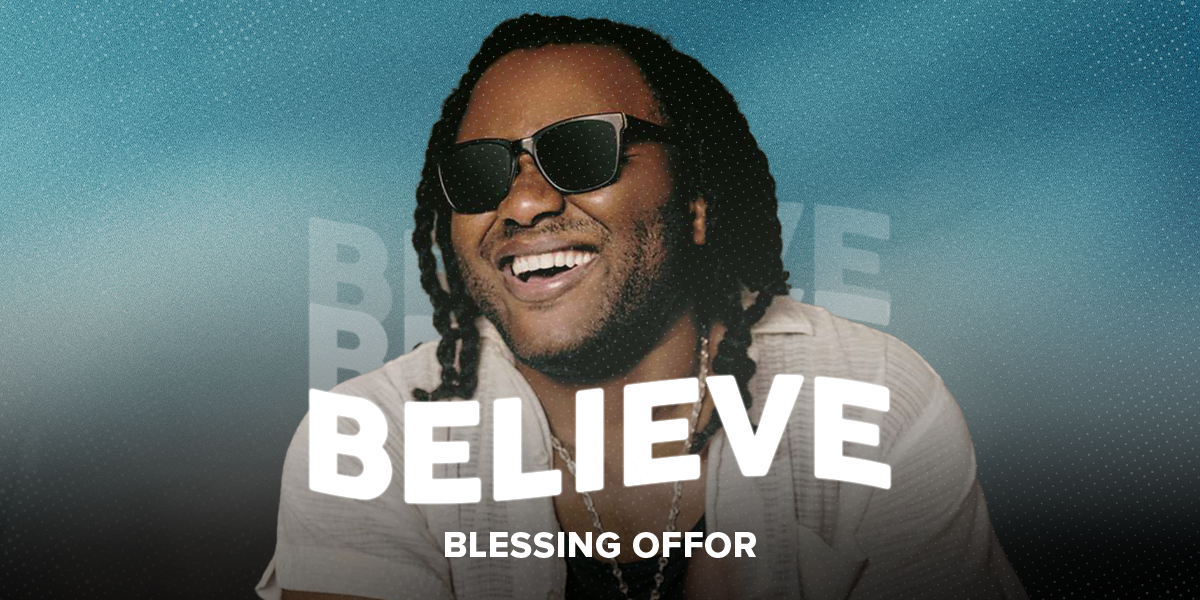 Newcomer @Blessing Offor follows his hit, "Brighter Days," with the gut-level honesty of "Believe." The soulful R&B selection found on his "Brighter Days" EP asks questions we've all had but were, perhaps, too afraid to voice.
WATCH NOW: "Believe" Official Music Video
"So the concept of 'Believe' is this internal wrestling dialogue — almost negotiating — because I think we all have these misconceptions of God as this fairy, genie person that gives us whatever we want," Offor says. "At the end of the day, you realize that just 'cause you have faith, it doesn't mean life is magically perfect."
RELATED CONTENT: K-LOVE Conversations with Blessing Offor
The blind singer can attest to this fact, being forced to live out the lyrics of his own song in the midst of the unexpected death of his sister to start the new year. The somber single, however, is not without hope. There's solace to be found in the fact that someone else shares similar doubts about God. Yet, despite the questioning and the circumstantial evidence, Offor declares His belief in the unwavering character of our Creator and His ultimate goodness.
WATCH NOW: "Believe" Behind the Scenes
The official music video for "Believe" is filled with Easter eggs. The singer subtly embedded personal treasures into the clip, giving fans a glimpse into his past — a Nigerian flag, a nod to his homeland; a book called "Gifts of Sight" by Dr. Bruce Shields, a world-renowned retinal specialist that treated Offor as a child; and an article from the "Hamden Chronicle," his hometown newspaper honoring his youth spent in Connecticut.
On Jan. 13, 2023, the in-demand collaborator, who celebrated his Opry debut in October, will release his first full-length collection, titled "My Tribe." He'll share his original music on tour with @Zach Williams this spring.
RELATED CONTENT: Newcomer Blessing Offor Serves Up Soulful Single, "Brighter Days"