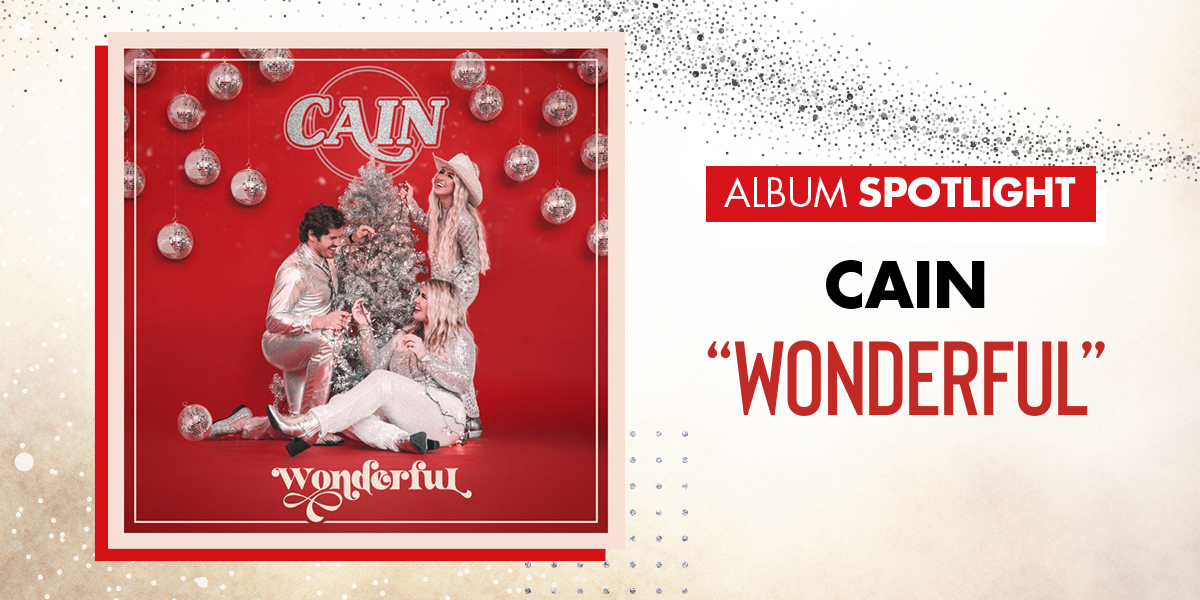 @CAIN is adding a little wonder to the season with the release of the trio's first holiday effort, Wonderful. The six-track EP caps a landmark year for the group, who released their full-length debut, played iconic stages at Red Rocks Amphitheatre and Ryman Auditorium, won their first K-LOVE Fan Award for their inaugural chart-topper, "Rise Up (Lazarus)," and earned their second consecutive No. 1 with the faith-affirming "Yes He Can."
Although it's dressed in holiday cheer, Wonderful capitalizes on the same things that have made CAIN one of the most talked-about bands of the past two years. Their thoughtful songwriting shines on the collection's two originals—the inspirational title-cut (written especially for those who don't feel like it's the most wonderful time of the year, and arguably the best track); and the upbeat "Christmas Is Coming" (an acoustic-driven twist on the Christmas story that heralds the birth of Jesus). Both tracks boast dream collaborations with two of the Cain siblings' biggest musical heroes: @Steven Curtis Chapman on the former and @Mac Powell on the latter, both of whom also share co-writing credit on their respective contributions.
WATCH NOW: "Wonderful" (Official Acoustic Video) ft. Steven Curtis Chapman
Whether they're performing self-penned selections or covering songs written by someone else, Logan, Madison and Taylor's harmonies take center stage on every single track. From album opener, "(Christmas) Baby Please Come Home" to their lush, passionate rendition of David Foster/Linda Thompson standard "Grown-Up Christmas List"—a personal favorite of the trio—CAIN's three-part harmonies feel ready-made for the season.
WATCH NOW: "Grown-Up Christmas List" (Official Performance Video)
Wonderful also includes their warm version of Kenny Loggins' classic "Celebrate Me Home," which CAIN released as a stand-alone single in 2020. The brief project concludes with a reverent, piano-led iteration of "O Come All Ye Faithful," delivered with a fresh arrangement and a rare tenderness that makes the timeless carol feel like a sweet worship offering in the hands of the trio.
WATCH NOW: "Celebrate Me Home" (Official Music Video)
WATCH NOW: "O Come All Ye Faithful (O Come)"
From track one to track six, CAIN's first Christmas project sounds like the culmination of their deep love of the holiday season and everything it symbolizes—a love first birthed when they were just three kids growing up, learning to sing, in rural Alabama.
"Before 'Rise Up' or 'Yes He Can' ever came to mind, we had this Christmas project on our hearts. Our entire childhood was marked by Christmas traditions and family get-togethers that lasted the entire month of December. Our parents taught us three things: love Jesus, love each other, and love Christmas. It was more than a holiday to us. Somewhere in the cookie-making, picking out gifts at the Dollar Store, dressing up as shepherds, and singing the '12 Days of Christmas' into the landline answering machine, a deep belief took root," the members of CAIN collectively share. "Christmas is wonderful, and that's what we want to convey with this project—the joy, the nostalgia, the wishing that time could stand still. And especially for those of you experiencing loss and grief this year, Christmas can still be wonderful. We pray that the presence of God will fill the gaps where family once stood."
CAIN is currently sharing hope and songs from Wonderful on the 2021 K-LOVE Christmas Tour, which runs thru Dec. 19 and also features @Casting Crowns, Mac Powell, @Dante Bowe, @Jordan St. Cyr and The Skit Guys.
RELATED CONTENT: 21 Questions Christmas Edition with CAIN on Family Traditions, Epic Treats and Unique Ornaments