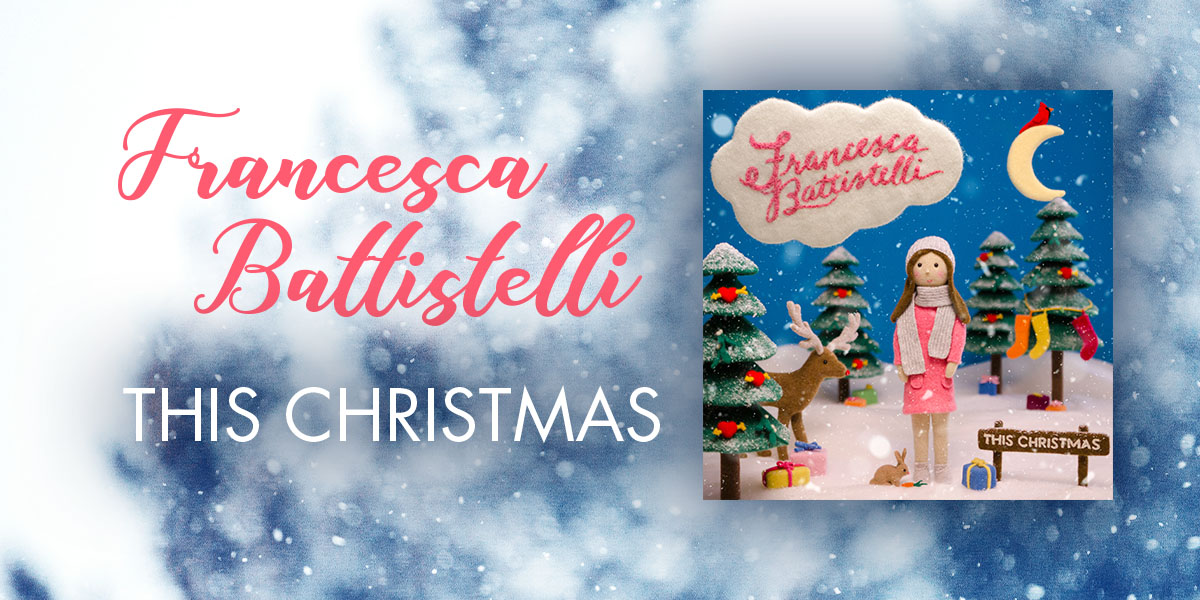 @Francesca Battistelli had a new Christmas EP recorded and ready to go at the end of 2019. Then, without warning, the award-winning singer felt prompted to press pause on the release. At the beginning of the year, she returned to the studio and chose to expand the EP into a full-length project. The result is This Christmas, the follow-up to her inaugural holiday album, Christmas, released in 2012.
Battistelli's second seasonal offering couldn't have arrived at a more fitting time. Little did she know, 2020 would be a year that would need a little more Christmas.
SIGN UP: We are out of copies of Francesca Battistelli's This Christmas, but we've got plenty more music to share with you. Sign up now for K-LOVE's Christmas Music Advent Calendar!
A lush a cappella rendition of "Silent Night" kicks off the collection with a full chorus of voices backing Battistelli. The songstress also enlists help from a choir on the obscure "Snowy Day," a surprisingly delightful addition, plucked from an Amazon Prime special based on the iconic children's book, "The Snowy Day," by Ezra Jack Keats—a bedtime selection frequently requested by her own brood.
All five of Battistelli's children are featured on a horn-splashed version of "Rudolph The Red-Nosed Reindeer," including her now 11-month-old, Ben. (Listen for his precious giggle at the end!)
WATCH NOW: Francesca Battistelli "Behold Him" Official Lyric Video

However, "Behold Him"—one of five original tracks, all co-penned by Battistelli—stands as the album's shining star. Originally written pre-pandemic, the song is tailor-made for a year where people all around the world are grappling with grief, loss and disappointment this holiday season. The first verse depicts a woman noticing a missing stocking, presumably from a loved one who has passed; while the second verse reveals a man facing unemployment, wondering how he will provide for his family. The song culminates in a soaring chorus that implores listeners to look to Jesus as our source of comfort, provision and hope. It's a poignant reminder that while Christmas is certainly a time of celebration, for many, the season also ushers in a mix of bittersweet emotions cloaked in sadness and loneliness.
Four additional originals round out This Christmas: the swagger-filled "December We'll Remember," the jazzy "Christmas Valentine," the creative "Carolin'," which cleverly name checks a half dozen Christmas songs; and the worshipful "Messiah," previously released as a one-off single that crowned the Christian radio charts back in 2017.
WATCH NOW: Francesca Battistelli This Christmas - Making the Cover

Battistelli's signature mix of sass and pop prevail on her versions of traditional arrangements of "Let It Snow! Let It Snow! Let It Snow!" and "Sleigh Ride"—both decorated with strings and horns aplenty. A remastered version of her popular "Marshmallow World," originally found on Christmas, also makes a cameo. The well-structured collection concludes with a gorgeous, solely orchestral version of "Messiah."
Perhaps the only thing better than Battistelli's perfected pop is the album's whimsical cover art. Featuring a snowy forest scene with an adorable hand-knit mini Francesca—complete with hat and scarf—the uber-creative artwork was hand-made and photographed by U.K. textile artist and interior designer Jessica Dance.