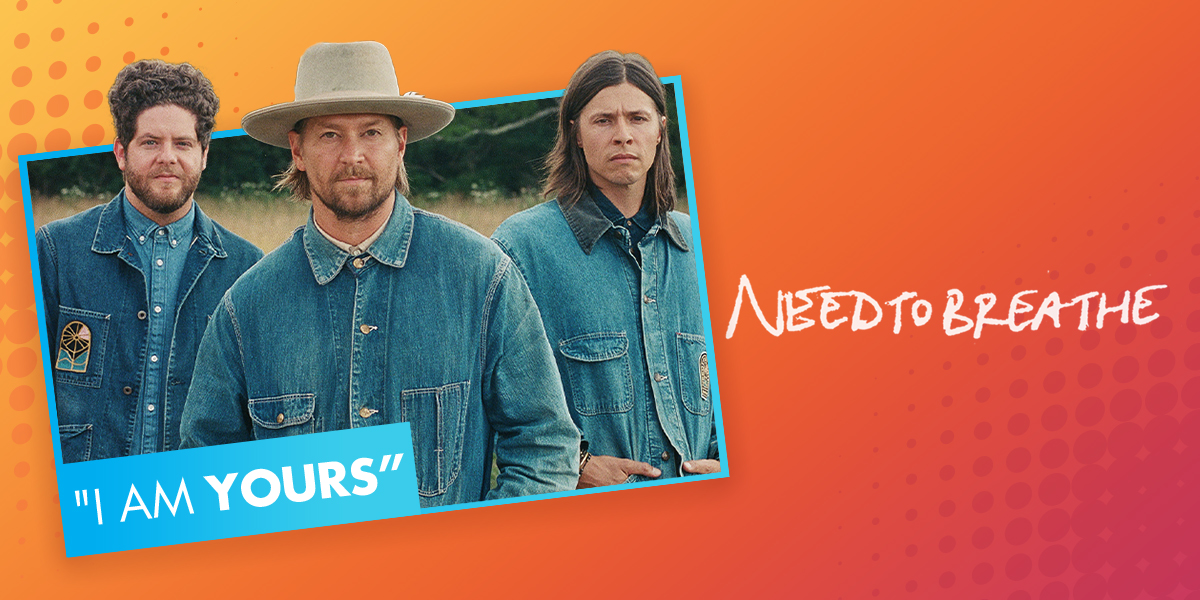 If @NEEDTOBREATHE's last single asked, "Who Am I?", the group's new song answers the question with a resounding "I Am Yours." The rock band reminds listeners of their secure identity in Christ, regardless of the mistakes or poor choices they might make as imperfect humans. The building anthem crescendos into a bridge that proclaims:
If I had to write a story of the greatest love in time
I would have to sing of You
How I'm this branch, and You're the vine.
And the romance that we have, oh, it's easy by design.
I was fortunate to find You, I'm still blown away You're mine.
WATCH NOW: "I Am Yours" Official Lyric Video
Written solely by frontman Bear Rinehart in the early days of the pandemic, "I Am Yours" is one of a dozen tracks the group recorded for their latest full-length project, Into The Mystery. Last fall, Rinehart and bandmates Seth Bolt, Josh Lovelace, Randall Harris and Tyler Burkham quietly slipped away to a secluded farmhouse in Columbia, Tennessee, with one ambitious goal in mind: To create an entire album in three weeks' time.
While they intentionally kept their gathering extremely small, due to COVID, they welcomed a few friends to their "camp site" in the Tennessee hills. Among them, Joe Stillwell, who helmed percussion for the band until 2012, was called in specifically to add his magic touch to "I Am Yours."
"'I Am Yours' is a big, epic song. Our original drummer, Joe Stillwell, came out to record with us. We had the song almost finished and were like, 'I feel like we should keep going. Let's make this big rock outro that would be great live.' And Joe absolutely kills that," Rinehart shares. "He's the loudest drummer I've ever played with, and you can imagine what that's like recording in a little living room of a house. It was absolutely insane."
The song is also pretty epic live. NEEDTOBREATHE cleverly performed the dark and moody "Who Am I?" and the larger-than-life "I Am Yours" back-to-back near the end of their set every night on their recent "Into The Mystery Tour," which also featured the legends in Switchfoot, along with new soul-pop outfit The New Respects. The 38-city outing raised more than $1 million for For Others, a non-profit organization founded by @Chris Tomlin and his wife, Lauren, that aids domestic foster care in communities across the country.
Fans can catch a glimpse of the making of "I Am Yours" and the rest of NEEDTOBREATHE's eighth studio record thanks to the band's new documentary, NEEDTOBREATHE: INTO THE MYSTERY, now available on DVD and select streaming platforms.
WATCH NOW: NEEDTOBREATHE – Into The Mystery [Official Trailer]