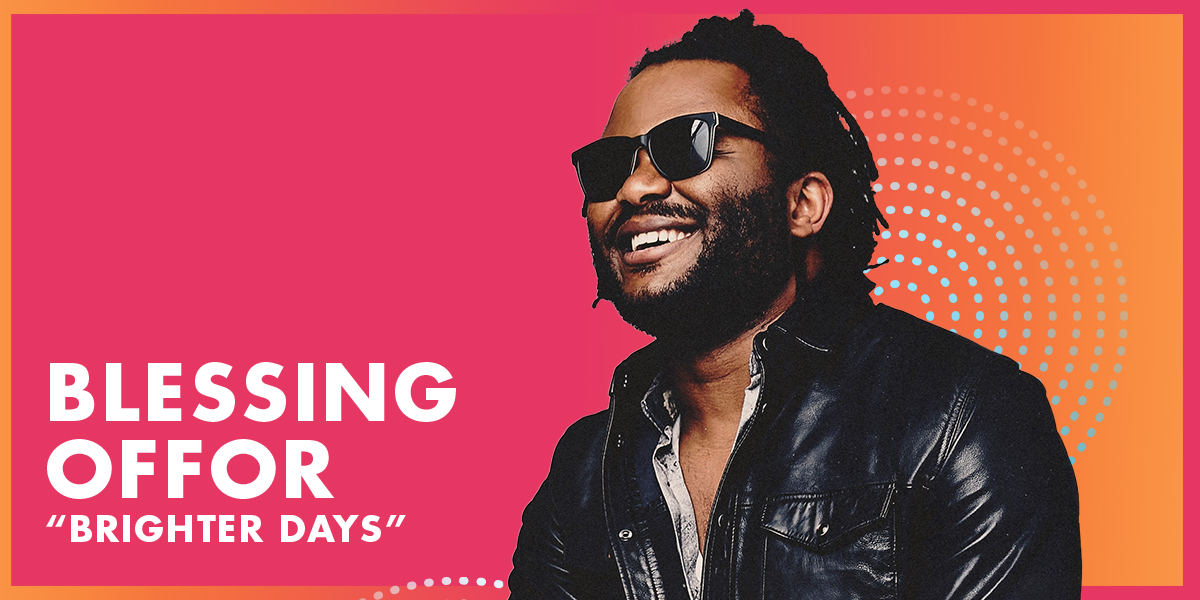 As the second artist signed to @Chris Tomlin's label imprint, Bowyer & Bow, @Blessing Offor will quickly endear himself to fans with his soulful voice and emotive storytelling. The newcomer begins his creative journey with "Brighter Days," his debut radio single.
WATCH NOW: "Brighter Days" Official Music Video
Built on piano—Offor's main instrument—"Brighter Days" weaves together a narrative about future optimism in the midst of difficult times. The timely track is further punctuated by a full Gospel choir. The universal message of the song, upheld by the strength of Offor's singular vocal, is sure to resonate with a broad audience.
WATCH NOW: "Brighter Days" Performance Video
"I've really been looking forward to sharing my songs with everyone," he says. "Every one of them feels like I'm sharing a part of myself for people to relate to. That's what 'Brighter Days' is about—the idea that we all experience dark days, but it's those days that make the brighter ones worth waiting for."
First introduced on "Tin Roof," the closing track of the Chris Tomlin & Friends album, Offor also contributed a song to Tomlin's latest full-length holiday project, Emmanuel: Christmas Songs of Worship. In addition, the Nigerian-born singer joined the award-winning worship artist on his annual Christmas tour at the end of 2021.
"Not only is his music special, but he's a special person that I think is going to help so many people—not just in his music, but just when people hear his story and people hear who he is," Tomlin offers. "I think people are going to be so moved and blown away."
Born with glaucoma in his left eye, Offor—the youngest of six siblings—immigrated to the United States with his uncle at the age of six in the hopes that he would be able to receive optimal medical care. Unfortunately, several years later, a powerful spray from a water gun damaged his retina, removing the sight in his right eye as well.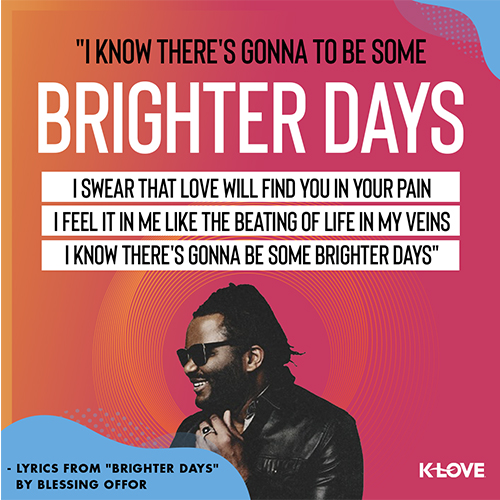 Growing up in Connecticut, and unable to play sports like other boys his age, the blind musician gravitated toward the piano; and it was love at first touch. His musical abilities eventually led him to Nashville where he attended Belmont University and began writing with a stable of respected country writers, including Natalie Hemby, Dallas Davidson, Tyler Hubbard (Florida Georgia Line), Breland, Trevor Rosen (Old Dominion), Lucie Silvas, Corey Crowder and Sarah Buxton, among others. Alongside Tomlin, he's also written with Ed Cash (@We The Kingdom) and @TobyMac.
"Brighter Days," which was recently featured on the hit series "Grey's Anatomy," joins a trio of songs Offor has released so far, including his own version of "Tin Roof" and "How Much You Mean To Me."