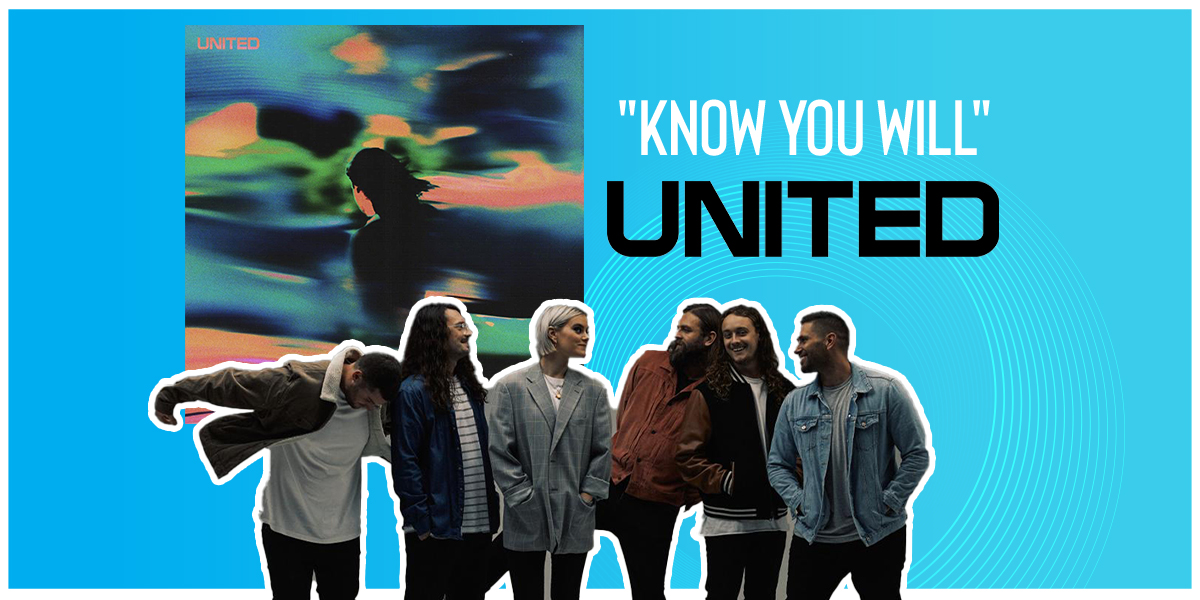 "I don't know how You make a way, but I know You will."
@UNITED rallies around this cry on the chorus of "Know You Will," the collective's latest radio single. The triumphant anthem was written by Joel Houston, Ben Hastings and Dylan Thomas, with Hastings featured on lead vocals.
WATCH NOW: "Know You Will" (Official Music Video)
The trio penned the track as they reflected on the uncertainty of the present moment in light of God's faithfulness throughout history. Houston calls "Know You Will" a "Sunday School song," adding that the message behind the track is as simple as the direction given in a Bible verse he learned as a kid: "Trust in the Lord with all your heart; do not depend on your own understanding. Seek his will in all you do, and he will show you which path to take." (Proverbs 3:5-6, NLT)
WATCH NOW: "Know You Will" (Song Story)
It's a Scripture we can cling to like an anchor in the midst of a pandemic, and "Know You Will" is a grounding song that reminds us of what has always been true: God will make good on every promise.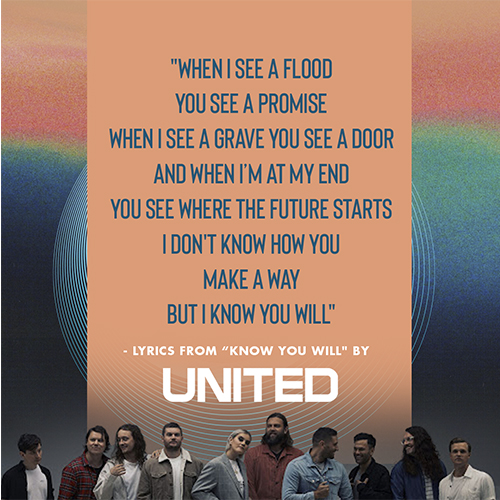 "Faith can sometimes seem like a distant thing, but it becomes real when everything that you didn't realize you were dependent on gets thrown on its head," Houston offers. "We may look at a circumstance and see the impossible, but God is good at the impossible. Even when there's a lot of if's, but's, and doubts, the story of God is that He's always made a way. It's often unexpected; it's different to how we think it should be, and how it should look. We know though, that through it all, God's sovereignty has not been shaken, and His plan is what will prevail through the middle of everything. He has proven Himself good so many times before, and it's no different now."
Sonically, Houston says "Know You Will" is a bridge between UNITED's last album, PEOPLE (featuring hits "Good Grace" and "Another In The Fire"), and the group's forthcoming full-length project they're currently creating. Every part of the song is crafted with the highest level of intentionality down to the kick drum and the expertly-placed synth—all in an effort to highlight a message of the miraculous ways God is currently at work.
"I'm so quick to forget how faithful God is and so quick to forget He has an ultimate plan," Thomas admits. "He's painting on a picture that's so zoomed out from our little reality and is playing on such a bigger field. It's a good reminder to go, 'I don't know what's going on. This is uncharted territory. But I'm going to trust that God is my compass, and He's going to direct me.'"
In Spring 2022, UNITED will perform "Know You Will" and other hits live on stage, linking arms with @Chris Tomlin across 33 dates on the "Tomlin UNITED Tour."
Stay Informed
Go behind the scenes of Christian music, culture and entertainment.