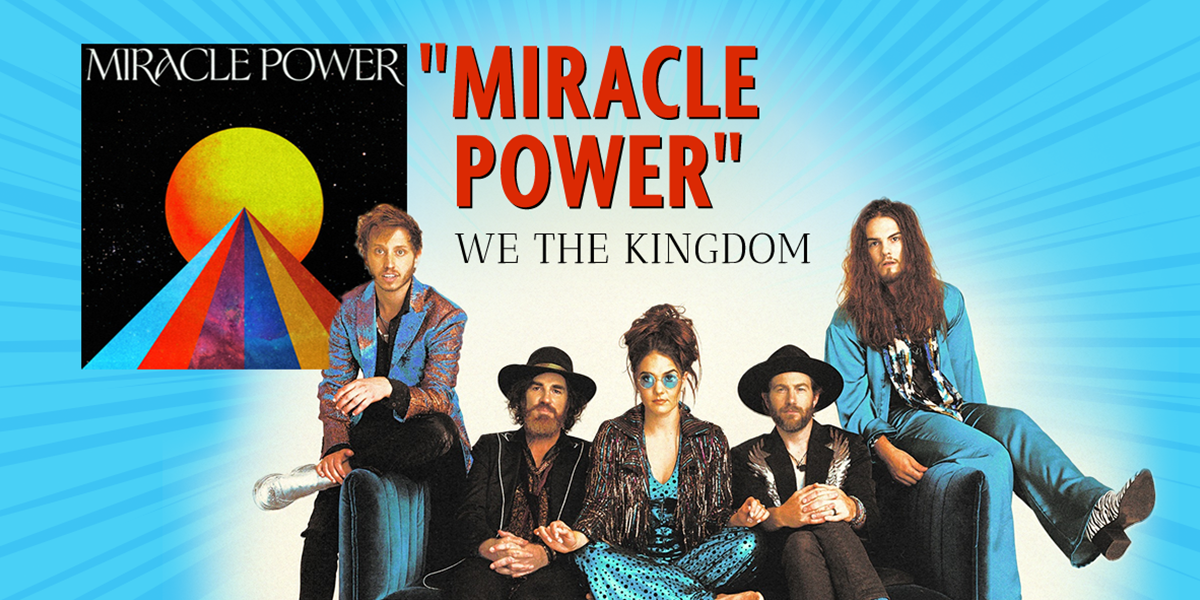 Multigenerational family band @We The Kingdom believes in a wonder-working God, and their brand new song, "Miracle Power," is living proof. The fist-pumping anthem is the lead single from their highly anticipated self-titled sophomore album releasing Sept. 16, 2022.
WATCH NOW: "Miracle Power" Live Performance Video
"As the opening line says, 'This one's for the lost and lonely.' It's a song for everyone because at the end of the day, we've all felt that way at some point in our lives," the group collectively shares. "Miracles have a beautiful way of restoring childlike wonder back into the hearts of all of us. They leave you awestruck in a way nothing else can, and with 'Miracle Power,' our hope is that each ear that hears this song will let faith rise up and these lyrics sink in a bit deeper with each listen."
RELATED CONTENT: K-LOVE COVER STORY: Multigenerational Family Band We The Kingdom is Redefining Christian Music
As We The Kingdom winds the chorus down, declaring their constant need for Jesus, Franni Rae Cash Cain takes the lead on the bridge as she sets one of her grandmother's favorite sayings to music: "I may not know what the day will bring, but I know who brings the day." Her grandmother often quoted this mantra as she cared for Franni's grandfather who endured 24 surgeries and one health crisis after another over the course of his life.
A blend of diverse musical influences from rock to Gospel to Country to worship, "Miracle Power" stands in a line of fresh hits from the familial band that, in addition to Franni, includes her brother, Martin Cash; dad, Ed Cash; uncle, Scott Cash; and family friend, Andrew Bergthold. Ahead of the announcement concerning their upcoming LP, We The Kingdom debuted another new song, upbeat rocker "Left It In The Water," on "FOX & Friends' All-American Summer Concert Series" last month. "Holy Water," "God So Loved" and "Child of Love" —all a part of their acclaimed debut — are just a few of the songs that have made the five-piece outfit a headlining act in just under four years.
Known for their entertaining live show, We The Kingdom will be taking their new music and fan favorites to 22 cities across the U.S. this fall with special guest @Cory Asbury. The outing will feature the collective's first headlining (and sold out!) show at the historic Ryman Auditorium in Nashville on Nov. 5.