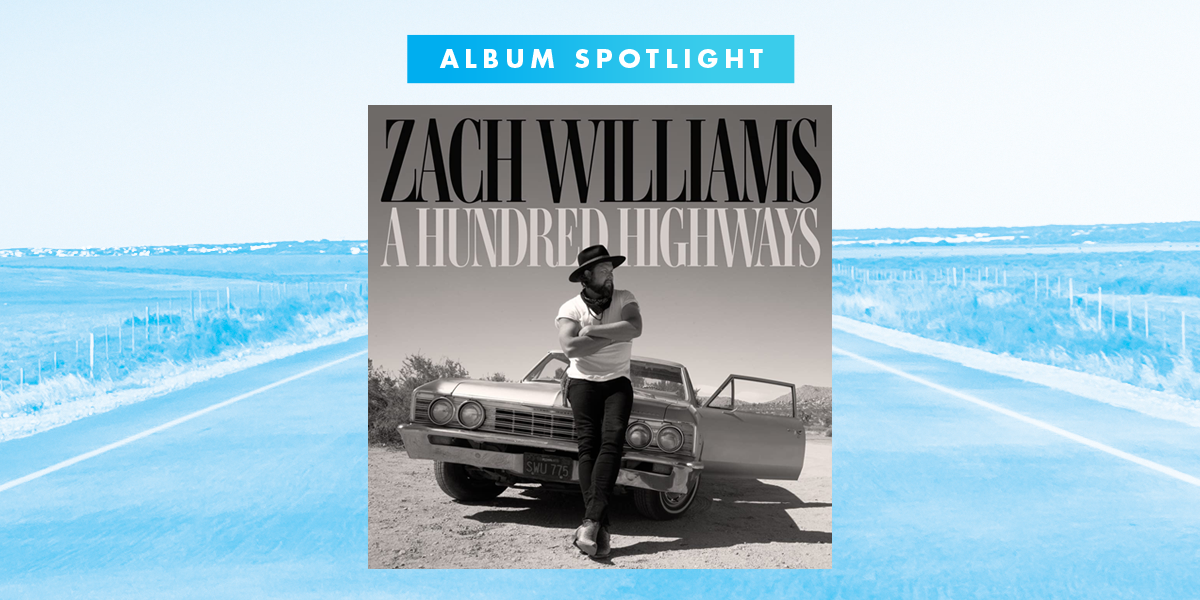 "A Hundred Highways," @Zach Williams' third full-length album, marks several firsts for the three-time K-LOVE Fan Award winner. The record boasts the first song Williams has ever recorded that he didn't write, "Jesus' Fault." It also contains his first-ever love song, "Love Is a Battleground," a tribute to his wife, Crystal, for her consistent belief in him through thick and thin. Moreover, his latest LP offers his first song intentionally written with the sacred ritual of communion in mind, "Flesh and Bone (We Remember)."
RELATED CONTENT: Zach Williams Wins Male Artist of the Year at 2021 K-LOVE Fan Awards | Zach Williams' "There Was Jesus" Featuring Dolly Parton Wins Song of the Year at 2021 K-LOVE Fan Awards
For all the firsts "A Hundred Highways" provides, however, the strength of Williams' signature vocal and raw lyricism remain very much in tact. Sonically, on the other hand, this collection of songs strays from the relatable pop of early smashes like "Chain Breaker" and "Old Church Choir" in favor of hardcore country instrumentation and soulful blues. Yet, the 15-track offering finds the Platinum-selling recording artist coming into his own.
"This record feels more like me than anything else I've done. It's the most 'Zach' record I've made," he contends. "I wasn't concerned about if it fits in any certain pocket, I just wrote my life experiences and the things I'm feeling and living."
WATCH NOW: "Heart Of God" Official Music Video
An everyman's songwriter from day one, Williams has always leaned country, even going so far as to collaborate with the queen of country herself — Dolly Parton — but his new effort digs deep into the storytelling roots that define the genre and even deeper into the traditional sounds and textures of blue collar country music. This is most evident, perhaps, on the clever tongue-in-cheek twang of "Jesus' Fault," which features "Fancy Like" singer Walker Hayes, who penned the track with Christian songwriter Michael Farren. Steering a vocal reminiscent of country legends like Merle Haggard and George Jones, Williams seamlessly adds the left-of-center cut to his catalog thanks to lyrics that tell the listener to blame Jesus for the different man he's become.
His soulful side emerges on lead single "Heart of God," where the two-time GRAMMY® winner's vocal range is on full display across a soaring chorus that's simultaneously dark and moody but also filled with an immense amount of hope. A little bluesy swagger also shines through on "Up There Down Here," a plea for God to send glimpses of heaven down to earth. Elsewhere, the soul-stirring honesty of "Looking For You" follows a similar sonic trajectory. The song holds the lyric that inspired the album title and travels many a road that led Williams to the life-changing love of Jesus.
RELATED CONTENT: Zach Williams Invites Listeners To Experience The "Heart of God"
Meanwhile, album opener "Big Tent Revival" and groove-laden "Like a Billy Graham Revival" both blend the record's country tendencies with Williams' rock influences, all while painting word pictures that transport listeners back in time. For Williams, each of these songs conjure core memories from his childhood that recall Bible-believing, hymn-singing, soul-saving revivals of old. Further down the tracklisting, the celebratory "Flesh and Bone (We Remember)" is poised to create fresh memories as Williams intends to integrate a time of communion into each night of his fall tour.
"A Hundred Highways" might be the most country-imbued project of Williams' repertoire to date, but that doesn't mean he's leaving Christian music in the dust. A closer look at the album's lyrics reveal a man whose life has been drastically changed by Christ, and a songwriter who's eternally grateful all roads led him here.
"When I think about all the roads I've traveled and all the places and experiences I've gone through in my life to lead me to where I'm at, it's been a hundred highways," Williams remarks. "I want people to know that if you surrender your life to the Lord, there's no limit to what you can do."
Stay Informed
Go behind the scenes of Christian music, culture and entertainment.