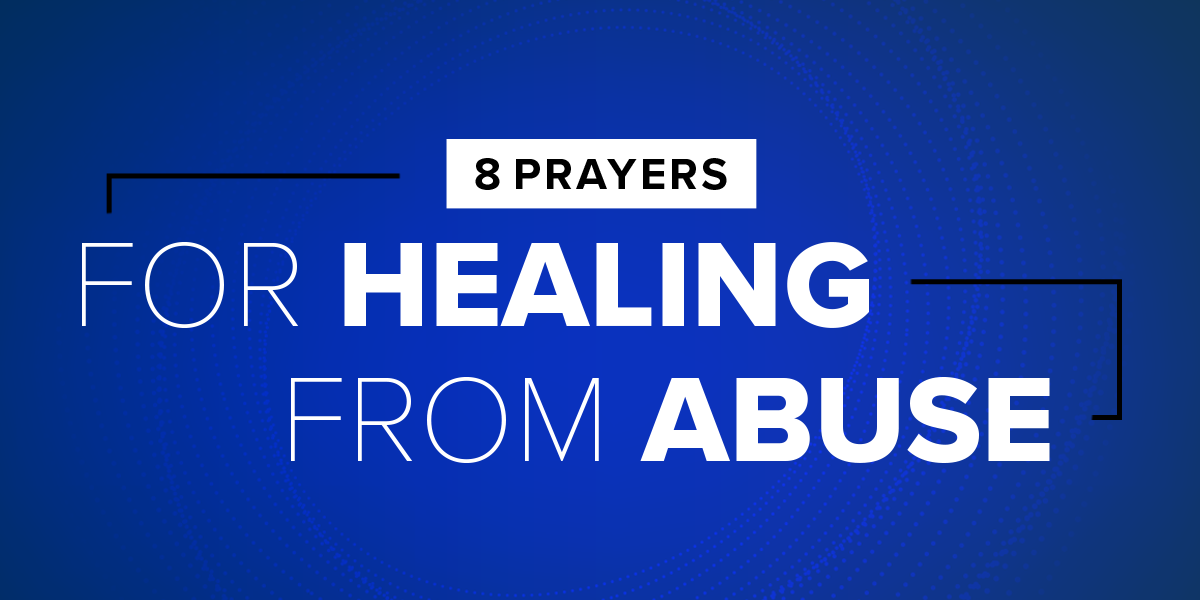 Moving forward after abuse is not easy. As much as we want to leave the hurt in the past, the effects of being abused can show up uninvited in the present, affecting our daily lives and filling us with fear about the future. Where do we turn when we continue to struggle? God invites us to turn to Him. Many people may help us in our healing journey, but the Lord is our ultimate healer. In relationship with Him, we find a safe place for our hearts (Psalm 62:8), with truth and wisdom to ground us (Matthew 7:24). The One who is powerful enough to make all things new (Revelation 21:5) Each step of the way, is present; loving and helping us, knowing just what we need. He doesn't grow impatient with our lack of progress or tired of hearing us pour our hearts into Him. So, keep looking to Him. Keep talking to Him. Here are 8 prayers for healing from abuse.
1. He was despised and rejected—a man of sorrows, acquainted with deepest grief. We turned our backs on Him and looked the other way. He was despised, and we did not care. – Isaiah 53:3 NLT
Jesus, You understand. You know this pain of rejection I feel. You came to earth and took on my sorrow and shame. I cannot understand why You would endure such heavy grief willingly. Yet, I am amazed by Your love. Thank You for coming into this world and going to the cross for me. Because of Your suffering, there is hope for me.
2. God decided in advance to adopt us into His own family by bringing us to Himself through Jesus Christ. This is what He wanted to do, and it gave Him great pleasure. - Ephesians 1:5 NLT
Father, thank You for wanting me to be a part of Your family. Jesus faced rejection so I could be accepted. He took my shame so I could have the honor of being Your beloved child. Please help me to receive it with joy. Teach me to believe this and walk in new confidence that You delight in me and take pleasure in showing me Your love.
3. So now there is no condemnation for those who belong to Christ Jesus. - Romans 8:1 NLT
God, help me when words of condemnation fill my mind. Accusations and shame come so quickly, but that is not Your voice speaking to me. Instead, You speak words of grace over me. Your voice gives life and hope. Turn my attention to hear what You are saying so I can meditate on Your truth!
4. He will feed His flock like a shepherd. He will carry the lambs in His arms, holding them close to His heart. He will gently lead the mother sheep with their young. - Isaiah 40:11 NLT
Lord, I am so thankful that You are gentle and kind. I am hurt, scared, and feeling vulnerable. Help me remember I don't need to protect myself from You. You lead with such love, and You care for my needs. Show me more of Your heart. Teach me to open my heart to You and just be held by You. You can carry me forward and help me to heal.
5. You intended to harm me, but God intended it all for good. He brought me to this position so I could save the lives of many people. - Genesis 50:20 NLT
God, there have been so many actions that were intended to harm me. It is really overwhelming. I am angry and hurt and so broken. It is difficult to imagine how You will use any of this for good. But You are wise and powerful. You love me. Help me to trust You. Please do something redemptive with all this pain.
6. If Your instructions hadn't sustained me with joy, I would have died in my misery. I will never forget Your commandments, for by them You give me life. - Psalm 119:92-93 NLT
Father, the brokenness in my heart and my family feels like too much for me to handle. So many days, life looks bleak and hopeless. I need to hear Your voice. I need You to show me the way. Please renew my perspective and show me how I can have joy in You. As I meditate on Your Word, move me from surviving to finding abundant life in You.
7. Each time He said, "My grace is all you need. My power works best in weakness." So now I am glad to boast about my weaknesses, so that the power of Christ can work through me. - 2 Corinthians 2:9 NLT
Lord, this is hard. I wish I could stop feeling so weak and needy. I am afraid. Can I really depend on others to help me? Can I trust You to hold me up? Be patient with me and teach me that You are faithful. Show me how Your grace will be enough for me each day. Help me see how You are already meeting me in my places of need.
8. "He will wipe every tear from their eyes, and there will be no more death or sorrow or crying or pain. All these things are gone forever." 5 And the One sitting on the throne said, "Look, I am making everything new!" And then He said to me, "Write this down, for what I tell you is trustworthy and true." – Revelation 21:4-5 NLT
God, knowing that my pain, fear, and sorrow are ending is a great comfort. In Jesus, You are making me completely new. Please keep doing the good work. You have started in me until it is finished. I praise You that You are making all things new! One day abuse will be gone, shame will be no more, and I will never be afraid again. Hallelujah! Come, Lord, Jesus, Come!