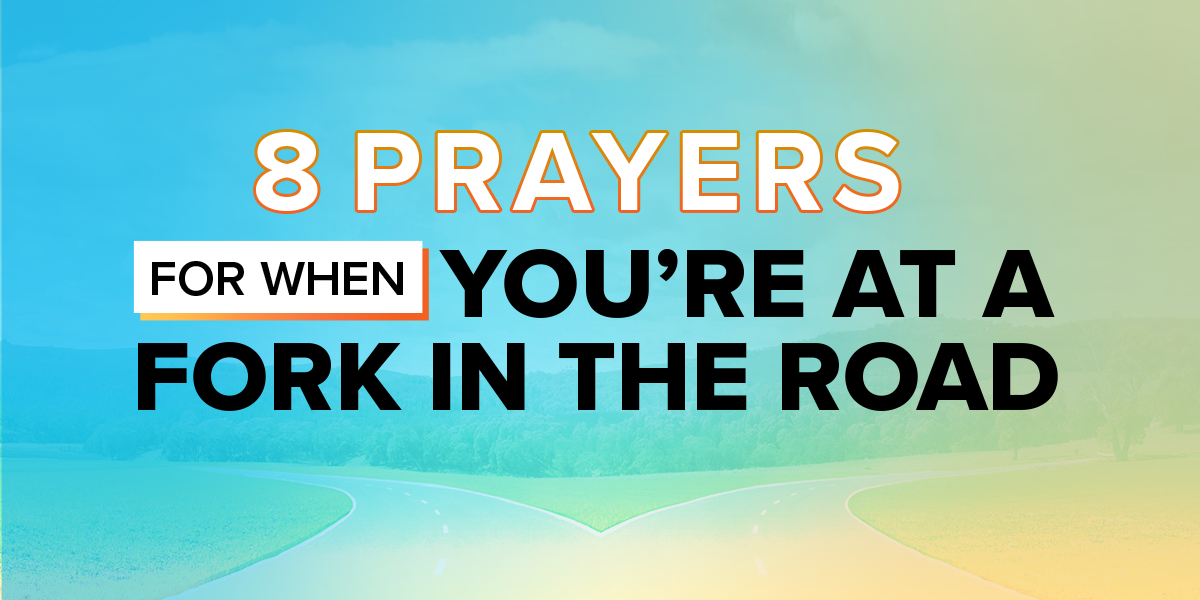 Are you struggling with a decision? Are you wondering which path you should take next? Are you worried you will make a wrong turn and completely derail your life? It's a scary place to dive into the unknown. But, for the Christian, life really boils down to one question: Do I trust God? No matter what situation we find ourselves in, the call is to trust God with the next step. If you are not at crossroads yet, eventually, you will be. At that moment, consider the following prayers.
1. If you need wisdom, ask our generous God, and He will give it to you. He will not rebuke you for asking. - James 1:5 NLT
Father, I acknowledge that You are the source of wisdom. I turn to You in confidence, knowing You will give me understanding when I ask. I pray You will lead me as I consider the next step. Teach me to trust Your wisdom above all else. Thank You for being a generous God who does not rebuke me for asking. In faith, I come boldly to You, trusting Your ways are higher and better. Give me the wisdom to discern right from wrong. I submit this to You in Jesus' name. Amen.
2. Without wise leadership, a nation falls; there is safety in having many advisers. - Proverbs 11:14 NLT
Lord, as I seek direction, give me the ability to discern where I can draw wisdom from. I realize the people You've placed in my life are a great source of learning. You've provided these great resources from friends, family, pastors, and coaches. In humility, may I ask for wisdom and be open to direction and feedback. My desire is to honor You with my decisions. Teach me to be available for what You have in store for me. Help me live with open hands, willing to receive all You have for me. And even when I cannot see the purpose and end goal, help me to trust You. In Jesus' name. Amen.
3. Trust in the Lord with all your heart; do not depend on your own understanding. Seek His will in all you do, and He will show you which path to take. - Proverbs 3:5-6 NLT
Father, teach me to trust You with every step I take. You have brought me this far, and I believe You will finish the work You've started on me. I may be at a crossroads, but I choose to lean on You, not my wisdom. Your wisdom is pure and perfect and always works out for my good. May Your will be of utmost importance as I seek to make a wise decision. And lastly, give me the boldness to choose, not being paralyzed by indecision. Teach me to be confident in my choices as Your Spirit leads me. Open any doors that need to be opened and close the wrong doors. In Jesus' name. Amen.
4. Your word is a lamp to guide my feet and a light for my path. - Psalm 119:105 NLT
Father, my wisdom is finite, but the insight You offer me is infinite and holds the most significant value. Teach me to drown out all the negative voices in my life and hear You clearly. Let Your Word be a lamp unto my feet, guiding me in every season. Where I am confused, bring clarity and lighten my path. I ask You to light my way and remove any fear and anxiety from me. Fill me with Your perfect peace that surpasses all understanding. May Your peace guard my heart and mind. In Jesus' name. Amen.
5. I will delight in Your decrees and not forget Your word. - Psalm 119:16 NLT
Father, as I consider my next step, may I never wander from the truth of Your Word. Help me to recall all I have learned. May Your words shape my decision. I long to bring You glory and build Your kingdom, not my own. Father, I ask You to guide and direct my steps as I plan. May I never leave You out of my decision-making process. When I do not understand what You are up to, I acknowledge that Your ways are higher and much better than mine. I yield to You now. In Jesus' name. Amen.
6. And let the peace that comes from Christ rule in your hearts. For as members of one body you are called to live in peace. And always be thankful. - Colossians 3:15 NLT
Lord, let the peace that comes from You rule and reign in my heart as I make my decision. You have not called me to live in fear. You are calling me to make decisions with boldness, no hesitation. I choose to trust the peace that only You can provide. Even as I make my decision, I acknowledge there will be joys and sorrows as I move forward. It is for this reason I need You more than ever. In Jesus' name. Amen.
7. God's will is for you to be holy. - 1 Thessalonians 4:3 NLT
Standing at a crossroads, I remember the importance of You conforming me to Your image. No matter what the next season brings, help me to focus on honoring You. Teach me how to shift my attention off myself and place it on knowing You and bringing You glory. I submit this decision to You in faith, believing what You have planned for this next season is good. In Jesus' name. Amen.
8. Think about the things of heaven, not the things of earth. - Colossians 3:2 NLT
Jesus, teach me to make decisions with an eternal perspective. I often forget the bigger picture as I journey through life. Remind me that this life is not about me. I exist to bring You glory. As I take my next step, help me to be honest with myself. If I am running away from something, please reveal what I am running from. My desire is not comfort; it's obeying Your leading in my life. Please show any idols in my life I need to burn. May You be the lover of my soul, and may my decision bring You glory. In Jesus' name, I pray. Amen.