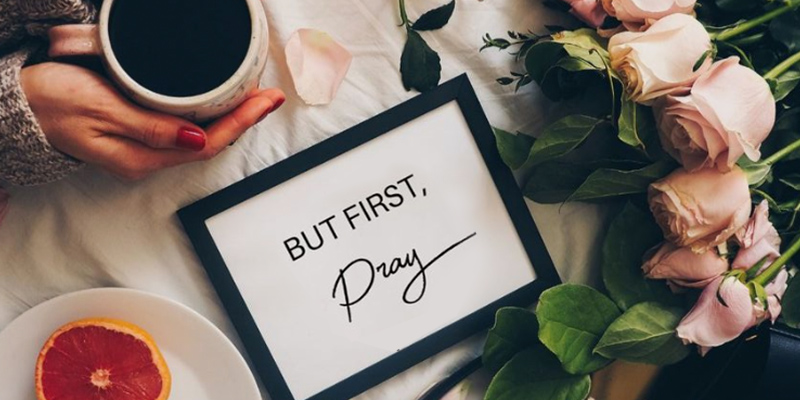 Yet you don't have what you want because you don't ask God for it. – James 4:2 NLT
I don't know about you, but prayer doesn't come naturally to me. Even though prayer can be a challenging discipline, there are some principles I've learned that have improved my prayer life tremendously. These five principles spell out the acronym B.A.S.I.C. Here are five steps I'm practicing to empower my prayer life:
1. Build your view of God. Have you ever felt like your problems are just too big? One reason I often don't pray is that my struggles feel bigger than God. That's why it's important to increase our view of God. We do this by reading His Word. When God's power is put in proper proportion to our problems, we see the value in talking to God about our problems.
2. Adore God. Once you elevate your view of God, express your appreciation for who He is and what He has done for you. Grasp the fullness of His grace. Delight in His perfect control over your life. Praise Him for answered prayers.
3. Speak Scripture back to God. When I was in seminary, one of our assignments was to pray Bible passages back to God. I was fearful at first, but as I prayed verses to God, I gained confidence. Want more joy and less worry? Pray the Bible. Are you anxious? Philippians 4:6 says, "Tell God what you need…" Do you need wisdom? James 1:5 tells us to ask for it, and God will give it generously. When you can't find the words to pray, pray Scripture.
4. Intercede to God. The word intercede merely means to ask for something on someone else's behalf. Ask Him to bring the wayward child home, to heal the sick friend, to restore the broken relationship. What miracles do you want to see? BIG prayers require BIG answers as we boldly approach His throne of grace with confidence. (Hebrews 4:16)
5. Continue praying to God. Runners experience what is called the "runner's high." It's a feeling of euphoria and reduced anxiety when you persevere. Prayer can work like that. As you pray, you start getting those "prayer highs" and "second winds." Just like runners achieve great distances when they keep running, you can accomplish great things when you keep praying.
Keep seeking God in prayer, friends! Some battles can only be won in prayer.
Dig Deeper
1. Which of the B.A.S.I.C. principles do you struggle with?
2. What is one step you can take this week to grow in that area?