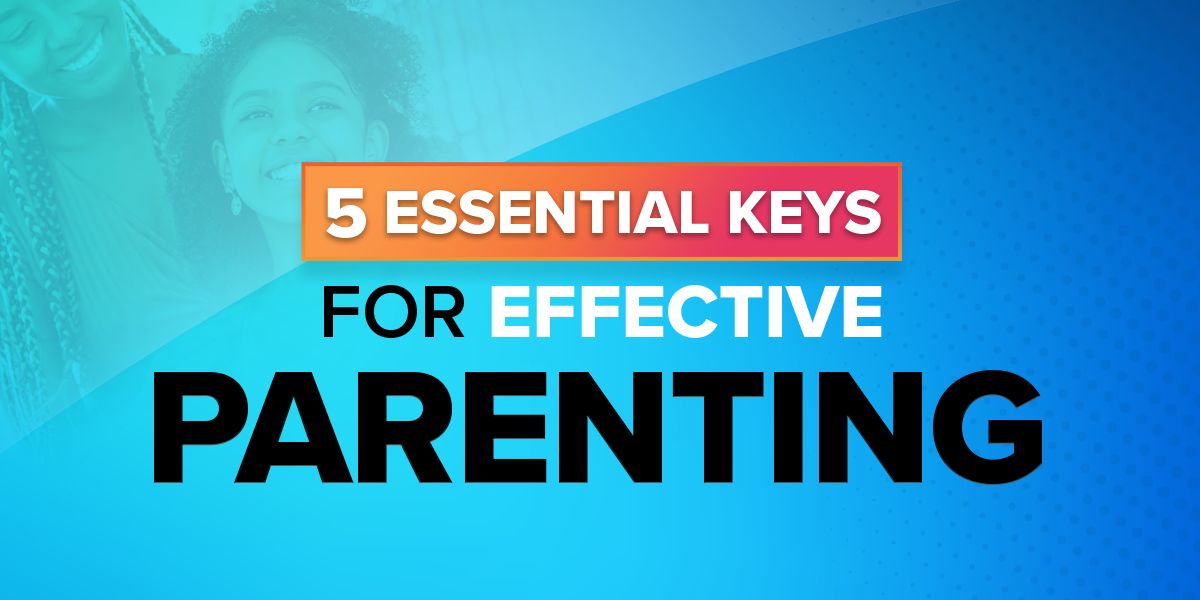 Direct your children onto the right path, and when they are older, they will not leave it. – Proverbs 22:6 NLT
---
Anyone who is a parent knows parenting is one of the most challenging and rewarding jobs. The Word of God prioritizes parenting, as God consistently relates our relationship to Him as Father to a child. Our parenting style can significantly impact a future adult's perception of how they view God as their Father and parent. And our leadership through the ups and downs of life with God shows them how trustworthy and faithful He truly is, building a foundation for spiritual success in their life.
5 Keys to effective parenting:
Set clear, healthy boundaries. The boundaries that you select will clearly communicate the values you teach your children. Like distinguishing issues of character vs. Circumstance – i.e., Adam and Eve disobeyed, which is a character issue; rather than the Circumstance, "it was just a piece of fruit."
Be consistent: Remember, inconsistency breeds confusion which fosters anger and frustration. Furthermore, it diminishes the value of the character you are teaching. (Ephesians 6:4)
A healthy balance between love and respect: They need to know they are loved and must also respect you. Love and discipline go hand in hand. (Hebrews 12:6-11; Proverbs 3:12)
Remember, everything trains your child! Whatever you allow into your child's life, trains them. Whatever you demand of them, you must show in your life. Be mindful of screens, music, and other media, not just questionable friends. (Proverbs 22:6)
What surrounds them matters: Surround your children with teaching tools, community, and relationships that reflect your Biblical values to train them. (Deuteronomy 6:6-9)
Below are some scriptures to help you know what God says about our role as parents. In addition, we have included devotions and resources on the main Parenting page to assist you with questions and struggles. If you want prayer or to talk about your current situation, feel free to call the pastoral care team at 800.525.5683.
Additional Scriptures:
Children, obey your parents because you belong to the Lord, for this is the right thing to do. 2 "Honor your father and mother." This is the first commandment with a promise: 3 If you honor your father and mother, "things will go well for you, and you will have a long life on the earth." 4 Fathers, do not provoke your children to anger by the way you treat them. Rather, bring them up with the discipline and instruction that comes from the Lord. - Ephesians 6:1-4 NLT
---
Direct your children onto the right path, and when they are older, they will not leave it. - Proverbs 22:6 NLT
---
And you must commit yourselves wholeheartedly to these commands that I am giving you today. 7 Repeat them again and again to your children. Talk about them when you are at home and when you are on the road, when you are going to bed and when you are getting up. 8 Tie them to your hands and wear them on your forehead as reminders. 9 Write them on the doorposts of your house and on your gates. - Deuteronomy 6:6-9 NLT
---
Children are a gift from the Lord; they are a reward from Him. - Hebrews 10:25 NLT
---
Those who spare the rod of discipline hate their children. Those who love their children care enough to discipline them. - Proverbs 13:24 NLT