Posted on Thursday, Sep 02, 2021 by Lindsay Williams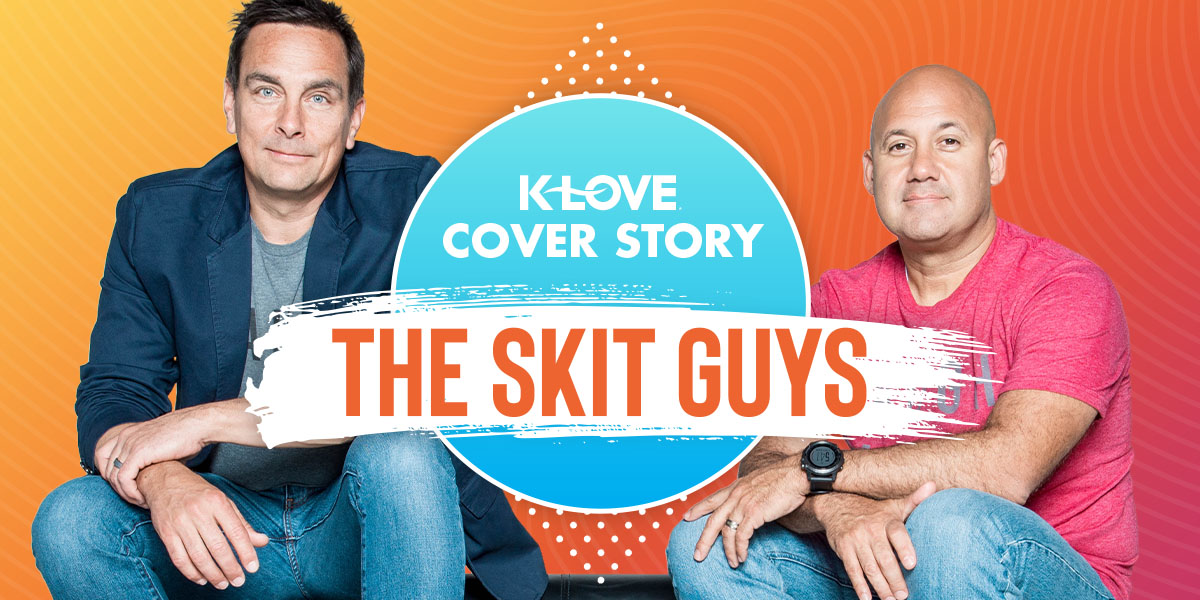 The Duo Behind "Bedtime Bible Stories," The Skit Guys, Serve Up "Smells Like Bacon"
"Two lonely-eyed boys in a pickup truck
And they're drivin' through the rain and the heat
And their skin's so sweaty they both get stuck
To the old black vinyl seats
And it's Abbott and Costello meet Paul and Silas
It's the two of us together and we're puttin' on the mileage."
—Rich Mullins, "What Susan Said"
"When I hear that old Rich Mullins' song, to this day, I get a little choked up, because that's who we were," Tommy Woodard says. He's the Abbott to Eddie James' Costello, the Paul to his Silas. Together, Tommy and Eddie are better known as The Skit Guys. They've been perfecting every youth group's favorite form of evangelism for decades. And they've been friends for even longer than that.
Tommy and Eddie originally met in high school and bonded over a love of girls, theater and, eventually, Jesus, after Tommy invited Eddie to church. When their youth minister noticed that the slightly mischievous teens actually had a natural penchant for humor, he invited them to perform some skits for their weekly student gatherings. Tommy and Eddie started cleaning up their favorite vignettes from "Saturday Night Live" and adapting them into something that could be used as a vehicle to talk about their growing faith.
RELATED CONTENT: The Skit Guys Share The Secrets Behind Their 30-Year Friendship in New Book, "Smells Like Bacon"
They soon found themselves serving as the "opening act" for their youth minister when he'd speak at other churches. Before they knew it, the duo was hitting the road solo performing their skits for youth groups, conferences and events around the country.
"We really were out on the road in Tommy's truck going to churches for gas money and a chicken dinner," Eddie remembers, "and that's how we learned Scripture; that's how we learned ministry; that's how we learned to use the gifts and talents that were given to us by God."
As they continued to hone their bits as The Skit Guys, both men worked at their respective churches, never anticipating that their comedy routines would ever turn into anything other than a fulfilling side gig. Keep in mind, this was before the days of YouTube, so the two friends were building their audience the old-fashioned way—one town, one performance, and one laugh at a time.
"There really were choices along the way. I think anything good is like that. You say 'yes' to this, you say 'yes' to that, and then you come to some forks in the road, so to speak, and you go, 'Well, I really do feel like God is leading this way,' and you take some risks," Eddie reasons. "So I don't know if it was ever something we set out to do, but it sure has become who we are and what we're about. And if we can make people laugh and show them God, that's a beautiful, beautiful thing."
As the internet introduced new ways of doing ministry, The Skit Guys began to add to their repertoire. In addition to performing an average of 50 live shows each year, Tommy and Eddie have developed a treasure trove of videos, scripts, DVDs and podcast episodes on their official website, giving fellow pastors and churches around the world access to resources that will hopefully add some humor (and truth) to their gatherings.
At the root of it all lies a 30-year friendship, and it's this friendship that The Skit Guys analyze in their first title with K-LOVE Books, Smells Like Bacon: The Skit Guys Guide To Lifelong Friendships.
They admit any relationship that spans three decades is rare. So what's their secret? Well, you'll have to read the book to find out, but Tommy and Eddie will tell you this: There's never been a better time to find a friend, be a friend and keep a friend. And Smells Like Bacon will help readers accomplish just that.
"Facebook can tell you how many friends you have, right? I mean, there's a number attached to it: I have 360 friends. But the truth of the matter is those aren't friends," Tommy asserts. "Those are, most of them, probably acquaintances, maybe some family members. But a friend is much deeper than someone you just share screen time with or someone you're just sending messages to."
Don't misconstrue this remark, The Skit Guys aren't anti-technology. In fact, they've built a very successful career using technology to their advantage. They simply believe the best friendships are built through consistent face-to-face interaction.
"We think we're going to get close to someone, intimate with someone, through social media, but these devices just keep tearing us apart. It doesn't matter if you're 6 or 60, we all desire to have close, connected friendships. It's how God made us," Eddie concedes. "Through the pandemic, we've been isolated. There's never been a better time to get off electronics and try to reach out to somebody."
That's exactly how The Skit Guys' popular "Bedtime Bible Stories" series was born last year. The videos premiere Sunday nights on KLOVE.com. Each episode features Tommy and Eddie bringing Scripture to life by taking on the roles of an entire cast of Bible characters. "When the pandemic hit, Eddie had this great idea and just said, 'If it was up to me, I'd be doing bedtime stories to comfort people during these days,'" Tommy shares of his friend's eureka moment. A few days later, they were ad-libbing their first "Bedtime Bible Story."
RELATED CONTENT: The Skit Guys Join Skip & Amy for an Exclusive Interview
"It has been a labor of love, and it has been just amazing the people that we've been able to connect with," Tommy says of the series. "The stories we get back and the videos kids send us, it's crazy." Many of those stories are from parents who remember watching The Skit Guys perform during their own youth group days, creating something of a full-circle moment for the longtime friends.
Decades in, they still have a hard time seeing themselves as comedians. Their comedy is simply a tool they employ for a greater purpose. "We are pastors more than pranksters," admits Tommy, who serves as a teaching pastor at Newchurch in Oklahoma City. "But there's always a message behind the method."
Eddie, who works as a creative consultant and online pastor at his church in Sachse, Texas, agrees. "Humor breaks down walls for truth to enter," he says. "If you can get someone to laugh, you can get them to listen to you; and you better have something good to say once you get them to laugh."
As evidenced by the surprising depth and self-deprecation their writing holds in Smells Like Bacon, the dynamic duo is rarely at a loss for words and never without a greater purpose. The overarching message that supersedes all of their jokes and personal anecdotes in Smells Like Bacon remains a deceivingly simple ethos: Friendship comes first.
"If we had to stop ministering together, if we had to stop performing together, that's OK," Tommy insists. "Other people can minister in that way, other people can perform, but we're going to stay friends."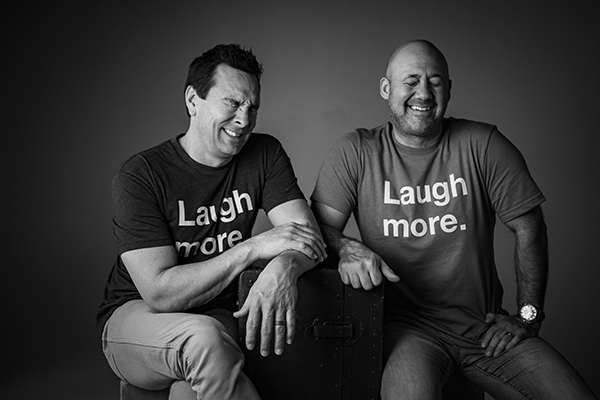 As if to illustrate his point, he gives credit to his best buddy. "Eddie taught me this statement, and that is 'do what you can with who you are and what you have, and leave the rest up to God,'" Tommy shares. "I think we never realized this was going to be our job. It's just the results have been left up to God, and this is where He's taken it."
And what a ride it's been. From ripping off "Saturday Night Live" skits in youth group to amassing countless fans via YouTube with their professional videos, The Skit Guys have followed the winding path paved by a God they met in their teens. Now, they're poised to share a little bit more of their story in Smells Like Bacon, sure to earn additional fans chapter by chapter. Moreover, the duo is putting the final touches on their first full-length film, Family Camp, set to release in Spring 2022.
They might be published authors and soon-to-be actors eager to bask in that all-alluring Hollywood glow, but don't let their "funny guy" routine fool you. The Skits Guys aren't that far off from where they started. They're forever just two friends putting miles on an old truck, intent on using their gift of humor to tell people about Jesus.
"We're still not really sure where we're going," Tommy admits, "but we know we're going together, and that's what makes the journey so great."
RELATED CONTENT: Bedtime Bible Stories with The Skit Guys