Posted on Saturday, Sep 04, 2021 by Lindsay Williams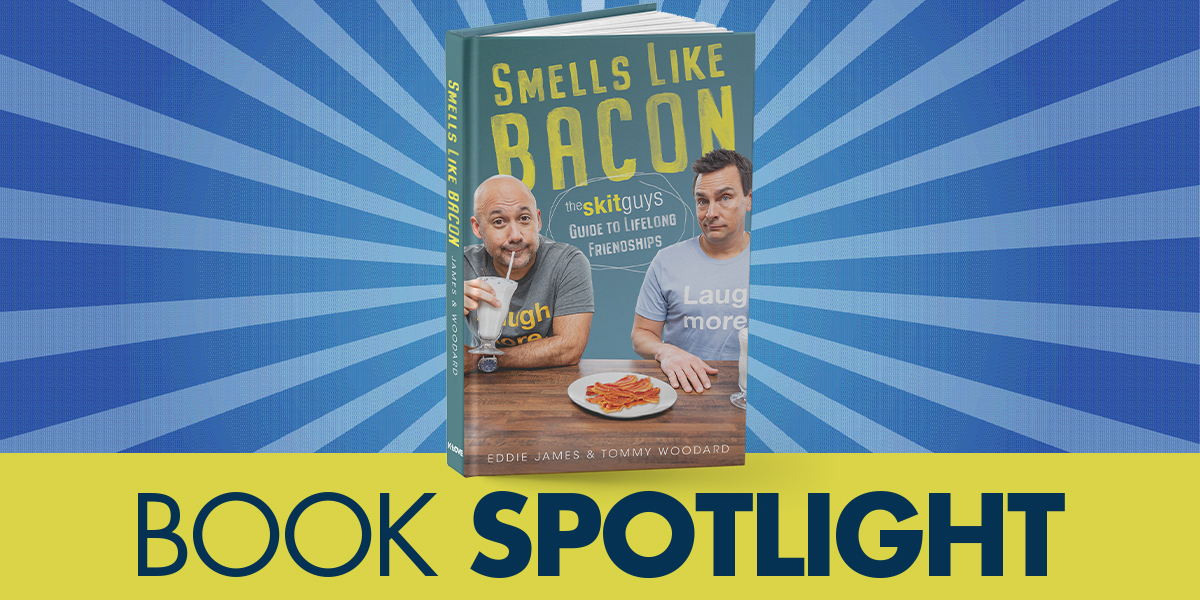 The Skit Guys Share The Secrets Behind Their 30-Year Friendship in New Book, "Smells Like Bacon"
While bacon is always a crowd pleaser, you have to admit the title of the new book from The Skit Guys, Smells Like Bacon: The Skit Guys Guide To Lifelong Friendships, is a little…unique. If you read chapter six, however, you'll quickly learn that the name of Tommy Woodard and Eddie James' first offering from K-LOVE Books was pulled straight from a real life moment in the trajectory of the comedic duo's 30-year friendship.
Broke, burned out and in between jobs, Eddie temporarily moved in with his best friend Tommy and his wife, who lived in a parsonage in the late '90s. Eddie took over the connected mother-in-law suite during the height of the Atkins Diet fad and started stinking up their shared kitchen each morning as he cooked a hearty Atkins-approved breakfast of bacon and eggs.
"Sometimes you have friends that smell," Tommy quips. "You just put up with it." The chapter goes on to illustrate what it looks like to bear with one another. It's indicative of the book as a whole—a portrait of friendship refined in what the duo refers to as "the tunnel of chaos," a rite of passage for every relationship.
RELATED CONTENT: The Skit Guys Join Skip & Amy for an Exclusive Interview
In Smells Like Bacon, Tommy and Eddie explore the anchoring lessons that have kept their relationship afloat during the highs and lows of the past three decades. From their early days in high school theater to their current comedic antics on stage as The Skit Guys, the duo recounts colorful stories from their many adventures that proved to be mile markers in their friendship.
Interspersed with scripts, fun sidebars, photos and real life anecdotes, Smells Like Bacon examines how to find a true friend and how to maintain that friendship for the long haul. In addition, the two men look to Scripture to provide a blueprint for authentic friendship. Through quirky dialogue and witty banter, Tommy and Eddie come alongside readers to help them identify the various circles of friendship, the tenants that make up a real friendship and the honest communication every friendship merits.
They're quick to confess that they haven't always gotten it right in their own friendship, but they're both always willing to say, "I'm sorry"—a critical component of any committed relationship.
"Each chapter is another secret to why our friendship's lasted," Tommy explains. "We know that not everybody gets a 30-year friendship, but in the 30-plus years that we've been friends, we also realize we've learned things that can help people at least have deeper relationships."
Although The Skit Guys' signature brand of funny is the glue that holds Smells Like Bacon together, the book seeks to tell a bigger story about finding your purpose and finding your people.
"The book is based on 'bacon bits' of our life as far as things that we've held as pillars of our friendship," Eddie offers. It's also filled with the same humor that has made The Skits Guys a go-to resource for pastors and churches around the world.
"Humor breaks down walls for truth to enter," Eddie adds. "If you can get someone to laugh, you can get them to listen to you; and you better have something good to say once you get them to laugh."
Across all nine chapters, The Skit Guys will keep readers in stitches, but they'll also lead them to deeper truths. No friendship is perfect, but true friendship is worth the work required. And Tommy and Eddie are living proof that the best kinds of friendships often smell like bacon.