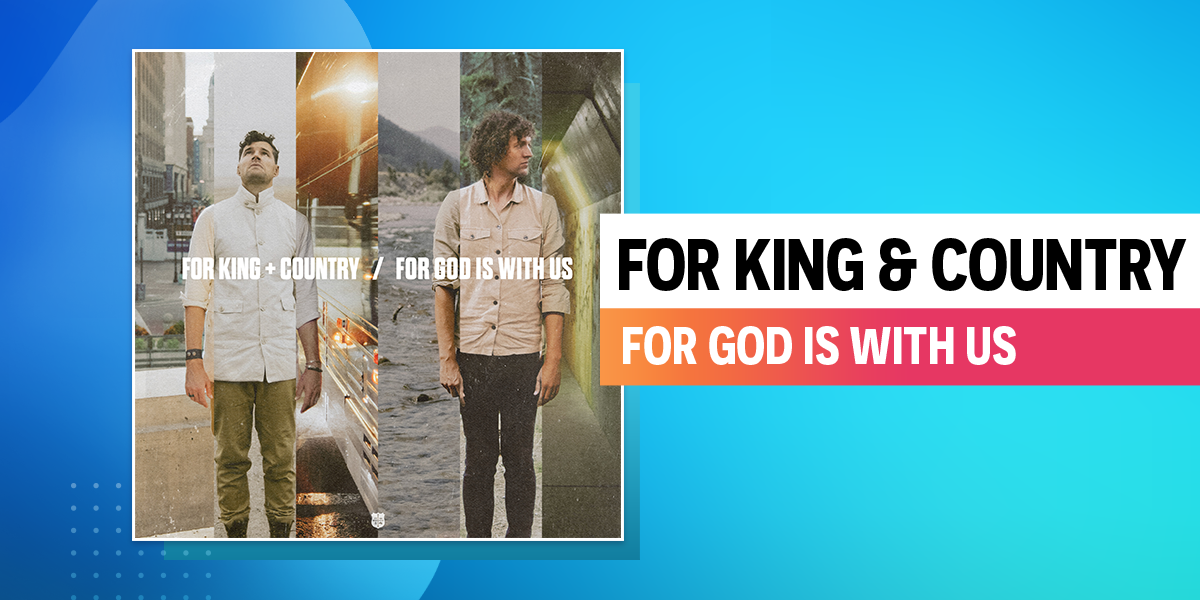 @for KING & COUNTRY is really good at releasing songs that offer strong soundbites of encouragement (read "It's Not Over Yet" and "God Only Knows"). Their latest single, "For God Is With Us," follows this same trend, serving up a simple, yet significant reminder.
WATCH NOW: "For God Is With Us" Official Music Video
The triumphant selection showcases the duo's gift for relevant storytelling as they invite listeners into both the birth and death of Christ — two events that dramatically changed the course of human history, bridging heaven and earth. The urgent, cinematic soundscape challenges listeners to dare to imagine that the King of Kings is present in every season.
Brothers Joel and Luke Smallbone have had "For God Is With Us" waiting in the wings for some time, eagerly anticipating exactly the right moment to unveil the meaningful track. And now, as people search for God in the midst of grief and suffering, it feels like the timing couldn't be better to offer up this poignant message of hope.
"This song is special because I feel like people are asking questions now more than ever, like, if God is with us, how could He allow what we've just walked through to actually happen? And I think that we will ask that question until we meet Jesus," Luke observes of the global pandemic, acknowledging that questioning God isn't as much a sign of doubt as it is an indication of belief.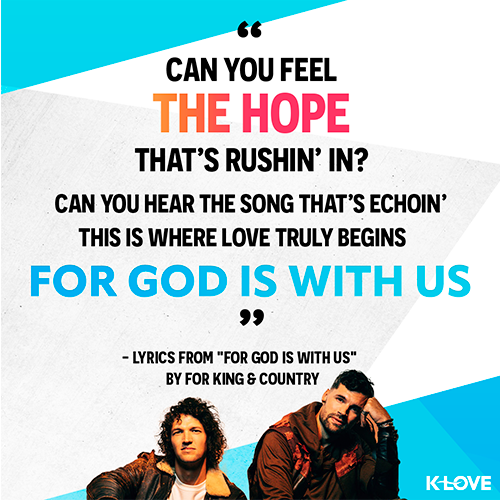 "If you look at David in the Psalms, he seemed to question God a lot, and it produced something. It actually produced the thing we're all desiring, and that is faith," Luke offers. "Pain is relative, and I've had my fair share of challenges; but what a gift to know that no matter the circumstances, no matter the challenges, God is near; God is with us."
The official music video for Joel and Luke's original song was filmed in 40 different locations across the United States with their brother, Ben, behind the camera.
"For God Is With Us" is found on for KING & COUNTRY's fourth studio album, What Are We Waiting For?, which also includes No. 1 hits "Relate" and "TOGETHER (feat. @Kirk Franklin & @Tori Kelly)." The duo recently debuted new music at the iconic Houston Rodeo, playing to one of the largest audiences of their career to date with 60K people in attendance. Moreover, the Australian-born brothers will perform new songs and fan favorites out on the road this spring with direct support from @Dante Bowe.
RELATED CONTENT: K-LOVE Cover Story: for KING & COUNTRY
---
Don't Miss a Beat & Sign Up for K-LOVE's Music Updates!
Get monthly emails with updates on new music, videos, and exclusives from your favorite Christian artists on K-LOVE!