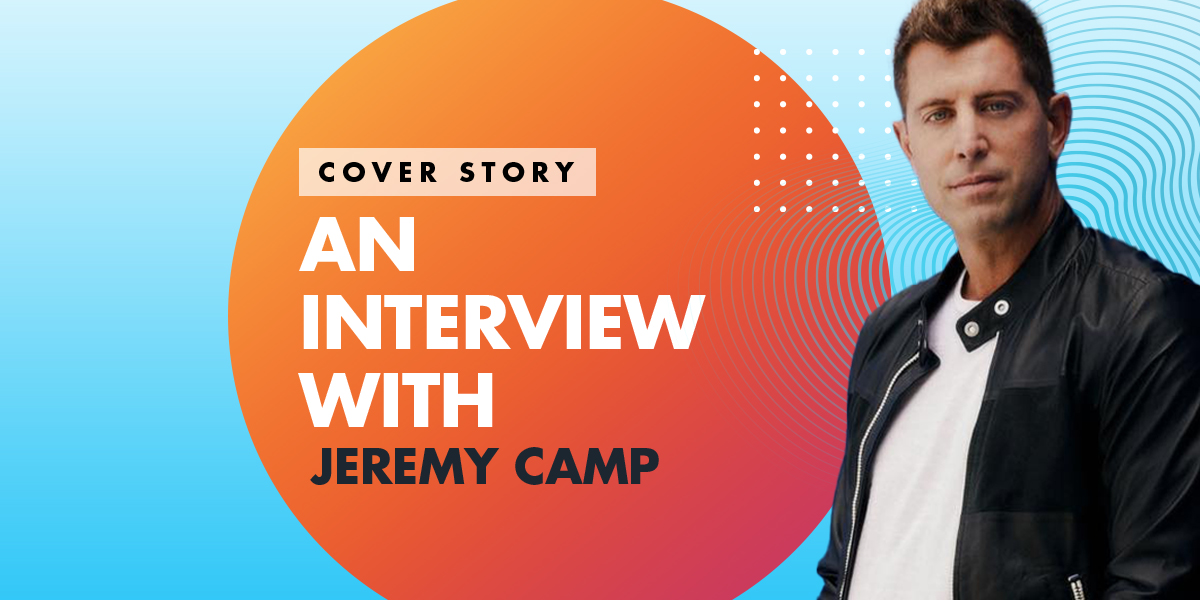 I still believe.
When Jeremy Camp wrote those three words two decades ago, he birthed more than a hit song. At the time, those words were a feeble declaration, a lifeline—the earnest cry of a broken young boy whose wife had been taken far too soon by cancer. Perhaps that short, brave sentence was all he could muster in the wake of extraordinary loss.
WATCH NOW: Jeremy Camp "I Still Believe" Official Music Video
Twenty years have passed, and that boy is now a man—a husband, a father and an award-winning recording artist who followed his God-given dreams all the way from California to Nashville and watched God redeem his story every step of the way. Nowhere is this truth more evident than in the shining faces of his wife, Adrienne, and their three children: Bella, Arie and Egan.
For Camp, this realization became nearly overwhelming when he was working on the film adaptation of I Still Believe. While his family looked on, his life literally flashed before his eyes—a perfect collision of his past and his present.
"Here I am standing behind my wife and three kids, and they're watching the most difficult part of my life ever, and I'm going, Oh, look how faithful You've been, God. This is the most difficult part of my life, but standing in front of me is what you have redeemed," the GRAMMY® nominee shares. "And so it was such a twist of emotions because it was so hard, but also so amazing, to watch God's faithfulness."
Regardless, rewinding his past wasn't without complication. While Camp says he felt honored that God would give him the opportunity to tell his story on the big screen, he also concedes, "It wasn't easy reliving a lot of stuff. There were times during filming where I'd see a very difficult scene, and I'd run out of the room because it brought up so much pain. My wife would run after me and literally just let me weep in her arms."
When I Still Believe premiered in nearly 3,300 theaters nationwide on Mar. 13, 2020, it became the No. 1 movie in America—for one night. The glory, however, was short-lived as theaters began shutting down due to the pandemic. The film was quickly released on demand, dashing the high hopes Camp, his team and the movie's creators—The Erwin Brothers—held for the highly-anticipated biopic.
Camp was, naturally, disillusioned and disappointed. After all, he had just spent the last two-and-a-half years of his life processing the most painful portions of his past, all so he could help create a piece of art that would, hopefully, serve to inspire people around the world.
It was a word from his wife that re-directed his perspective. She told him, "Jeremy, God didn't break His promise."
"She goes, 'God never promised that your movie was going to stay in theaters forever. He never promised that your tour wasn't going to get cancelled. He never promised those things. But what He did promise was that He was going to use all those things for His glory and His purposes,'" he recalls of Adrienne's sage advice. "It's not like I didn't have a hard time after that, but it made me really think through the whole purpose of doing this—to bring Him glory and to watch people be comforted. And because of the pandemic, I heard so many stories of people watching it on streaming who were like, 'Oh my word, this is what we needed right now.' Maybe it didn't do the massive, long box office thing, but I believe the depth of how God used it was incredible."
Camp says he suddenly realized the difference between God's promises and our often short-sighted expectations. "If you get angry at God, you have to stop and go, 'Wait, was it something that He actually promised and then broke His promise; or was it something where I had this expectation of what I thought it was supposed to be, and it didn't turn out the way I thought?'" he questions. "Sometimes God's like, 'I never said that. I love you, but I never said that.'"
This newfound awareness became a creative jumping-off point for Camp, who began digging deep for inspiration. Three days after the movie released, he woke up, grabbed his guitar and wrote a worship song called "Whatever May Come."
He and Adrienne, who is also a talented vocalist and lyricist in her own right, performed the song on social media simply with the intent of encouraging others, who like them, found themselves in a dizzying blur of uncertainty. The video swiftly racked up 12 million views.
Once the couple realized their original worship songs were resonating with people, they quietly released a collaborative six-song set, The Worship Project. That proved to be just the tip of the iceberg for Camp's next artistic outpouring. The songs kept coming, gushing out with the unstoppable force of water from a firehose.
Ironically, in previous years, songs had dripped out more like water from a leaky faucet as Camp walked through a period of intense anxiety. It was a desert season that led to 2019's The Story's Not Over. Although that collection spawned three hits with "Dead Man Walking," "Keep Me In The Moment" and "Out of My Hands," the album's cuts were hard-won.
Camp's latest effort, When You Speak, finds the singer emerging from the wilderness, even though he penned all 13 tracks in the midst of a global pandemic.
WATCH NOW: Jeremy Camp "When You Speak"
"I kept saying, 'I just want to get through this. I just want to get through this.' And God literally spoke to me and said, 'Jeremy, I want to get through to you during this,'" Camp shares of his experience. "God kept giving me songs. I had so many songs for this album that we couldn't use them all. So I had to go, 'What are the ones that I feel like are the most relevant to what I want to speak about during this time?'"
The final tracks chosen for the aptly-named When You Speak possess some of the deepest lyrics of Camp's career. And while the title-cut is a good introduction to the meaning embedded into every line of the album, Camp is imploring fans to do something that in today's instant society feels almost countercultural: Listen to the entire LP, front to back.
"People just hear one song, but you have to listen to the whole record," Camp insists, "because you're going to hear what I dealt with and what God was teaching me during this time."
The radio single is only one chapter, but the full album tells the rest of the story. And for Camp, When You Speak is a tangible reminder that he still has something important to say.
"I've done this for 20 years, and sometimes you go, 'What else do I have in me?'" he admits. "But as you're pressing into your relationship with Christ, and as you're digging deeper with Him or going through situations or trials, if you keep pressing into Him, His well does not run dry."
RELATED CONTENT: Jeremy Camp Previews Next Album With "When You Speak"
Camp wasn't the only person in his household who drew from an endless divine well of creativity during his family's forced quarantine in California. His daughters, budding musicians themselves, both released singles of their own during the pandemic. His youngest, Arie, collaborated with her friend, Alena Pitts, for a song she wrote called "What We Need." Meanwhile, his oldest, Bella, debuted original track "Carry You Through." Bella recently asked her dad if he could help her record an EP. Camp, of course, jumped at the chance to support his daughter in the pursuit of something they both love.
"She's 17," he says. "She'll be out of the house possibly in a year, and I want to do all I can to spend time with her and to stay connected with her."
Bella and Arie might already have music on streaming platforms that bears their individual names, but Camp says his son, Egan, can harmonize as well. It's not surprising that all of his kids possess strong musical genes considering the breadth of their parents' talent. Yet, Camp doesn't take their innate abilities or genuine interest in music, for that matter, for granted. In fact, he takes very little in life for granted, because he knows he's been blessed with a redemption story worth sharing.
These days, however, his goal isn't to be the hero in his own story; he's simply trying to facilitate what God is already doing, allowing Him to author the complete narrative. And when He speaks, Camp listens. "I love sharing my heart. I love sharing what God's teaching me," Camp says. "I've always said I'm a minister of the Gospel who happens to play music."
Twenty years in, and this self-proclaimed "minister of the Gospel" continues to draw from a musical well that never runs dry. Yet, no matter how fresh his current music sounds, he's essentially singing the same truth over and over: I still believe. That's an anthem worth putting on repeat.
---
Don't Miss a Beat & Sign Up for K-LOVE's Music Updates!
Get monthly emails with updates on new music, videos, and exclusives from your favorite Christian artists on K-LOVE!
Stay Informed
Go behind the scenes of Christian music, culture and entertainment.