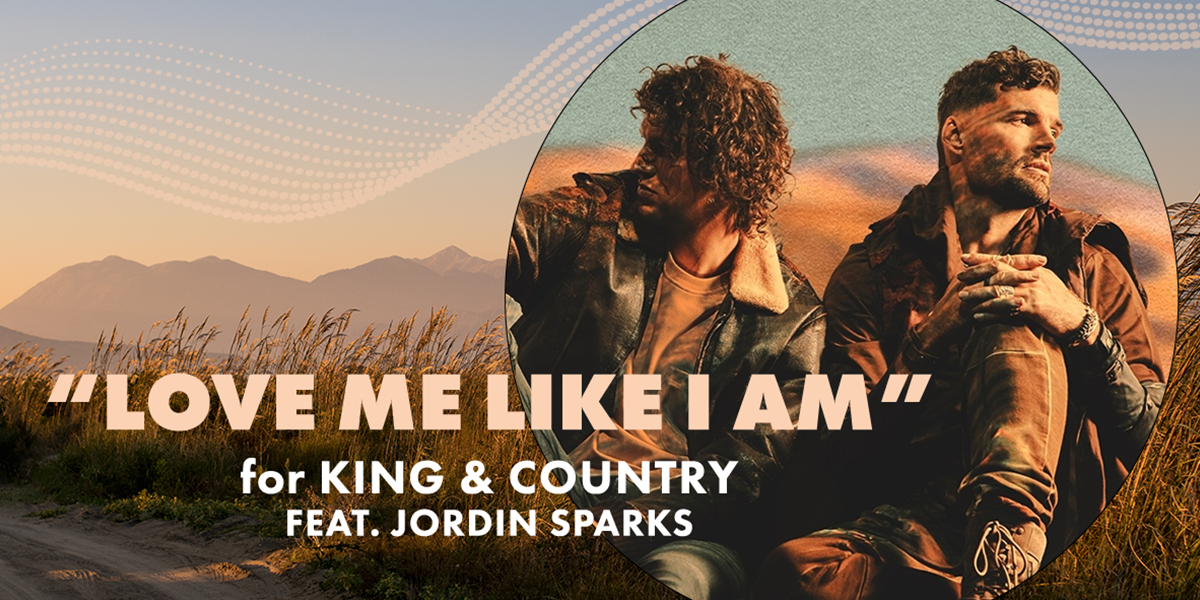 for KING & COUNTRY's latest single, "Love Me Like I Am," features a collaboration with singer and actress Jordin Sparks. Heard exclusively on K-LOVE first, the wonder-filled pop anthem encourages listeners with the message that real love is love that's offered unconditionally. Brothers Joel and Luke Smallbone initially wrote and recorded the song for their latest release, What Are We Waiting For? The addition of Sparks' vocal, however, gives "Love Me Like I Am" an even greater universal appeal.
"Really the heart and sentiment of it is this idea of this incredible version of love, which I think is the truest version of love — be it God to humanity or human to human — that just meets people and accepts them right as they are," says Joel.
It was Joel who actually woke up in the middle of the night with the phrase "Love Me Like I Am" burning in his brain. He took it into a co-write the next morning with his brother and longtime friend and collaborator Josh Kerr, who then completed the phrase, which rounds out the first line of the chorus: "It's amazing that you can love me like I am." The men then finished the song with fellow songwriter Michael Pollack via Zoom.
"What I love about this song is, obviously, the ultimate love comes from God, right? He knows us, yet there's still that love. That's the way He views us," Luke offers. "But I also think for all of us, those relationships that are most significant in our lives are the people who say, 'I've been married to you for however many years, and I still love you for who you are. I've been raising you for however many years, and I still love you for who you are. You've been my friend for this many years, and I still love you for who you are.' I think that's one of the most amazing gifts that we can give each other."
Joel says the fresh, reimagined iteration of "Love Me Like I Am" is the "most complete version of this song thanks to dear Jordin." Sparks, who remains the youngest winner in "American Idol" history, admits she's a fan of for KING & COUNTRY and immediately fell in love with the single when she heard it.
"It's a beautiful message and a beautiful story, and it's something that everybody needs to hear, but also that's what everybody wants to experience," Sparks asserts. "Especially now when there's just a lot of distraction, a lot of crazy things going on, and you kind of look at it all and go, Where's the love?"
RELATED CONTENT: Exclusive Performance of "For God Is With Us" with for KING & COUNTRY