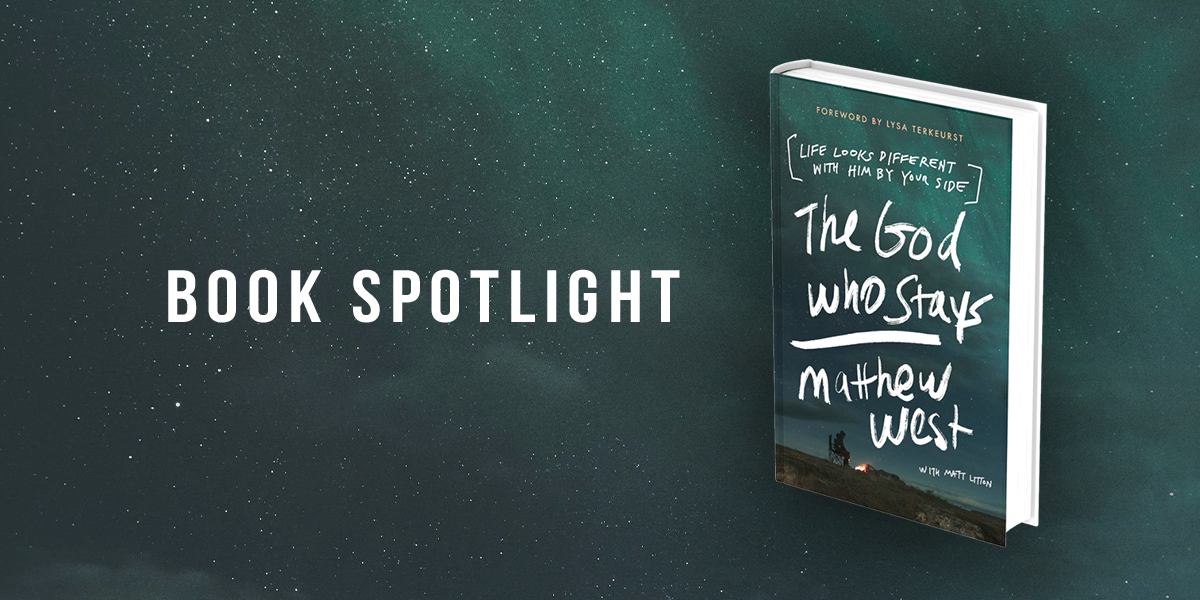 "The God Who Stays" might be the name of one of Matthew West's many hits, but it's now also the title of his latest book, "The God Who Stays: Life Looks Different With Him By Your Side." The perennial K-LOVE Fan Awards host started writing the book during lockdown. With his tour cancelled and the future uncertain, West took inventory of his life, and in turn, crafted an offering that reiterates all the reasons God will never leave or forsake us.
Reflecting on the first anxiety-filled days of the global pandemic, West recalls the moment he got the call telling him his concert dates were removed from his calendar for the foreseeable future. In response, the singer/songwriter booked the first flight home and ordered an Uber to take him to the airport.
RELATED CONTENT: This Is My Story with Matthew West
There was a moment during that Uber ride that haunts him throughout the entirety of the book. With Christian radio floating through the speakers of the sedan, his Uber driver started singing along in broken English to one of West's own songs — "The God Who Stays." The driver didn't know the song's owner was sitting in the backseat of his car, but the incident served as a poignant reminder to West that sometimes songs are written for the songwriter as much as they're written for the listener.
WATCH NOW: "The God Who Stays" Official Music Video
"I'm so excited to share more of my story with you through these pages. Just like my songs, I tend to write the messages that I myself need to hear. I needed a chapter by chapter reminder that He is the God who stays. Perhaps you do, too," West offers. "I pray this book strengthens you, challenges you, renews you, and reminds you that you are never alone. Life truly looks different with Him by your side."
Across 11 chapters, the "Me On Your Mind" singer shares his family's pandemic experience and the truths he learned during his unexpected time away from the stage. The father of two weaves together his quick wit and his penchant for storytelling to create a book that's filled with insightful wisdom and Scripture-backed lessons. Always pointing back to God's Word, "The God Who Stays" carefully walks readers through West's straightforward perceptions of a Creator who doesn't social distance.
When COVID-19 threw the world a curve ball, it turns out the award-winning artist was asking the same questions we were all asking: Will my family be safe? How will this affect the ways I typically provide for my family? What will the future look like? Where is God in all of this? While he doesn't pretend to have all the answers, the singer does confess his relationship with Jesus was strengthened during this time as he sought to figure out who "Matthew West" was off stage.
In "The God Who Stays" — his sixth book — West gives readers a glimpse into his home life during quarantine, including the familiar pandemic ritual of an evening walk with his wife, Emily, and his two daughters, Lulu and Delaney. He talks about the surprising viral success of "Quarantine Life" and admits to feeling conflicted and embarrassed when he found himself in hot water with his follow-up parody song, "Modest Is Hottest." He shares about connecting with fans in creative ways during a season when he couldn't play live shows, including the technology to host numerous livestream concerts from his in-house studio, The Story House, the opportunity to start his weekly "Quarantine Quiet Time" and the chance to launch a podcast.
WATCH NOW: "Quarantine Life" Music Video
On a deeply personal note, West takes readers back to the famous blue couch where he watched a Billy Graham crusade on TV before asking Jesus into his heart. He shares humorous stories from his childhood growing up in Chicago as a preacher's kid. Additionally, he reflects on his dreams of playing in the Major Leagues and the constant rejection he faced early on in his career. He also recalls the label showcase where he first met his wife.
RELATED CONTENT: Matthew West Takes Part in Hilarious Songwriting Challenge
Snapshots of his life are sewn into the pages of "The God Who Stays," forming a patchwork quilt that reveals a musician deeply committed to getting it right. He might be a talented vocalist and a respected songwriter, but at the end of the day, it's evident West is simply a devoted believer, husband, father, son and friend. "The God Who Stays" reveals an author who is the humble "guy next door," humanizing West in a way that perhaps no three-minute song ever could.
West's next release will arrive in the form of a double album: "My Story Your Glory," which is slated to hit streaming services February 17, 2023.