Posted on Sunday, Feb 20, 2022 by Lindsay Williams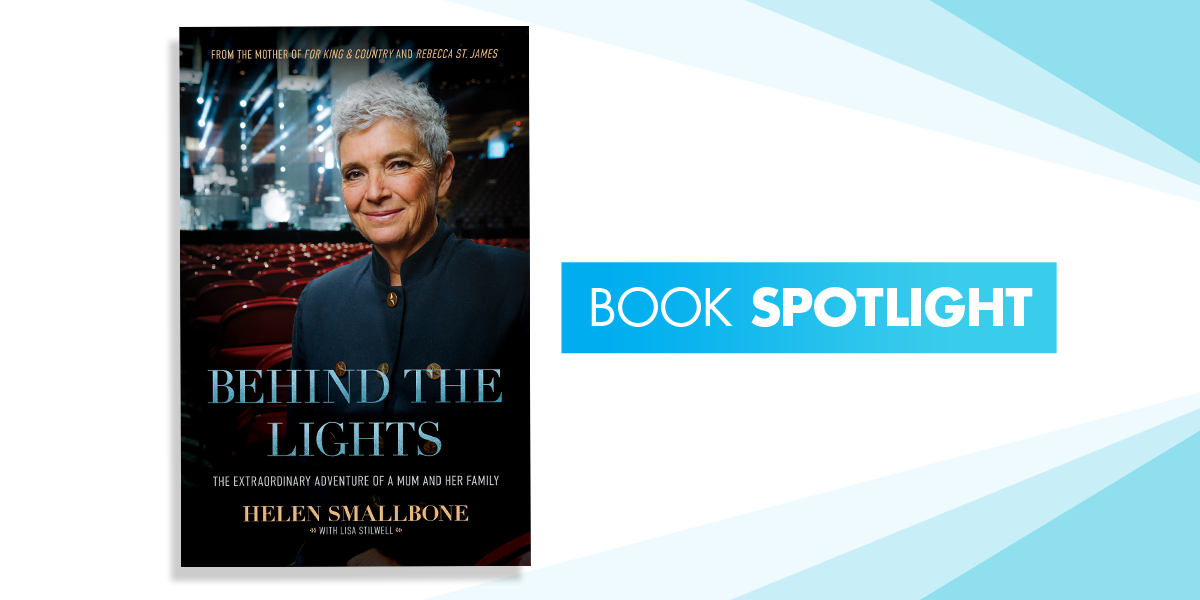 As a parent to seven children, Helen Smallbone knows a thing or two about motherhood — and she consistently shares her wisdom through the MUMlife Community podcast on Accessmore. Now, for the first time, the mother behind GRAMMY® award-winning artists @for KING & COUNTRY and @Rebecca St. James is packaging all of her sage advice into her first book, Behind the Lights: The Extraordinary Adventure of a Mum and Her Family.
Catch Up Now: MumLife Community Podcast
One chapter into the memoir, and it's obvious Helen's greatest treasure is her family. The Australian-born brood cut their teeth on touring thanks to the budding singing career of the eldest Smallbone child, Rebecca, whose stage name St. James is a nod to her grandfather. It was on the road working for their sister where brothers Joel and Luke, who now make up FOR KING + COUNTRY, learned the ins and outs of the live entertainment business from a very young age. Helen chronicles all of this in the pages of Behind the Lights, but she takes their story back even further — to the very beginning.
The Smallbone dynasty began an ocean away in Australia, and Helen starts the memoir with her earliest memories of childhood, growing up the daughter of a Methodist pastor. She reveals how she met her now husband, David (at a church event with a cockatoo on her shoulder); and how their respective faith journeys eventually converged.
Helen details the ups and downs of their marriage since the couple was first introduced 50 years ago. She also reveals the professional struggles her hard-working husband encountered — many of which quietly laid the groundwork for the future careers of their children. With a genuine calling to work in the Christian music industry and an entrepreneurial spirit, David began building a management company and a concert promotion business, among other endeavors, alongside their growing family.
"My mum is faithful. My dad cries pretty much every time he talks about Mum. I know that it is largely because of how faithfully she has loved him. When he was broken and at his most emotionally fragile after huge setbacks and worldly rejection, she did not doubt him or waver; and she did not fear for the future of our family of nine. She knew God would provide and that Dad would come through," Rebecca shares in the book's foreword. "That belief was used to bring our family to the season we are in today — a season of much fruit from that faithful trust."
Helen's trust and David's drive led the family to the States, where they arrived with sixteen suitcases, very little money and no car and took a train all the way from Los Angeles to Nashville. Behind the Lights invites readers into cheap hotel rooms, temporary rentals and unfurnished cottages where the family existed solely on peanut butter and the kindness of neighbors and slept on makeshift mattresses Helen crafted by packing the kids' thick winter clothes under a sheet.
Eventually, they were able to settle into a farmhouse in Nashville surrounded by some acreage, where Helen and David still reside today. But the road to their forever home was paved with years of David, Helen and the kids sacrificing and taking odd jobs just to pay rent before Rebecca's singing career took off. As Helen reveals, it was in the trenches of never having enough that forced them to rely on one another and God's provision in a unique way that has sustained them for a lifetime. As she both homeschooled and shepherded her children, Helen candidly relays her most regrettable moments as a mother, while also passing on the lessons she learned along the way.
Weary moms will identify with her transparency, and longtime Christian music fans will especially delight in the insights she shares into the rising careers of Rebecca, Joel and Luke. Like, for example, how lonely and isolating the road became for Rebecca; and how much pressure she felt regarding her appearance as a young woman in the spotlight. Or how Joel and Luke didn't always share the close bond they enjoy now. In fact, the brothers found it difficult to work together in the early days of FOR KING + COUNTRY, which were rife with arguments and creative differences.
While Rebecca, Joel and Luke might garner the most attention, Helen has four other children, of which she is just as proud. She explores the creative paths each of her kids have taken — both personally and professionally — the challenging illnesses experienced by both Luke and the youngest Smallbone, Libby; and how they each met their respective spouses. Today, many of the Smallbone brothers continue to follow in their dad's footsteps as they remain involved in the lifeblood of FOR KING + COUNTRY, working behind the scenes in management, stage production, videography and more. Now in his seventies, David also continues to be instrumental in directing the vision for FOR KING + COUNTRY and maintaining the integrity of their brand, supporting his children at every turn.
Watch Now: An Evening With The Smallbones
The patriarch, the brothers — they're all simply carrying on what quickly became the Smallbone family motto: The family that works together, stays together. No other family has lived out this mantra better. And it's perhaps one of the reasons why they remain so close.
The Smallbone story is one of both great struggle and great resilience. Through it all, Helen is a friendly narrator, offering gentle reminders — rooted in Scripture and real-life experience — to inspire and convict readers as they live out the purpose God has given them. Helen's significant role in her own family's story demonstrates that the steadfast belief and encouragement of a mother builds a foundation for her children that is immovable. She might not be the one on stage, but Behind the Lights is proof that she's the unsung hero behind her talented kids.
WATCH NOW: "Unsung Hero," for KING & COUNTRY
"I confess I'm my happiest when I'm behind the scenes — I have spent my life in the background," Helen admits. "It's been quite a journey, filled with the testing and growing of my faith and God leading us all step by step toward living 'outside the box.' I never thought my life would unfold the way God has led it… I look back on my family's journey, and I see God's hand everywhere. I see His phenomena. I see His faithfulness in taking our simple Australian family and leading us to the other side of the world and doing things with us we would never have thought possible. Our lives are a living testimony of believing God's promises and trusting His timing and His ways — even when circumstances didn't make sense and were not easy. He was always there."
Purchase your copy of Behind the Lights here.