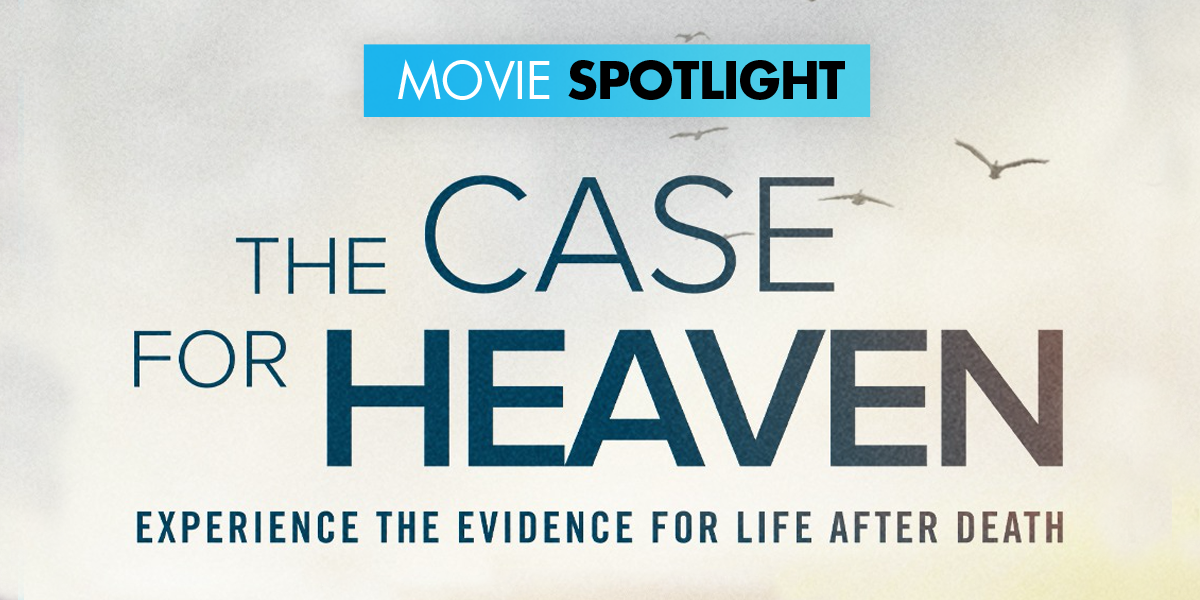 Is there life after death? It's a crucial question every person will ask at some point. Atheist-turned-Christian Lee Strobel would argue that, yes, there is life after death. And it's better than you can possibly imagine.
WATCH NOW: "The Case for Heaven: Trailer
The respected apologist, best known for authoring The Case For Christ, explores the answer to this question in a brand new documentary that complements his most recent book, The Case For Heaven.
Alongside director Mani Sandoval, Strobel sets out on a quest around the globe to prove the existence of the heaven described in the Bible. Over the course of 12 months, the two men journey to England and back to the States where they traverse the country making stops up and down California's coast and visiting Oregon, Nevada, Texas, Louisiana, New York and more. In addition, they travel back to Strobel's childhood home in Illinois where he first learned to write on an old typewriter in the family basement, previewing his future career as an award-winning journalist for the Chicago Tribune.
Like any good journalist, Strobel knows how to ask the right questions and evoke the right answers. He's also very astute at piecing together facts that translate into evidence that points people to truth. It was this simple formula that led him to the results he exposed in The Case For Christ, and he follows a similar pattern in The Case For Heaven. In the film, however, it's Sandoval who wears the journalist hat, posing questions to Strobel and the film's numerous guests.
For the most skeptical among us, Strobel is as logical and commonsense as they come. He's a fellow sojourner, empathetic to different schools of thought, while also playing detective, connecting the dots one clue at a time. Snippets of his own story are told throughout the film — how his wife was instrumental in him coming to Christ, and then how his daughter gave her life to the Lord after witnessing a change in her dad — but the majority of the nearly two-hour movie is centered around a collection of talks with an array of people from different generations, different professions and different walks of life. In their own way, each person also holds a different belief system; and not all of them are church-going evangelicals, which presents an opportunity for more diverse dialogue.
Every conversation mines a new facet of the same gem. Life after death: Does it exist? What happens when we die? And what does an eternal existence with or apart from God really look like?
RELATED CONTENT: Trailer Debuts: "The Case For Heaven" - When We Leave This World, Then What? Based On Lee Strobel's Challenging Book
Intriguing — and sometimes complex or even opposing — points of view follow. Many share harrowing near-death experiences where they briefly encountered what they believe to be the afterlife. Others offer raw life experience or universal pain as a compass for their beliefs on the subject.
Acclaimed writer and leader John Burke candidly relays his journey from doubt to faith, which he also details in his book, Imagine Heaven. Author Francis Chan, best known for Crazy Love, discusses how the death of his parents — especially his mother, during childbirth — affects his perspective of heaven. Jon Steingard, formerly of Hawk Nelson, also offers a compelling conversation about his "deconstruction," after publicly renouncing his faith in God in 2020 and sparking much debate within the Christian music community.
Toward the conclusion of the documentary, viewers are treated to some rare audio taken from an exchange between Strobel and one of his heroes, the late Luis Palau. Strobel reveals it was the world-renowned evangelist's final interview. Diagnosed with terminal cancer, Palau shares how he felt about his impending death, under the assumption that perhaps those closest to the other side can offer some kind of wise insight into the mysterious journey beyond this earthly life. The Case For Heaven also includes exclusive interviews with Palau's wife and son following his passing.
RELATED CONTENT: Beloved Evangelist Luis Palau Is Now With Jesus
Strobel weaves all of these thoughtful discussions together, allowing each interview to further prove his point that heaven does indeed exist, and it's up to each one of us whether or not we make heaven our eternal address.
While heady at times, the conversations are fascinating, and each passing city provides a unique kaleidoscope of scenery. Whether chatting in an old diner, a historic church, a dusty library, a warm home, a sandy beach or a deciduous forest, the revolving locations keep the documentary moving forward and provide some beautiful backdrops along the way.
The Case For Heaven doesn't beat viewers over the head with Strobel's findings, but it does offer strong corroboration for his points. Instead, he lays out all the facts and asks you to interpret them for yourself. The film answers some tough questions, but at its best, it will also start some conversations among believers and non-believers alike. Either way, in a quiet, confident manner, Strobel is clear about what he believes.
RELATED CONTENT: The Case For Heaven Companion Podcast
After all of his extensive research, he's come to this conclusion. "If we believe that heaven is true — that it's real — that should affect our everyday life, our attitudes, our perspective, the way we treat people, the way we spend our money, the way we spend our time. It should ripple through every aspect of our lives," Strobel contends. "At some point we realize that when we close our eyes in this world, that isn't the end of our existence, but there's another chapter to come."
Exclusively in theaters, The Case For Heaven will premiere April 4-6, 2022. Purchase tickets here.