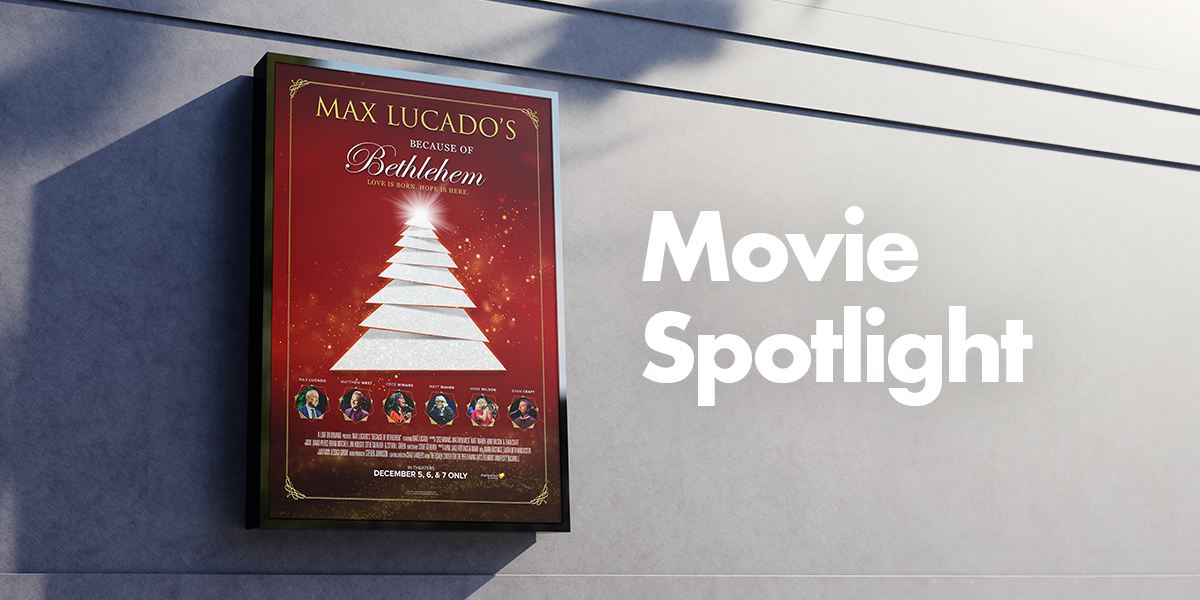 Max Lucado is often referred to as "America's Pastor" for a reason. The beloved author has a friendly, gentle way of delivering resounding truth. This Christmas, he's bringing a timeless message of hope to movie theaters nationwide when "Because of Bethlehem" premieres Dec. 5-7, 2023.
The unique live production is far more than a sermon from a trusted communicator. Inspired by his bestselling book of the same name, "Because of Bethlehem" is a Christmas special that not only prominently features Lucado, but also includes performances from some of his favorite Christian artists.
Originally filmed at Nashville's state-of-the-art Fisher Center on the campus of Belmont University, "Because of Bethlehem" begins with a story. Told by Lucado — the obvious host for the evening — this particular story harkens back to his childhood and a vivid memory of a plainly wrapped package that lay beneath his family tree. On Christmas morning, the massive, nondescript box is revealed to be a gift for his mom from his dad. Flanked by two oversized presents onstage, Lucado shares that the large container was filled mostly with tissue paper, which led to a stack of nesting boxes that eventually encased one of his mother's most precious possessions — a small diamond ring purchased with love.
"A remarkable gift can arrive in an unremarkable package," Lucado concludes. "That's the story of Bethlehem."
His personal anecdote sets the rhythm for the evening — a pleasant cadence that finds the congenial speaker weaving together Christmas memories, biblical truth, poignant stories, Scripture verses, and even video vignettes in between selections from special musical guests, including Matthew West, Evan Craft, Anne Wilson, Matt Maher and CeCe Winans.
Kicking off the night's string of musical performances, West executes an all-new original aptly titled "Because of Bethlehem," which he penned after reading Lucado's book. While introing his song, he discloses advice his own father — a pastor — dispensed while West was interning for him decades ago: "Read the Bible, and read Max Lucado."
With the help of a solitary grand piano, bilingual recording artist Craft serves up emotive original "Someone Like Me," while newcomer Wilson offers "The Manger," the title-cut of her 2022 holiday EP that she initially recorded with country singer Josh Turner and co-wrote with West and Jeff Pardo.
Prior to singing "Love Came Down to Bethlehem," Maher divulges how he was on a trip to Israel with Lucado when he received news of his dad's passing and how his death ultimately inspired him to craft 2018's "The Advent of Christmas."
Following Lucado's retelling of the nativity story from the vantage point of the Wise Men, Winans takes the stage to deliver a spine-chilling version of "O Holy Night." Accompanied by a string section, her performance of the stunning carol earns a well-deserved standing ovation.
Before drawing the night to a close, Lucado gives those watching an opportunity to receive the greatest gift of all this Christmas — the gift of Jesus. Then, the evening's guests return to the stage for an all-sing. Backed by a full band, the five featured artists invite the audience to join them in singing familiar seasonal standard "Joy to the World."
Bringing his book to life onstage and through song, from start to finish, Lucado transports viewers to the little no-name town that would have very well been overlooked had the King of Kings not been born there. Thanks to Lucado's benevolent style and his talented stable of guest musicians, "Because of Bethlehem" beautifully allows a soft, simple presentation of the Gospel to steal the spotlight, beckoning us all to reflect on and relish the true meaning of Christmas. Like Lucado so eloquently states, "Because of Bethlehem, no one is beyond the saving grace of Jesus."
Select theaters across the country will present showings of "Because of Bethlehem" to kickstart the holiday season for three nights only (Dec 5, 6 & 7). Learn more here.