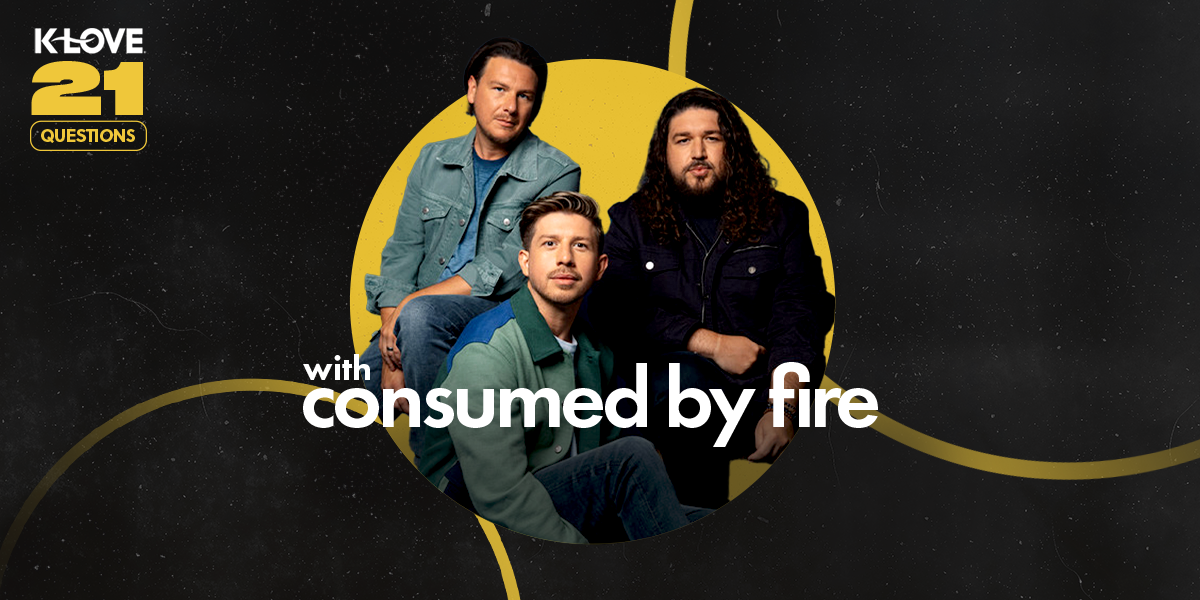 Brothers Caleb, Jordan and Josh Ward are returning to their first love on @Consumed by Fire's current radio single, "First Things First." The title-cut of their brand new EP has been burning up stereo speakers across the country, but the song itself has roots in a highly personal season for the band. The trio previously shelved their music career to spend time at home with their ailing father, who for years, was terminally ill. In the midst of caring for their beloved dad — a pastor since they were kids — they met Jay DeMarcus, a former member of country supergroup Rascal Flatts and now the founder and CEO of Christian label Red Street Records, who encouraged them to start writing again. After their dad passed away last year, the siblings set out to make him proud, carrying on his legacy of ministry with a renewed sense of purpose.
WATCH NOW: "First Things First" Official Music Video
Still based 35 minutes outside of Tulsa in rural Oklahoma, the brothers now make regular trips to Nashville to write and record. As Consumed By Fire continues to work on new music, Jordan took time to answer a round of 21 Questions for KLOVE.com where he shared the group's affinity for breakfast all day, their admiration for Bob Seger and wisdom from their dad they'll never forget.
K-LOVE: Moment you knew you wanted to play music for the rest of your life?
Jordan Ward: Man, we were so young when we knew. Our story, in short, is three pastor's kids who saw how passionate our parents were about the Good News, and that passion was highly contagious. By the time Caleb was only 13, we "convinced" our parents to homeschool us so that we could travel and spread that Good News through a band we wanted to start called Consumed By Fire. Lots of embarrassing photos later, and here we are. Different hairstyles, same exact message.
K-LOVE: Favorite post-show snack?
Jordan Ward: If we aren't immediately traveling to the next stop, a diner is the move. Hot cup of coffee, no matter how late it is, and breakfast. If it's back to the bus, it's typically whatever is in the green room. But to the coffee and breakfast questions arising, yes, we're old souls.
K-LOVE: What "First Things First" means to you?
Jordan Ward: Oh goodness, so much. This song came after a period of a lot of weariness. Prior to writing "First Things First" we were really tired from relentless traveling and a lot of disappointments… After dedicating so many years to the ministry of Consumed By Fire, we weren't really sure what the future held for us, musically speaking. At the time of writing this song, we were also going through a lot in our family, confined to a hospital for 15 months as our dad was fighting for his life. He was able to come back home in the summer of 2020 and spent close to two more years with us from home. Some time in between the hospital period and nursing dad at home, we were so blessed to team up with Jay DeMarcus and have the outlet of writing with him and many others at Red Street Records in Nashville. So we would travel back and forth periodically to write songs.
In one of those writing sessions (the third song written that day), we just completely emptied what was in our hearts into the room that afternoon. After the song was written and demoed, we would listen back — and then we'd listen back again and again — and we would just weep. That song would keep us up at night. It didn't take long before we knew what God was speaking to us through this song. It was a "return to your first love" kind of moment for us. And here we are.
WATCH NOW: "First Things First" Story Behind The Song
K-LOVE: Artist you can't stop listening to?
Jordan Ward: We keep all the classic stuff in steady rotation. Won't ever get enough of Bob Seger, Eagles, James Taylor, Elton John and so many more of all those guys.
K-LOVE: First job?
Jordan Ward: It's probably not an exciting answer, but it's always been Consumed By Fire for Caleb and me. Josh, being the oldest brother, I think it was probably like a lumber boy on a construction site or building fences or something.
K-LOVE: Song you wish you had written?
Jordan Ward: There's a few. I don't think I'll ever get over "Make You Feel My Love" by Bob Dylan though.
K-LOVE: Dream collaboration?
Jordan Ward: Don Henley would be wild. We've always loved Blake Shelton. Of course, @Chris Tomlin. I also think Caleb's voice would sound wonderful paired with the lovely @Lauren Daigle, don't you?!
K-LOVE: Favorite Bible verse?
Jordan Ward: Well, that's always a tough one, but I consider Philippians 3:12-14 to be my "life verse" and my heart's cry. I love how Eugene Peterson's translation reads, and it makes me all weepy just reading it. Paul takes the words right out of my heart with this one: "I'm not saying that I have this all together, that I have it made. But I am well on my way, reaching out for Christ, who has so wondrously reached out for me. Friends, don't get me wrong: By no means do I count myself an expert in all of this, but I've got my eye on the goal, where God is beckoning us onward — to Jesus. I'm off and running, and I'm not turning back."
K-LOVE: Three words that describe your music?
Jordan Ward: Jesus. Love. Real.
K-LOVE: Thing you love most about your home state of Oklahoma?
Jordan Ward: We often say "it ain't the places, it's the people." The people here are absolute salt-of-the-earth kind of folks by and large. We've been blessed to travel all over this beautiful country, and we truly do have a deep love and appreciation for America and its people, but Oklahoma just has our hearts. The lakes and the sunsets aren't bad either!
K-LOVE: Best advice you've ever received?
Jordan Ward: I was telling somebody the other day how much we keep hearing the wisdom of so many things our dad taught us before going home to be with the Lord last year. Now there seems to be little things he'd say that'll pop up here and there. One piece of wisdom he'd often give us that keeps coming back is: Go with peace. That is wisdom for every day. He would always say that when it came to the questions of what we should do or not do in moments of serious decision-making. When we'd ask, "What should we do, Dad?" He'd say, "Go with peace. Don't go against the scratch if you've got a red flag." He explained to us as kids how the Holy Spirit works, leads and speaks to us through peace and to never go against that.
We knew that "go with peace" was always referring to Colossians 3:15: "Let the peace of Christ [the inner calm of one who walks daily with Him] be the controlling factor in your hearts [deciding and settling questions that arise]."
K-LOVE: First gig you ever played?
Jordan Ward: Consumed By Fire's first show was a church gig on May 12, 2006, in Okmulgee, Oklahoma. There were around 200 in attendance. Thankfully, we've seen no video evidence floating around.
K-LOVE: Thing that inspires you to continue to write and sing and record?
Jordan Ward: A question like that just makes me see the faces of so many people we've met over the years who found Jesus through a song or an experience at one of our concerts. The testimonies that come in are such an encouragement to us. They sometimes just leave us speechless at how God can use a small three-minute piece of our hearts to do the things He does with them.
K-LOVE: One thing fans might not know about you?
Jordan Ward: The thing that seems to shock most folks is how much we cut up and joke around all the time. We laugh a lot. We're serious as all get out about the Gospel, but man, we like to have a good time.
K-LOVE: Item you can't live without on the bus?
Jordan Ward: Chipotle, Applebee's and Starbucks gift cards are something we love to keep around on the bus!
K-LOVE: Favorite TV show to binge?
Jordan Ward: Right now, probably "Yellowstone."
K-LOVE: Lesson you've learned the hard way?
Jordan Ward: The word "no" isn't a bad word. And there is a difference in being accessible and being on-demand. We should aim to be accessible, but being on-demand should be reserved for only a few. Knowing the difference can save you from weariness and burnout.
K-LOVE: One career moment you'll never forget?
Jordan Ward: There are so many memories from this journey that hit us every day. If the Lord were to bring this music career to a close one day, I don't think it would be possible for the older versions of ourselves to narrow down our highlights to one single moment. We've just been so grateful for every stop and relationship along the way that it would be hard and nearly impossible to put one event or relationship over the other. Every day we're just so blown away that listeners out there care about our songs and the message we have to share through our music.
K-LOVE: Person you love following on TikTok?
Jordan Ward: Our sweet friend, Lanie Gardner. We always love her bubbly, southern, charming personality and her incredible voice.
K-LOVE: First concert?
Jordan Ward: If I remember correctly, I think it was @Carman or @dc Talk — at the Mabee Center, of course!
K-LOVE: Favorite fan encounter?
Jordan Ward: I'd have to say, any time somebody shares with us how they've struggled to find strength but found hope in one of our songs — every single one of those encounters affects our lives on a deeply personal level and becomes a moment we'll never forget. Also, meeting people who say they gave their lives to Jesus at one of our shows are always our favorite encounters!