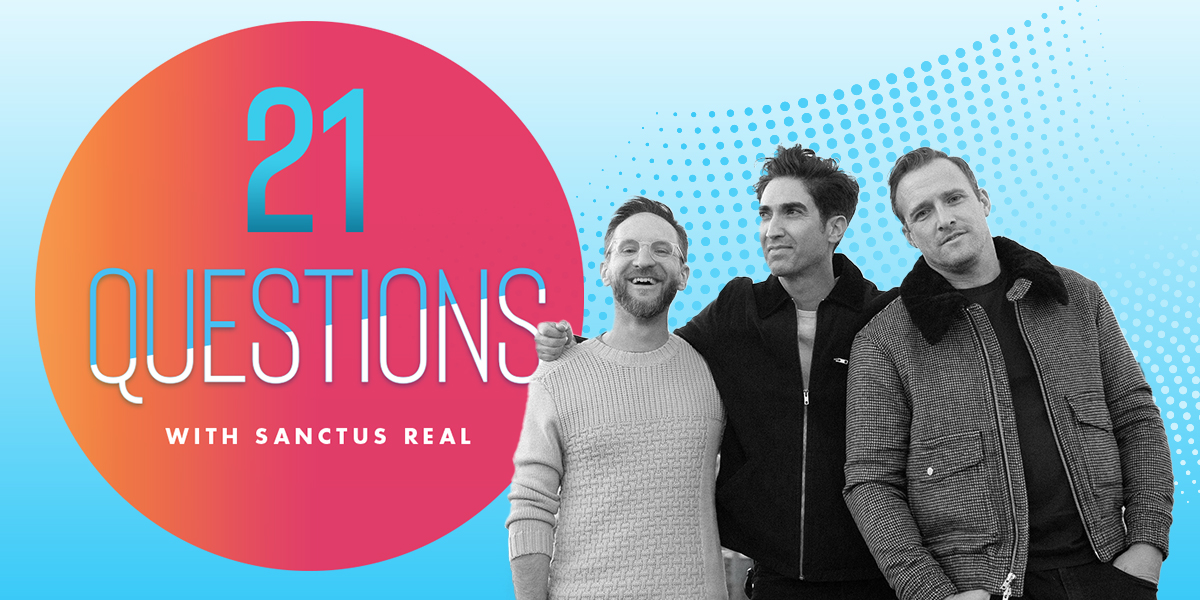 Initially known for fan favorites like "Lead Me," "Forgiven" and "Promises," among other notable singles, Sanctus Real has been inspiring audiences since the group formed in Toledo, Ohio, in 1996. When Dustin Lolli replaced Matt Hammitt as lead singer in 2015, the group went on to successfully stage a second act and rack up a stack of current hits like "Confidence" and "Unstoppable God." They now have a reading plan available on the YouVersion devotional app that shares Scripture and practical application behind their most recent hit, "My God Is Still The Same." The trio is currently celebrating the holiday season out on a brief run of acoustic shows with husband and wife duo Love & The Outcome.
WATCH NOW: "Confidence" (official music video)
RELATED CONTENT: Sanctus Real Proclaims "My God Is Still The Same"
KLOVE.com recently fired a set of "21 Questions" at Lolli and his bandmates, Chris Rohman and Mark Graalman. The men of Sanctus Real were up for the challenge. Check out the Q&A below to find out the first album each of the three musicians ever owned, the venue they'd most like to headline, and which member of the band stocked CDs at Circuit City before he ever made a record of his own.
---
K-LOVE: Favorite "classic" Sanctus Real song to play live?
Mark: "Forgiven"
Chris: I agree, "Forgiven" will always be a favorite because the message of that song still resonates the same today. "When we don't measure up to much in this life, we're all treasures in the arms of Christ."
WATCH NOW: "Forgiven" (official music video)
K-LOVE: First album you ever owned?
Dustin: Carman, Radically Saved
Mark: Michael Jackson's Thriller
Chris: Richard Marx (self-titled)
K-LOVE: Most memorable fan story/experience?
Mark: A little boy attended a show we did at Mall of America and "played" "Confidence" with us on stage using his toy guitar. We welcomed him to do so, because earlier that day, his parents shared his story with us. He had to undergo a pretty serious surgery for his young age, and "Confidence" was a song he and his parents would sing to overcome their fears and encourage each other prior to the surgery. On the day of surgery, after it was all done, this little boy slowly woke up from the anesthesia singing "Confidence" in his tired little voice. Everything had gone smoothly, and he made a full recovery—praise God!
K-LOVE: Best part about being in a band?
Mark: Experiencing God's presence change the atmosphere every time we get together in a room full of people ready to sing to Jesus.
K-LOVE: Story behind your song, "My God Is Still The Same"?
Dustin: We wrote this song right in the middle of the pandemic when nobody really knew what the future looked like. One of our co-writers asked what we felt we could say to the church at such a difficult moment, and it stirred something in us. Our nation and the church seemed so fear-riddled at the time, and I couldn't help but think about the difficult things people had gone through all throughout history and how even in dark times we could still see the hand of God; and I thought, What has changed? So we wrote the song to remind people and the church that God is here—He hasn't left—and the same God who did incredible things then, still does incredible things today!
WATCH NOW: "My God Is Still The Same" (official lyric video)
K-LOVE: One item you always pack for bus call?
Chris: Wireless headphones!
K-LOVE: Favorite Scripture verse?
Dustin: John 2:24-25: "But Jesus would not entrust himself to them, for he knew all people. He did not need any testimony about mankind, for he knew what was in each person." This has been my favorite verse for a while now. I love it because this happens as Jesus is doing incredible things and receiving all kinds of praise. Most of us would have loved to be in His position, but it teaches me that as a Christian, the purpose of doing things is not to get applause or praise but to just do what's right. It is even more important for those of us in positions on a stage or in leadership. It's easy to fall in love with people's responses to us, rather than to remember why we do what we do in the first place. So in a nutshell, this verse helps me to stay balanced and grounded.
K-LOVE: Sanctus Real song that means the most to you?
Dustin: There's a song on our album, Changed, that is very personal to me called "My Hope Is In The Lord." It was written after a very challenging experience after I joined the band; to say that it was difficult would be an understatement! This was a song that I sat down and wrote in about 20 minutes as a prayer more than a song. My wife sings with me on it, which of course, makes it even more special!
K-LOVE: Artist you would most love to collaborate with?
Dustin: Either Mac Powell [formerly of Third Day] or Jon Foreman [Switchfoot], basically because I was always a fan of their bands' music, but also because they are two of the kindest humans I've met in the industry.
K-LOVE: First job?
Chris: Stocking CDs on the shelves at Circuit City!
K-LOVE: Favorite lyric you've ever written?
Dustin: This is a tough one. There's a few that stick out to me, mainly because of the personal nature of the lyric. There are lyrics in our songs, "Confidence" and "My God Is Still The Same," that I think are powerful statements, but I think I'd go with a song called "Breaking Point"… "Where life and death met face to face, where love met law to rescue me, I'm stuck somewhere in between, this is the breaking point for me." I love this because it feels like a moment of complete surrender.
K-LOVE: Reason you started singing/writing songs/playing an instrument?
Chris: I heard a song on the radio as a kid with an amazing guitar riff. I was able to tape it with my cassette deck and asked my dad if he could pull out his old guitar to show me how to play it. He said, 'Sure, son.' And the rest is history.
K-LOVE: Three artists who inspire you the most?
Dustin: Simon & Garfunkel were probably the biggest inspiration as a kid; I would listen to them every night to go to sleep. Early UNITED, because I had never heard worship like that! Today, I love to listen to Sleeping At Last—I love the musical creativity.
K-LOVE: Best professional advice you've ever been given?
Mark: Matthew 6:24-34
K-LOVE: Favorite thing to do on a day off?
Mark: A day off on the road = find a great coffee shop. A day off at home = spend time with my wife and kids, chilling.
K-LOVE: Thing you love most about each of your bandmates?
Dustin: I see they left this question for me! First, they are both just legit human beings— great family guys—and I know they really believe in the "why" behind what we do! Chris has this incredible work ethic and drive that really has been the motor behind the success that we've had, and I so admire that. He also has been so supportive and generous in helping me learn how to be a lead singer. Mark is one of the nicest people I know and brings a calm and a stability to a lifestyle that is anything but calm and stable most of the time. They are both so experienced and professional, and I love doing what we do together.
K-LOVE: Venue you'd most like to headline?
Chris: Austin City Limits
K-LOVE: One dream you've seen come true?
Mark: I've gotten to play music for a living for the last 20 years!
K-LOVE: Favorite late night bus snack?
Chris: In all of our years of touring, the classics still win out: BBQ (boneless) wings and pizza.
K-LOVE: What you'd do if you weren't a professional musician?
Chris: I'd probably be trying to help someone else be a "professional" musician!
K-LOVE: Three words to describe the new music you're working on?
Chris: '90s driving music.
---
Don't Miss a Beat & Sign Up for K-LOVE's Music Updates!
Get monthly emails with updates on new music, videos, and exclusives from your favorite Christian artists on K-LOVE!