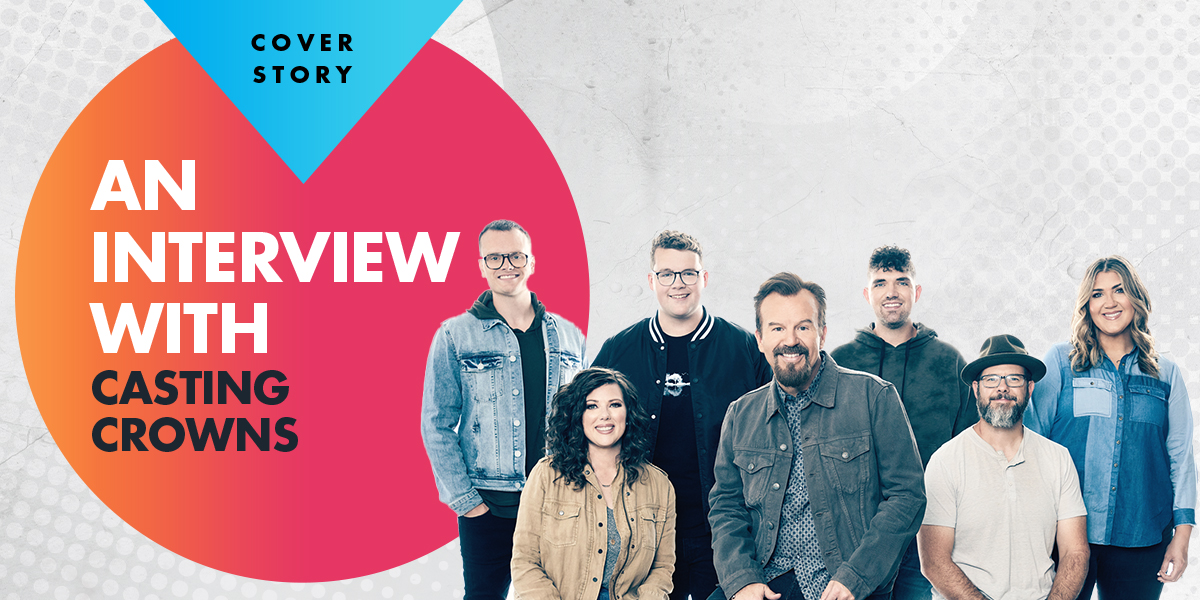 Shut down.
These are the last two words any artist who makes their living from touring ever wants to hear. Yet, those two words turned an entire industry upside-down in March 2020 when the pandemic shook every firm foundation we've ever known. Like many of their peers, Casting Crowns pressed pause on their "Only Jesus Tour." Suddenly finding themselves with an open date on the calendar, they packed up their gear and headed an hour away from their canceled tour stop to Trenton, New Jersey.
They drove to a rehab center where a friend was in residential treatment. That night, they didn't play to their regularly scheduled arena of fans; but they did play to a small group of men in the fight of their lives. It's hard not to believe that their makeshift concert that evening wasn't divinely orchestrated.
Need further proof? That friend whom they visited was Jack Williams, and he's the new drummer for Casting Crowns. When the group's former drummer, Brian Scoggin, exited the group to pursue full-time local ministry; suddenly, the two-time K-LOVE Fan Award-winning band had an opening.
Before getting clean, Williams was a drummer in a mainstream rock band. After his nearly year-long stint in rehab, he was ready to hang up his music dreams for good, content to serve in his local church. But Casting Crowns frontman Mark Hall convinced him otherwise. Williams had grown up in Hall's youth group, and he knew how much talent and heart the recovering addict possessed.
Williams simply needed healing.
When the two-weeks-to-flatten-the-curve fog lifted, and the reality of quarantine set in, healing was a theme Hall couldn't shake. He started writing songs for what would become the GRAMMY® Award-winning band's ninth studio album, the first of a two-part concept project that centers around the idea of healing—why we need it, how we get it and who provides it.
"A lot of the songs are upbeat and rockin', but they're dealing with hard stuff. I'm trying to draw pictures of what healing looks like for a believer," Hall says of Healer, the title of the initial seven-track installment. "I feel like—especially in America—we've got this idea that if we just pray right and say the name of Jesus, everything is going to work out, and everything is going to be just like we wanted it. We've been conditioned to think that way."
If you've enjoyed any length of time as a human—whether you're a Christian or not—you've already discovered this spoiler: Life nor God works this way.
"When we pray for healing and God shows up in a way that's different than what we wanted," Hall offers, "sometimes we can feel like He didn't show up at all."
The father of five recently experienced this personally when he watched his mother walk through the loss of both of her parents—his grandparents—in a short amount of time. Reconciling the healing of heaven with the hurting of earth is a tricky space to navigate.
As a means of attempting to comfort his mom, Hall wrote Healer's lead single, "Scars In Heaven," which the group debuted on the 2021 K-LOVE Fan Awards stage.
"Scars In Heaven" 2021 K-LOVE Fan Awards Performance
RELATED CONTENT: Casting Crowns Releases "Scars In Heaven," Song First Debuted at 2021 K-LOVE Fan Awards
"One of the goals in this song is to remind us that healing always comes, that God always shows up, and He's always faithful," Hall shares of the emotional ballad. "And in those moments when we're counting on the healing to look one way, and it happens a different way, those are the moments that we need the eyes of our heart to be opened to what God's doing."
This is where Hall starts preaching. He has, after all, been in active youth ministry for decades, so it was only a matter of time. His eyes light up as he talks about the disciples who meet Jesus after He's risen from the grave.
"They didn't know what to do with what they were seeing. They didn't have a file in their brains for 'not dead.' They didn't know what to do with that," Hall observes. "So they start thinking, GHOST! Because that's what you do when you don't have a file for what you're seeing—you're going to make up one that makes sense."
Remembering this story, Hall recalled the one thing that made Jesus' resurrection believable: the scars on His hands. That's when the respected songwriter put two and two together, merging the beautiful picture of Jesus' scar-lined hands holding his grandparents in heaven while also holding his grieving mom here on earth.
WATCH NOW: Lauree's Exclusive Interview with Casting Crowns
With all the loss suffered in his own church community outside of Atlanta at Eagle's Landing First Baptist Church over the course of the past few years, the song has taken on a life of its own. "Being a pastor for a long time, I've walked this journey with a lot of people, and I see what grief looks like. People need to be encouraged, but sometimes to be encouraged you've got to walk through it, and you've got to sort through things," Hall says. "God can handle your questions. He can handle your pain. He can handle your shouting. He can handle all of it, and He can meet you where you are. The song, 'Scars In Heaven,' is, to me, the hard first moments of handing it back to Him."
WATCH NOW: "Scars In Heaven" (Official Music Video)
The entirety of Healer isn't quite as heavy. While each track tackles a different facet of healing, there's actually a few songs that poke lighthearted fun at the things we choose to believe. The foot-stomping "Crazy People"—a song that could easily be a twin sister to Casting Crowns' massive hit "Nobody"—recalls a host of biblical characters who were dubbed "crazy" for being obedient. Meanwhile, album closer "2nd Opinions" puts Hall's real-life humor on display with a slow-burning country cut that's part parody, part truth bomb centered around the wacky "biblical" advice that we often take out of context and, in turn, grossly misinterpret.
Perhaps the most poignant selection is the title-track, reminding us that above all else, we need the Healer more than we need the healing. "A lot of times in the New Testament, when people would come to Jesus, they came to Jesus for His stuff," Hall acknowledges. "They came to Him for His bread, and He told them, 'I can't give you the bread. I am the bread.' And they would want the water, and He'd say, 'I can't give you the water. I am the water.' The disciples wanted Him to show them the way, and what did He tell them? 'I can't show you the way. I am the way.' And when we reduce Jesus to remedies and fixes and blessings, we're going to miss Him."
Ouch.
Hall and his bandmates don't want to miss Him, and they don't want you to miss Him either. That's why they intentionally craft music that helps people find God. "I don't write filler songs," Hall contends, adding that all seven of Healer's tracks are equally weighty. "These are major discussion-starting songs that people need to walk through and live because they're built on Scripture."
In a lot of ways, it feels like a full-circle moment for Hall. As a kid who struggled with ADD and dyslexia, he looked to music for his theology. "Christian music is what got me into the Bible," he admits, "because with the whole dyslexic thing, I didn't read the Bible on my own. I would hear a Scripture-based song, and I would want to know where that Scripture was, and that's what got me into the Bible and reading it for myself. So that's the goal I have with songs that I write."
Based on the explosive success of the band, who continues to break records with their sales and accolades, I'd say mission accomplished. Perhaps tangible proof lies in the thousands of concert-goers who are now flocking back to arenas to see the band play these Scripture-soaked songs live.
This spring the seven-piece band will head out on the road in support of Healer with pop-rock outfit @We Are Messengers and newcomer @Jonathan Traylor. And if anyone happens to notice a young kid in glasses playing bass, who resembles the Casting Crowns lead singer, your eyes are not deceiving you. That's Hall's son, John Michael ("JM" for short). His dad assures us there was no nepotism involved. JM got the gig fair and square following the departure of longtime bassist Chris Huffman, who left the band after he got married so he could be at home more consistently.
"It makes me so proud to see him up there playing. I told him the other day, 'Look, you're not the bass player for Casting Crowns because you're my kid. You're the bass player for Casting Crowns because you're an amazing bass player,'" Hall shares. "Bringing your kid up for a song is one thing, but you're not going to tank the band because you love your kid."
JM's official induction into the group was something akin to baptism by fire since his first tour was a leg of drive-in dates, an unorthodox means of touring that multiple Christian artists adopted during the pandemic. If arena touring is "glamping," drive-in touring is full-on roughing it. "He's really good," Hall says of his son. "He adds so much to who we are and how we sound. I mean, he's playing in the studio; he's influencing things. Like with me, he'll send me stuff—'Hey, listen to this.' So he stretches me musically, which is good. He's killing it."
Hall says both JM and Williams have been welcome additions, bringing a lot of creative energy to what He does alongside fellow Casting Crowns members Juan DeVevo, Melodee DeVevo, Megan Garrett and Josh Mix.
Through lineup changes, live event shut downs and personal grief, Casting Crowns has lived the truths walked out on Healer. Hall's done his fair share of questioning, but even throughout the album creation process, he kept coming back to one prayer: "Alright, God, how are You working right now? I know what I've asked. I know what I thought I needed, but this is going on, so show me what You're doing right now."
Healer acts like a compass of sorts, redirecting us back toward the here and now and what God is up to even when we can't make sense of our present circumstances.
"This is God's world, not mine," Hall concedes. "I need to lean into what He's doing."
The Casting Crowns frontman keeps leaning in one lyric at a time. "A song's not going to change your life," he admits, "but a song is going to point you somewhere, so I'm trying to point people to truth. I want to see them walk closer with Jesus."