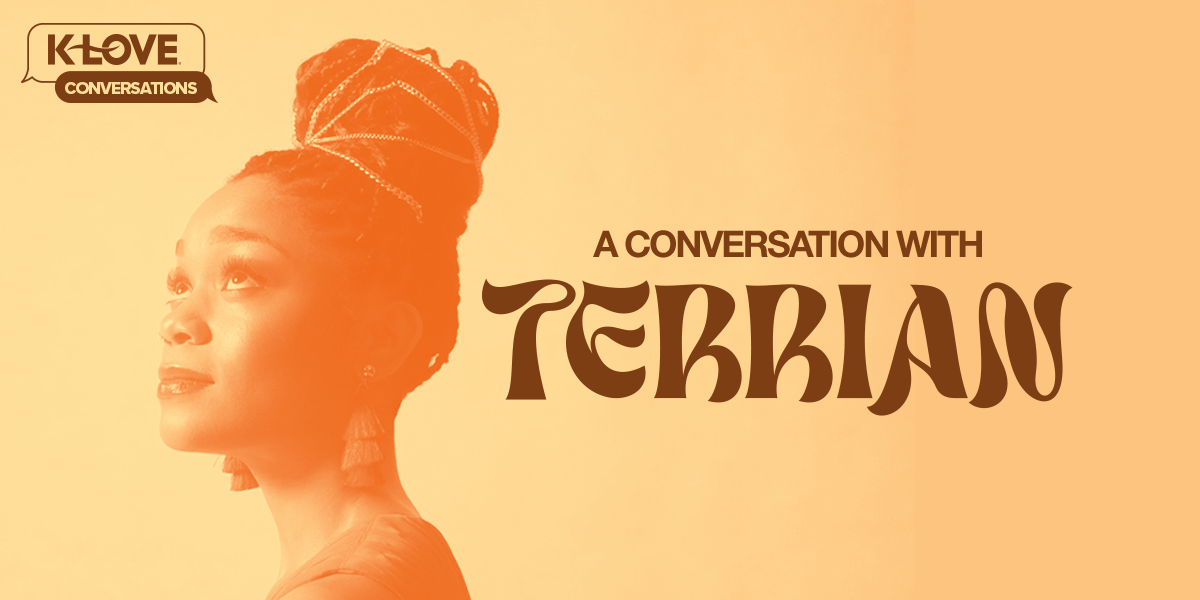 @Terrian recently joined Brock Gill for an episode of K-LOVE On Demand's "Moto Mission." She took Gill to AngelStreet, a nonprofit in the heart of her hometown of Memphis, Tenn., that develops and mentors girls as creative leaders through music. Listen to Terrian sing, and you'll think she's a real-life angel. After signing with @TobyMac's Gotee Records, the singer/songwriter released her debut EP, "The Genesis of Terrian," in 2021. The soulful vocalist, who is also the youngest member of Toby's touring band, just dropped a brand new song, "Big God," and is poised to unveil new music throughout 2023. This fall, alongside her bandmates in Diverse City, she'll hit the road for one of the year's most anticipated tours — a megawatt co-headline bill between TobyMac and @MercyMe, with @Zach Williams opening each night of the 12-city trek. In May, she'll join the lineup for this year's K-LOVE Fan Awards Kick-Off Concert.
KLOVE.com recently caught up with the emerging artist via Zoom to chat about growing up in a home filled with music, initially not knowing who TobyMac was and why co-hosting the K-LOVE 40th Anniversary Concert made her cry.
K-LOVE: Did you just naturally grow up singing since you come from a musical family?
Terrian: Yes, that is exactly it. My grandfather is the pastor of the church I grew up in, and my dad was the assistant pastor at the church. So you're talking small family church with extended family that's not really our family, but became family to us. You would just randomly get called up to sing without them even knowing if you could actually sing or not. So I was maybe five or six, and my aunt called me up to sing, and I remixed the ABC song. I went up there and sang my own version of it. And from that moment on, my family felt I had some sort of tone to my voice. My aunt had me sing in church almost every Sunday. She takes credit for helping me out in the beginning. She's like, "She's singing because of me."
K-LOVE: How were your musical gifts cultivated as you got older?
Terrian: Throughout elementary, middle and high school I had so many mentors who just locked arms with me and provided resources and opportunities so I could sing. Everybody just felt I had this thing, and so they wanted to invest in it. I'm grateful, because I saw the Lord provide people in every season who would mentor me and nurture the gift I had, but also help me grow in confidence, because you do need a little bit of confidence to be on stage.
K-LOVE: How did you first get introduced to TobyMac?
Terrian: I grew up in the inner city, and there's this massive church in Memphis called Hope Church that put a nonprofit organization in my neighborhood called Oasis of Hope. The executive director of that nonprofit knew Toby's manager from some justice event they did together way back when. He introduced me to Toby's manager, who then had me come out to Franklin, Tenn. However, I had no idea who TobyMac was, because I did not know Christian music was a thing. All I listened to was Gospel music, R&B. Looking back now, I realize we were actually singing @Michael W. Smith. We just made it sound like a Gospel song. I had no idea.
Originally, I signed to Gotee [Toby's record label]. I wrote with a couple of their writers, and then we found out that Nirva Ready, Toby's background vocalist, was leaving Diverse City, and they were like, "Terrian might be a good fit." So, the same year I signed to Gotee, I joined Diverse City and become a part of the band. I was like, "What is happening?! This is madness. This is crazy."
K-LOVE: So the opportunity to tour with Toby took you completely by surprise?
Terrian: Yeah. The opportunity presented itself, and I knew it was the Lord. I didn't even know to ask for this thing. And it's been one of the sweetest blessings being a part of this, I would say, family. It's a family over here. It's special.
K-LOVE: What was that initial transition like — stepping in to fill Nirva's shoes?
Terrian: I was 19 or 20 years old when I started. I could not sing as high as I'm singing now. They really had to push me to get there. That was the hardest thing, having to step up on stage in front of all those people and just do the best I could with what I had. I'm so grateful that they were patient with me. I felt so welcomed by them.
K-LOVE: What has touring with Toby taught you?
Terrian: I would say something that never leaves me is what Mike Allen — DJ Maj — in our band told me the first time I filled in for Nirva. Maj is a very quiet dude. He doesn't speak much, but when he speaks, it's very poignant. He looked at me and said, "Don't build a business, build a family." And I've gotten to experience that being a part of this camp. Toby has built a business, but at the heart of it, it really is family.
K-LOVE: What was the "family" atmosphere like on "Hits Deep 2023"?
Terrian: I just feel like the Lord blessed us with sweet community on this tour. It was the sweetest it has been in years. I feel like maybe it was just the amount of prayer that went into this tour compared to others. People just covered us in prayer. And I think the Lord said, "You know what? I'm going to bring you all together." So, it was special. It was good.
K-LOVE: You recently got to be a part of the K-LOVE 40th Anniversary Concert. What was that experience like for you?
Terrian: I hosted the first portion of it. I didn't sing that night. It was special because I'm like, "How and why am I here doing this?! Forty years of this ministry existing, and I get to be here and host a portion of it and introduce these songs that have had such a massive impact in people's lives?" I'm like, "Lord, thank you. This is so kind of You." It just made me emotional. I teared up right before I went on. I really did. It was really, really cool.
K-LOVE: What's on your playlist currently? Now that you're a part of the industry, are you listening to a lot more Christian music, or are you still listening to your OG Gospel/R&B?
Terrian: I try to listen to all of it now. I definitely like being familiar with what's happening over here in this space. I'll look through [playlists] and see who's released music and just go check it out. I love what @Anne Wilson is doing. Her album I think is so solid. It makes me so hopeful for our generation. So yeah, I like to sit down and just immerse myself in it.
K-LOVE: How involved is Toby in the creation of your new music?
Terrian: We wrote a lot together in December. I would imagine he will be very, very hands-on in this project, which I'm really, really excited about. I told him, "I wish you were available to write the whole year!"
K-LOVE: Tell us about your new song, "Big God."
Terrian: I try and make songs that mean something. I remember last year just praying through singles and asking the Lord if He would give us something special. "Big God" was a title I had written down months before we wrote it. I wrote it back in December with Toby, Benji Cowart and Jordan Mohilowski. There were so many different things going on, and I just felt cornered at one point by it all. Seeing the Holy Spirit speak these lyrics through Toby and Benji, I was like, "How did you know that's how I felt?"
Sometimes you can convince yourself that your problems are bigger than God, and it's just not true. He sees things in a way we don't see it. I like that the song is upbeat, but lyrically, it means a lot. It's gotten me out of bed a few times, just listening to it.
WATCH NOW: "Big God" Official Music Video
K-LOVE: And you filmed the song's official music video while you were out on the "Hits Deep Tour" this spring?
Terrian: Yeah, we filmed the whole thing in four hours on "Hits Deep." We had a day off in Grand Prairie, Texas, right outside of Dallas. They were very kind to let us use the stage that day. It was so much fun. We had such a solid community of people out on "Hits Deep." We couldn't stop laughing. Everybody was just cracking jokes and messing with each other, and we were having a blast and that's how I think those things should be.
K-LOVE: What do you hope people take away from your music?
Terrian: I really, really hope it gives people a new joy for Christ being the center — that's what I'm trying to convey in these messages. No matter how creative we get, lyrically, the heart of it is, "Can I give Christ the little things in my life, the little details, my little dreams, my big dreams? Can I give Him that? And how can I be sure that everything reflects and revolves around Him?" That's what I'm hoping it does for people.