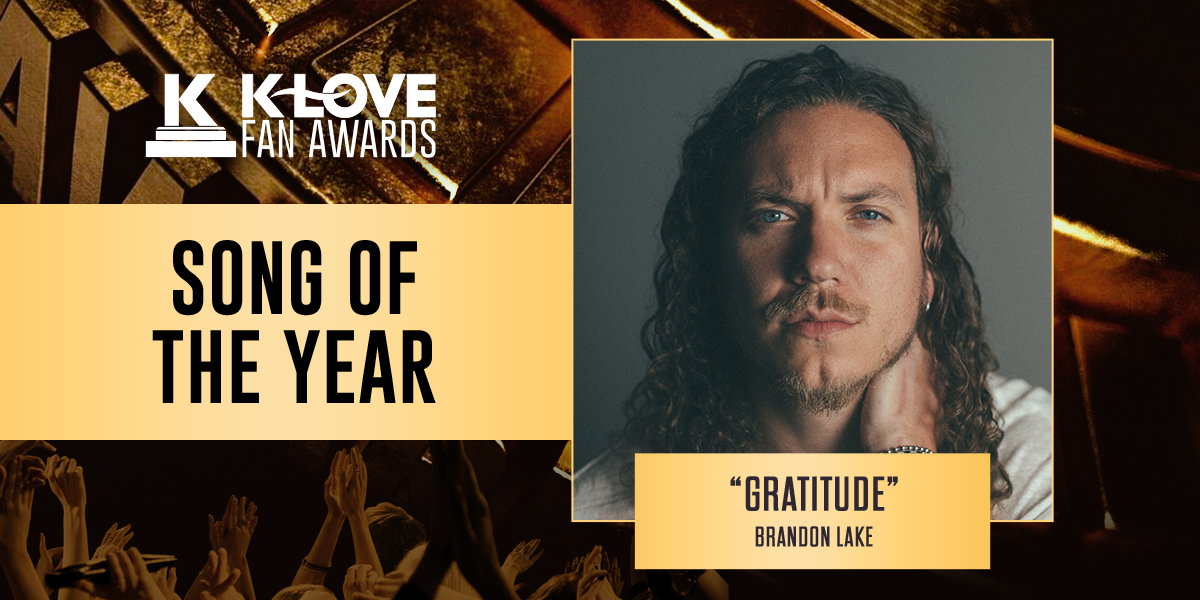 Fans chose @Brandon Lake's "Gratitude" as their Song of the Year at the 10th annual K-LOVE Fan Awards. The worship leader collected his third trophy of the evening after he was also named Male Artist of the Year and after the delicate anthem was selected as Worship Song of the Year.
WATCH NOW: Brandon Lake Winners Circle | Song of the Year
Singer/songwriters @Micah Tyler and @Dan Bremnes presented the award to Lake, who, in his acceptance speech, recognized all of his fellow nominees in the category, calling them his "heroes" and acknowledging that many of the songs they've written have personally carried him through the past year. Meanwhile, earlier in the night, while walking the red carpet, he shared how "Gratitude" has found its way into the lives of countless listeners.
"I met someone here yesterday who said, ''Gratitude' got me through losing my husband to cancer,' and that's the kind of stuff that reminds you, 'This is why we do this,'" Lake told K-LOVE DJ Carlos. "One, because God's worthy; but two, because these songs are resources that are going to get people through the hardest times in life."
Lake performed the fan-voted Song of the Year at the 2023 K-LOVE Fan Awards alongside @Benjamin William Hastings, with whom he co-wrote the single overlooking the Sydney Harbour on a trip to Hastings' former home of Australia.
WATCH NOW: Join Brandon Lake Behind-the-Scenes at the K-LOVE Fan Awards!
During the K-LOVE Fan Awards Weekend, while sitting down with K-LOVE DJ Lauree for a "K-LOVE Live" segment, Lake revealed that when he heard the initial recording of the song, he hated it and was hesitant to include it on his album, "House of Miracles." After a few different iterations, the five-time GRAMMY® winner finally decided to record it with nothing more than an acoustic guitar and his vocal. The final version — which he eventually fell in love with — captures the raw emotion of that single, simple take. While "Gratitude" quickly became a fan favorite at Lake's live show, when "The Chosen" used it for their 2021 Christmas special, the song really gained steam, taking on a life of its own.
"Gratitude" is the only song in K-LOVE Fan Awards history, to date, to win both Worship Song of the Year and Song of the Year.