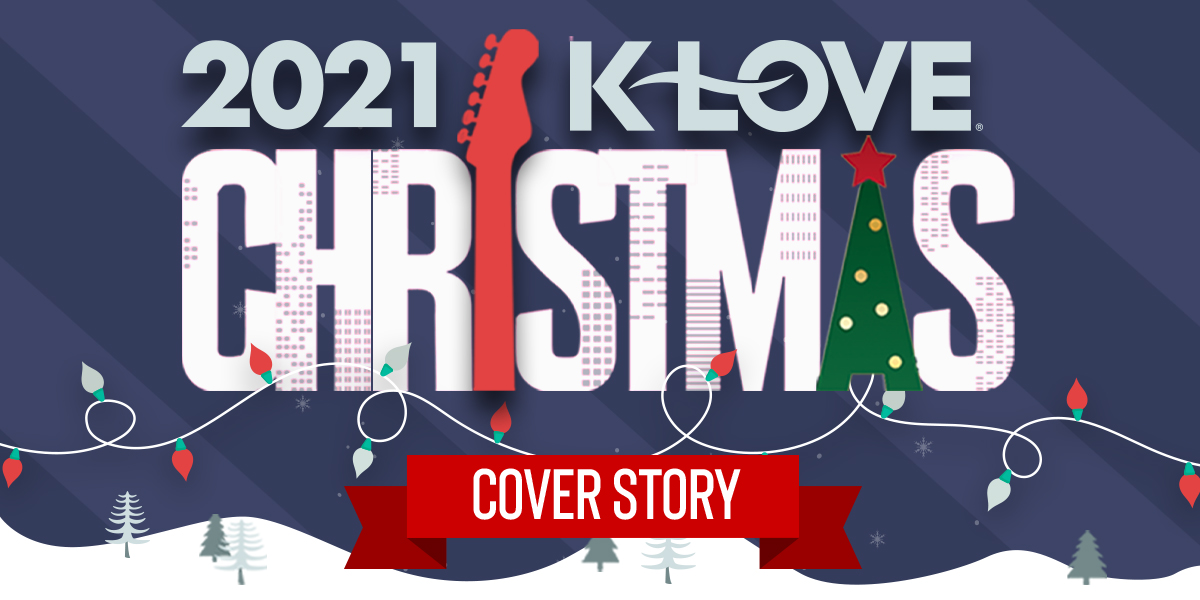 @Casting Crowns will kick off the 2021 K-LOVE Christmas Tour Dec. 1 at the historic Fox Theatre in their hometown of Atlanta, Ga. Joining the double K-LOVE Fan Award-winning group will be former @Third Day lead singer @Mac Powell, buzz-worthy sibling trio @CAIN and rising stars @Dante Bowe and @Jordan St. Cyr. In addition, the 13-city trek will also feature The Skit Guys, the comedic duo behind the popular "Bedtime Bible Stories" video series and authors of a new title from K-LOVE Books, Smells Like Bacon.
WATCH NOW: 2021 K-LOVE Christmas Tour Sizzle Reel
RELATED CONTENT: The Skit Guys Share The Secrets Behind Their 30-Year Friendship in New Book, 'Smells Like Bacon'
If the festive lineup sounds diverse, that's intentional. And according to Casting Crowns frontman Mark Hall, that's one of the best things about the annual K-LOVE Christmas Tour.
"I really like the fact that we've got different styles coming together," he says. "That's been the magic of festivals for years." Not only do Christian music festivals provide variety, but other multi-artist outings like @TobyMac's annual "Hits Deep Tour," the widely-attended "Winter Jam Tour Spectacular" or the arena-ready "Rock & Worship Roadshow" have served up this particular magic for years.
The verdict? Variety really is the spice of life. Put more plainly: There's a little something for everyone. And this year's K-LOVE Christmas Tour bill is as varied as the array of presents underneath the tree, with giftable moments primed for every member of the family.
For starters, there's St. Cyr, whose hits like "Fires" and "Weary Traveler" have established him as a skilled singer/songwriter with a story to tell. Then there's soulful singer Bowe, who gave us one of the biggest hits of the year with "Joyful," along with some impressive songs he co-penned for @Maverick City Music. Next up is the three-part harmony of family band CAIN, one of the genre's most talked-about new acts, thanks to a pair of back-to-back chart-toppers ("Rise Up (Lazarus)," "Yes He Can") and—fittingly—a debut holiday EP (Wonderful).
RELATED CONTENT: 21 Questions Christmas Edition with CAIN on Family Traditions, Epic Treats and Unique Ornaments
Rounding out the lineup is longtime frontman Powell, now serving up his signature vocal blend and pop/country mix as a solo artist. Then, Casting Crowns will close each night with their truth-filled worship and a sleigh full of hits.
"Any time I hear somebody say, 'Christian music's all the same,' I'm like, 'You need to get out more. You should probably just walk through what's out there,'" Hall remarks. "There's so many different kinds and different ways; different believers with different stories and different talents that are all pointing to Him."
The diversity also allows for some one-of-a-kind musical moments that fans won't be able to witness anywhere else. That's one of the reasons why the K-LOVE Christmas Tour is so special. "I absolutely love musical collaborations," says Powell, who will act as the evening's MC. "With so many great artists, I'm excited about those possibilities."
RELATED CONTENT: 21 Questions Christmas Edition with Mac Powell on Being Born to Love Christmas
As for St. Cyr, he's looking forward to what happens backstage as much as what transpires onstage. "I'm so excited to hang and perform with such incredibly talented and God-loving people," the Canadian-born singer attests. "The community and relationships with the artists and fans are what I look forward to the most."
RELATED CONTENT: 21 Questions Christmas Edition with Jordan St. Cyr on Holiday Memories, Seasonal Treats and the Christmas Record He's Sure to Have on Repeat
He's also looking forward to meeting Powell, one of his musical heroes. "Third Day was one of those bands that really helped shape my relationship with God and music," he reveals. "The songs they wrote were so impactful to me growing up."
No matter which artist fans are most excited to hear when they walk in, the goal is for every concert-goer to walk out with a newfound favorite (or two!).
"It's going to be good for the people. They're going to hear who they came to hear, and then they're going to hear other kinds of music," Hall insists. "When there's a tour where you've got several different styles coming together like that, it's good for the whole family; because you've got a mom and dad who are going to show up for one band, and then the kids are going to walk out loving someone else. I think it's really, really good for Christian music for families to hear artists they weren't planning on hearing."
Aside from discovering new faces and enjoying old favorites live, fans can expect an evening of merriment as the artists make room to celebrate the real reason for the season.
"Joy and hope are in low supply, I think, from the events of this past year," observes Casting Crowns violinist and vocalist Melodee DeVevo. "I'm excited to be a part of something purposefully bringing that to people."
---
2021 K-LOVE Christmas Tour Dates
---
Dec. 1 - Atlanta, GA
Dec. 2 - Richmond, KY
Dec. 3 - Augusta, GA
Dec. 4 - Pensacola, FL
Dec. 7 - Indianapolis, IN
Dec. 9 - Evansville, IN
Dec. 10 - South Barrington, IL
Dec. 11 - Toledo, OH
Dec. 12 - Woodbridge, VA
Dec. 16 - Lubbock, TX
Dec. 17 - Grand Prairie, TX
Dec. 18 - Corpus Christi, TX
Dec. 19 - Cedar Park, TX
---
Get tickets for the 2021 K-LOVE Christmas Tour here.
Stay Informed
Go behind the scenes of Christian music, culture and entertainment.