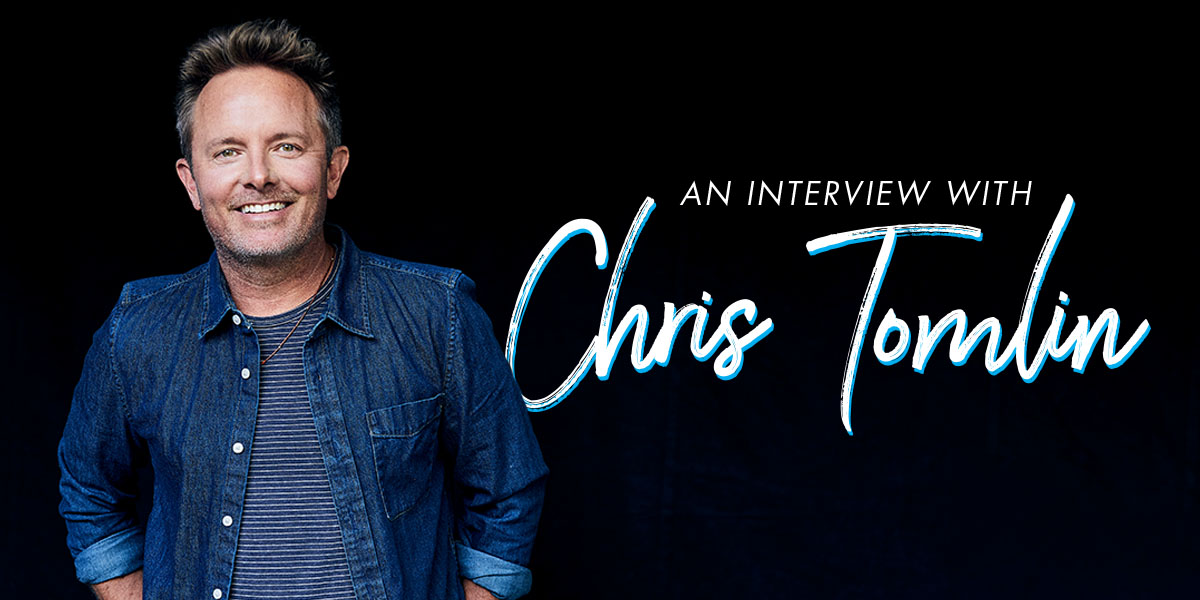 @Chris Tomlin admits he's a Hallmark Christmas movie junkie. He blames his daughters. It's their favorite holiday pastime.
"They think that's just the best thing," he says about his daughters (Ashlyn, 9; Madison, 6) and their allegiance to the original festive movies that play 24/7 throughout the holiday season. "I secretly like them as well; I have to admit."
For the first time in the better part of a decade, Tomlin will be home to watch Hallmark movies with his girls this Christmas—a ritual his job has historically kept him from indulging.
"Our Christmas is going to be very different than any Christmas I've ever experienced. I've always been on tour every Christmas, and this will be the first year to be at home," the singer explains. "It's going to be very quiet and just family time and being together, which I'm really looking forward to, selfishly; because honestly, from about December 1 to December 20, I'm gone."
With a repertoire that includes two full-length Christmas projects and two holiday EPs, including this year's Miracle of Love, Tomlin normally caps the year by visiting a handful of the same cities, giving families an opportunity to make his Christmas concert something of an annual tradition.
This year, since the pandemic is keeping him off the road, he's hosting a special Livestream concert, "K-LOVE Christmas and Chris Tomlin Present Christmas Songs of Worship." The 90-minute production features special guests We The Kingdom and Pat Barrett. It's a chance for him to share a glimpse of the annual tradition with fans around the world during a year that's made large gatherings, like concerts, non-existent.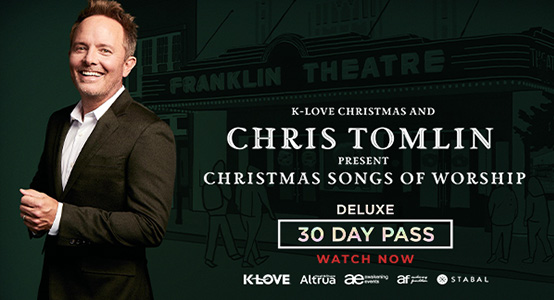 Not only will Tomlin get more time at home this Christmas, but he and his wife, Lauren, will also welcome their third daughter, Elle.
The news of another baby, however, was something the couple wasn't prepared for. "I nearly passed out when she told me," Tomlin says of the moment his wife shared her pregnancy. "I had to hold myself up on the counter in the kitchen. I was trying to take it in. I couldn't process what she was saying, because this was the furthest thing from my mind. We'd given all of our baby stuff away."
Tomlin says it took three months for the pure shock to wear off. But as Lauren entered her second trimester, he started getting excited about the prospect of expanding their family. "Talk about being a 'girl dad,' I've got it down now," Tomlin affirms. "It's God's great sense of humor because it's just girls in my house, and it was only boys in my house growing up."
In awe of the new life God surprised them with, Tomlin wrote "Miracle of Love," a cleverly-penned tune that parallels the birth of his miraculous Christmas baby with the miraculous birth of the Christ child.
"All of my other Christmas songs are worship songs for the church to sing," Tomlin notes about his previous holiday offerings. "This one was more of a song written from my heart, just a very personal song about the surprise of my baby and the surprise of Jesus to the world."
While the horn-splashed track is a slight departure from the worship faire Tomlin has built his career on, the contrast of "Miracle of Love" is a fitting way to end a year that's seen the award-winning songwriter explore new territory on every front.
WATCH NOW: Chris Tomlin "Miracle of Love" Official Music Video

In July, the 21-time GMA Dove Award winner released Chris Tomlin & Friends, a collection of original songs that revealed the worship leader collaborating with some of the biggest names in Country music.
The unusual project began when he organically met Florida Georgia Line's (FGL) Tyler Hubbard in a gym, while both families were vacationing at the beach. Back in Nashville, they started writing songs together, along with Hubbard's FGL partner Brian Kelley. The songs soon turned into a full-fledged album, which Florida Georgia Line co-produced.
Ironically, Florida Georgia Line used to sing Tomlin's songs when the duo led worship during their college years at Nashville's Belmont University. Hubbard even confided to Tomlin that he realized he was called to music after attending a Passion conference, where Tomlin was leading.
The "friends" in Chris Tomlin & Friends are just that. All of the artists featured on the project share a genuine connection with Tomlin, Hubbard, or Kelley. Many of them have ties to Christian music.
Newcomer Brett Young, whose dad is a pastor, grew up leading worship before pursuing a promising career in Country music. Country sweetheart RaeLynn was raised in church and often collaborates with her cousin, worship leader Leeland Mooring, a longtime friend of Tomlin's. Before propelling four No. 1 singles to the top of the Country charts, hitmaker Russell Dickerson started his career on the road with Tomlin as his guitar tech.
The album includes contributions from a few well-known voices in Christian music as well. @We The Kingdom's Ed Cash has co-written and produced many of Tomlin's biggest hits. The group's featured on the Chris Tomlin & Friends' track, "Reaching For You." In addition, @NEEDTOBREATHE's Bear Rinehart, who Tomlin's known for years, lends his gritty vocals to "Power."
The special collaborative album concludes with a lesser-known name, Blessing Offor, a Nigerian singer, songwriter, and piano player who was born blind and competed on "The Voice."
"I love that in the midst of a record full of 'superstars,' at the very end of this record, there's this mystery artist that people are going to be floored by," Tomlin remarks.
And of course, you can't have a conversation about Tomlin's latest full-length album without talking about "Who You Are To Me," his standout feature with Lady A. The song recently became Tomlin's 17th career No. 1, and it was one of the quickest, most organic songs he's ever written.
WATCH NOW: "Who You Are To Me" Live at the Grand Ole Opry

He co-penned the track with Lady A's @Hillary Scott, Dave Haywood, and Charles Kelley. The writing session was the first time Tomlin had spent any significant time with Kelley, who came in with the initial idea for the song, vulnerably sharing how God had personally met him in some rock-bottom places over the course of the past few years.
"It's such an incredible message that anybody can relate to of God becoming real to you, more than just words on a page. That whole idea of just, yeah, I've heard all the stories, but now I've seen You do this in my own life," Tomlin says of "Who You Are To Me."
"Of all the songs I wrote for this record, it was definitely the fastest one that came. I think in an hour-and-a-half, we had the demo done. That never happens. It was just so quick," he continues. "There was so much synergy happening with the four of us, and we'd never written together. There were lots of high-fives and 'Can you believe this?' And Hillary's got tears coming down her face. It was so beautiful and powerful."
Lady A's signature harmonies take center stage on "Who You Are To Me," with Tomlin playing more of a supporting role on the song, as he does on many of the album's tracks. While the trio has charted 10 No. 1 hits at Country radio, "Who You Are To Me" marks Lady A's first time atop the Christian charts as a group. Back in 2016, Scott secured her first No. 1 with Christian juggernaut "Thy Will," which also landed her two GRAMMY® Awards.
"It's really cool to see that song just do what it's done and how people have responded to it. I'm so grateful to radio for playing it, and obviously, K-LOVE's a massive part of that," Tomlin shares of the success of "Who You Are To Me." "This record's been a good surprise in our genre, and it's so fun to read the comments and the feedback and just see people love it the way they have and respond the way they have."
While Chris Tomlin & Friends might feel like an unorthodox detour to the 20-30 million people who sing Tomlin's songs in church each week, a collaborative Country album isn't that big of a stretch for those who know the singer well. Tomlin grew up in Texas and learned to play guitar by mimicking his favorite Country artists like Willie Nelson, Merle Haggard, and Alabama. "That was all my early music. It's very natural to me," the "Good, Good Father" singer explains. "As a kid, I thought Country music was where I was headed."
Over the last few years, his childhood aspirations have come full circle. Shortly after meeting, Florida Georgia Line invited Tomlin on stage with them at a concert to sing "How Great Is Our God," igniting a powerful viral moment that captured a real-time glimpse into Country music's long-standing relationship with faith.
Florida Georgia Line was slated to return the favor as surprise guests for Tomlin's annual "Good Friday Nashville" event earlier this year. Instead, their appearance was canceled due to COVID-19 as Tomlin pivoted his annual hometown concert to a one-hour special, which aired on television exclusively on Trinity Broadcasting Network (TBN) and online across K-LOVE's social platforms.
WATCH: CMA Awards performance "Be A Light"

Moreover, this Spring, Tomlin was invited to be a part of an all-star lineup of vocalists for Thomas Rhett's original song, "Be A Light," which also features Reba, Keith Urban and @Hillary Scott. The inspirational single earned Tomlin his first Country Music Association (CMA) nomination and garnered him a coveted performance slot at November's CMA Awards.
"I mean, this year just keeps giving the surprises," Tomlin says of the song and his first CMA nomination. "What a message for this moment—'in a world full of hate, be a light.' That's what I've been trying to do for years with my music."
If his track record's any indication, his light will shine brightly for years to come.