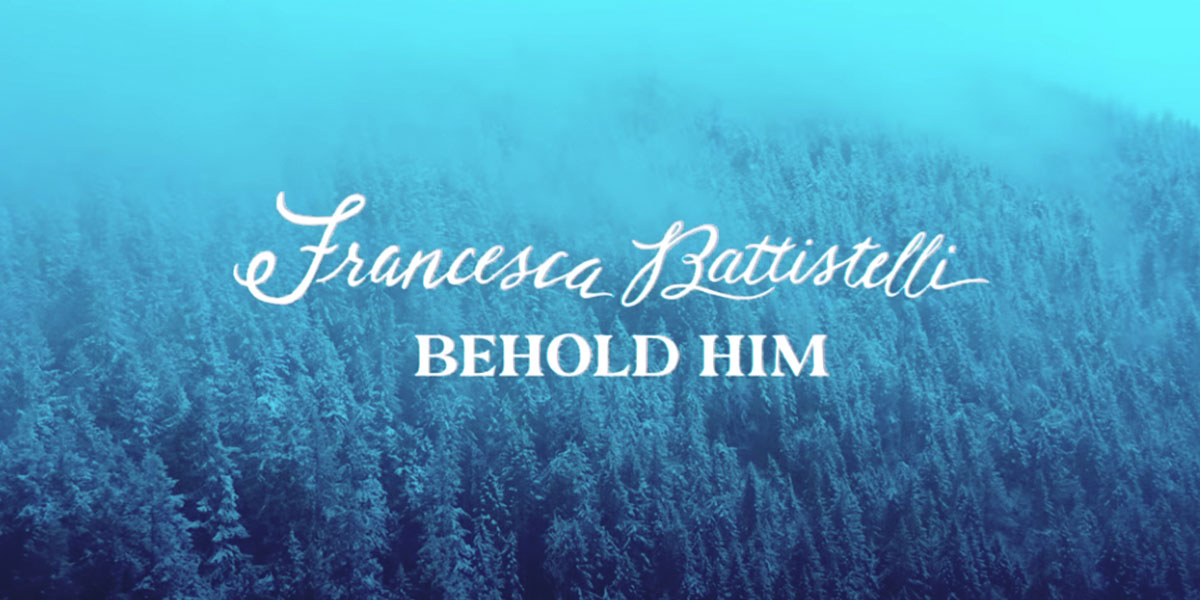 With fun takes on festive classics like "Marshmallow World" and emotional originals like "You're Here," Francesca Battistelli has become synonymous with Christmas. This year, the acclaimed songstress unveils "Behold Him," another original destined to become an annual favorite.
The tear-inducing piano-led ballad—written by Battistelli, Jeff Pardo, and Molly Reed Grayson—is the crown jewel in her latest seasonal collection, This Christmas, the full-length follow-up to Battistelli's first holiday effort, 2012's Christmas.
"Behold Him" vividly describes a woman missing a loved one who has passed and a man wondering how he's going to provide for his family after losing his job. If the lyrics seem timely, they are. Yet, ironically, Battistelli wrote and recorded the song way before COVID-19 took its toll on our nation.
The mother of five originally completed the track at the end of 2019, fully prepared to release the song to radio as part of a new Christmas EP. But at the last minute, something Battistelli describes as a "heart-check" stopped her from putting "Behold Him" and the subsequent release out into the world.
LISTEN NOW: Francesca Battistelli "Behold Him"
"It was disheartening to have a song like this one ready to release and feel like God was putting the breaks on," Battistelli admits. "But even with the confusion and disappointment, I felt the Lord give me a divine reassurance that this song, in some way, was meant for someone in the coming year."
Little did she know, "Behold Him" was tailor-made for a year filled with constant ambiguity and intense suffering.
"In 2020, we have experienced loss together—some deeper and wider than others—but we have all been forced to face disappointments, sit with unmet expectations, and even experience excruciating loneliness and sadness. These troubles, while uncomfortable, remind us ever more so that this world is not our home," Battistelli acknowledges. "It is in these uncertain times that we turn our eyes to the comfort and security of a God who does not look away from our suffering. In this upcoming Christmas season, I pray that we all can focus our attention on the birth of our Savior, the One in whom our hope is secure and never faltering. May we turn our attention from the noise of the world and truly, simply behold Him."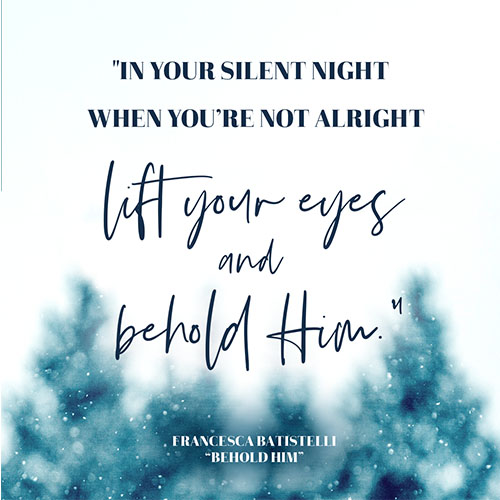 SIGN UP NOW: Keep the holiday tunes going and get 25 days of music with the K-LOVE Christmas Music Advent Calendar!