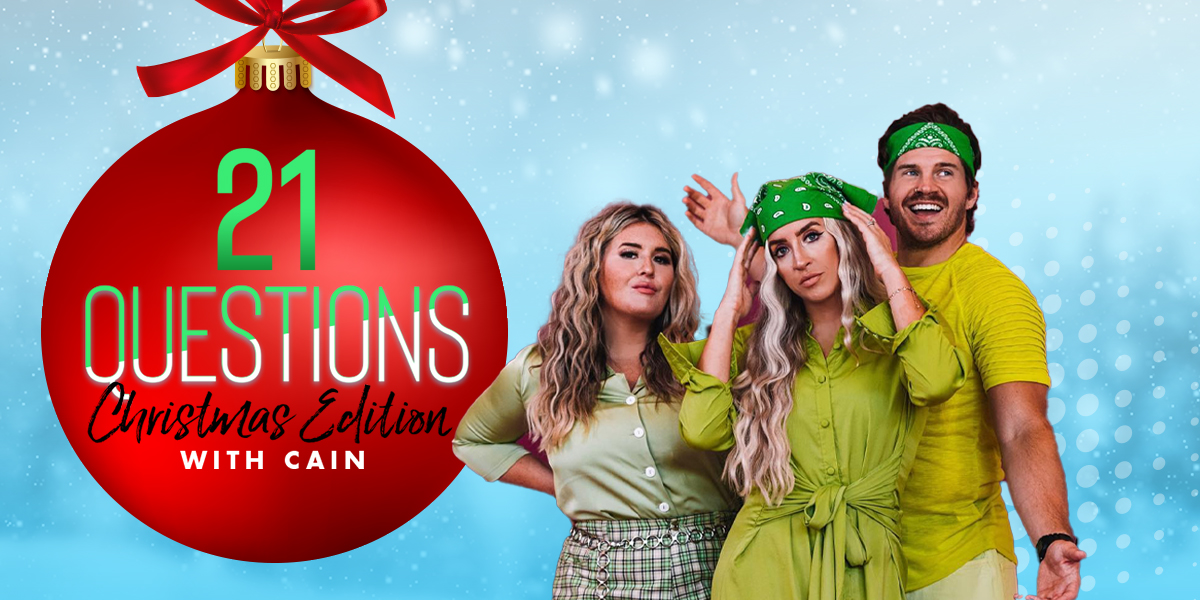 While siblings Taylor Cain Matz, Madison Cain Johnson and Logan Cain share a last name that's become their professional moniker, they also share a lifetime of Christmas memories. This year, @CAIN is making some new memories set to the soundtrack of their first holiday EP, Wonderful, a six-song collection featuring cameos by two of the trio's musical heroes: @Steven Curtis Chapman and former @Third Day frontman @Mac Powell. Indeed, the group will likely have a hard time whittling down their set list when they embark on the 2021 K-LOVE Christmas Tour alongside Powell, @Casting Crowns, @Dante Bowe, @Jordan St. Cyr and The Skit Guys in December. However, in addition to new holiday tunes, the K-LOVE Fan Award winners are sure to sprinkle in their back-to-back No. 1 hits—"Rise Up (Lazarus)" and "Yes He Can"—for good measure.
WATCH NOW: CAIN - Rise Up (Lazarus) [Official Music Video]
K-LOVE.com recently caught up with the rising act for a Christmas edition of "21 Questions" where CAIN talked family traditions, their mom's epic Christmas Day cinnamon rolls and why they have an appendix-shaped ornament hanging on their tree.
KLOVE.com: Favorite Christmas memory of all time?
Logan: When I was a little boy, I would watch as the grown-ups played the yearly traditional "Dirty Santa" (That's what we called it anyway!)—people taking turns opening random gifts and stealing them from each other. And when I was about six, one of the gifts was a handheld Ken Griffey, Jr., baseball game. I let out a screech, and my dad fought hard to get that game for me. I don't remember what other gifts were available, and there might have been something else he wanted, but I played that baseball game the whole car ride home. I sure do love my parents.
KLOVE.com: Best Christmas gift you've ever received?
Taylor: One Christmas morning, Mom and Dad put blindfolds on the three of us. They brought us into the living room where they had set up a beautiful display of instruments. We took the blindfolds off and screamed wildly as we discovered the brand new bass guitar, Yamaha keyboard, and a full drum set! Mom and Dad wanted us to pursue music, so they got us everything we needed to start a real band. We were 10, 11 and 12 at the time. I'll never forget that Christmas. It played a huge part in where we are today.
KLOVE.com: One reason you're excited to be a part of this year's K-LOVE Christmas Tour?
Madison: I've never been to a Christmas concert! We are obsessed with Christmas and somehow, this is a first. We have been dreaming about our first Christmas show for a while. So Casting Crowns, Mac Powell, Dante Bowe and Jordan St. Cyr, get ready! We are coming in HOT to make Christmas memories together.
KLOVE.com: Christmas song you wish you'd written?
Taylor: "Have Yourself A Merry Little Christmas." Those melodies and beautiful Christmas chords give me the feels every time I hear it. I walked down the aisle to this song at my wedding.
KLOVE.com: One Christmas movie you watch every single year?
Madison: We have watched White Christmas every Christmas Eve since I was nine. And of course, we sing the songs as well.
KLOVE.com: Favorite Christmas food?
Taylor: Our mom makes a mean Christmas brunch for everyone on Christmas Day. THE CINNAMON ROLLS ARE LIFE!
KLOVE.com: Christmas tradition you wish you had carried into adulthood?
Madison: Growing up, all three of us shared one bedroom—Taylor and I on the bottom bunk, Logan on top! Every Christmas morning, we'd wake up together, walk into the living room and see what Santa brought. Once we turned 12, 11 and 10, we moved into a bigger house where we had our own rooms, but we wanted to keep the tradition going. So every Christmas Eve, we would all sleep in one room. We did this well into our 20s. I'm still of the opinion that we should bring it back! The three of us and our spouses in one room with air mattresses and cots! Can't get better than that!
KLOVE.com: Most meaningful ornament on your tree?
Logan: I don't want to steal the thunder from question 10, but in '98 we had a scare with Mom, and she had to have her appendix removed on Christmas Eve. The following year, my Uncle Sam made an ornament with her name and the date on it in the shape of an anatomically-correct appendix. We hang it every year, and it both makes me laugh and reminds me how thankful I am for my Mama. I'm a mama's boy, y'all.
KLOVE.com: Family recipe or treat that's only made during the holidays?
Taylor: The Cain family loves chocolate. Plain and simple. Each Christmas we grab some pretzels, peanuts and homemade Ritz Cracker peanut butter sandwiches, and we dunk them in milk and white chocolate. We call them "goodies" around the Cain house. We make way too many—we eat way too many—and eventually have to start giving them away.
KLOVE.com: Strangest place you've ever spent Christmas?
Madison: Christmas Eve 1998, our parents were visiting old friends that we, the kids, barely knew at the time. During the visit, Mom's appendix ruptured, and our parents went to the hospital. Mom had to have surgery, leaving us to wake up Christmas morning with these "strangers." But this family made us feel right at home. We played games, made cookies, and somehow, woke up with presents. It felt like a miracle! Mom was OK, and we were so happy!
KLOVE.com: Finish this sentence. It's not Christmas until…
Taylor: Halloween is over. November 1 is officially when the Cain kids decorate for Christmas.
KLOVE.com: All-time favorite Christmas song?
Logan: We got a chance to make a version of it for our Christmas album this year, but I really do love "Grown-Up Christmas List." It is no small feat to write a song that musically feels like Christmas and lyrically represents the timeless hope of the world. It's cinematic and beautiful, and anytime I sit and really just focus and listen, it makes me cry.
WATCH NOW: "Grown-Up Christmas List" (Official Performance Video)
KLOVE.com: Artist you're most excited to get to know on the K-LOVE Christmas Tour (and why)?
Logan: I'm SO excited for the Christmas tour. We've gotten a chance to meet everyone except Jordan, so I'm stoked to finally hug his neck. But truly, I feel like this whole tour is going to feel like family holidays in the best way.
KLOVE.com: If you can't be home for the holidays, the only place you'd rather be?
Taylor: So our parents just sold our childhood home—Ahhh! This will be the first Christmas where we can't be "home" in Alabama for the holidays. I think the plan is for Mom and Dad to come to Franklin, Tenn., and crash at my place! It's gonna be a crazy Christmas, but I'm so excited for lots of new memories and traditions.
KLOVE.com: Favorite passage of Scripture from the Christmas story?
Taylor: Luke 2:7: "And she gave birth to her firstborn son and wrapped him in swaddling cloths and laid him in a manger, because there was no place for them in the inn." (ESV)
What grabbed me here was the last sentence: "There was no place for them in the inn." There was no room for Jesus. What a relatable feeling. The Savior of the world, the King of Kings, was pushed outside with the animals. The beginning of His life started with rejection. What a comforting thing to know that when I feel like there's no place for me, Jesus made a place for EVERYONE!
KLOVE.com: Christmas music before or after Thanksgiving?
Madison: It's funny! Growing up, that was the rule: No Christmas music until after Thanksgiving. We would kick off the Christmas season very ceremoniously. On the drive home from Thanksgiving at Nana's, Dad would say, "Y'all ready?" and then whip out the @Amy Grant cassette. We'd cheer. Now as an adult, I can hardly resist. This year, I listened in July for a small stint.
KLOVE.com: Funniest family Christmas story/memory?
Logan: My dad tells a story about his gallant efforts to preserve the magic of Christmas when we were very young. Taylor, a skilled and diligent detective, was determined to catch someone on our roof bringing presents. So Dad bought jingle bells and put them in a bag. Late on Christmas Eve, he went out into the cold to ring the jingle bells. In a last second decision, he decided to grab a basketball to throw on the roof to simulate footsteps. He heaved the basketball skyward and tried to ring the bells. The bells simply shifted in the bag and didn't ring, and the basketball thundered across the roof. I have to say, it's amazing what our parents are willing do for us to make the season bright.
KLOVE.com: Artist you'd most love to record a Christmas duet with?
Madison: It still blows my mind sometimes that our Christmas song was written and sung with Steven Curtis Chapman. It's a song called "Wonderful," and it really is my dream come true.
WATCH NOW: Wonderful (Official Acoustic Video) ft. Steven Curtis Chapman
KLOVE.com: Christmas record you have on repeat all December?
Logan: When we were kids, it was a tight rotation of Amy Grant and Bing Crosby. And I still listen to those to this day. As I've gotten older, I'll admit, I actually quite enjoy listening to Christmas radio in the car. I love the natural shuffle of it.
KLOVE.com: White lights or colored lights?
Madison: Colored lights and colorful trees! My husband and I always get a real tree for the den, but the past few years, we've been putting up pink, silver and gold trees around the house.
KLOVE.com: What Christmas means to you?
Logan: For me, Christmas has become synonymous with hope. The season of Christmas fills me with hope. Regardless of the year that has preceded it, I find myself hoping—not just for time with friends and family or memories to be made, but also hope for the world to be at peace.
Grab your tickets to see CAIN live on the 2021 K-LOVE Christmas Tour here.
---
Don't Miss a Beat & Sign Up for K-LOVE's Music Updates!
Get monthly emails with updates on new music, videos, and exclusives from your favorite Christian artists on K-LOVE!