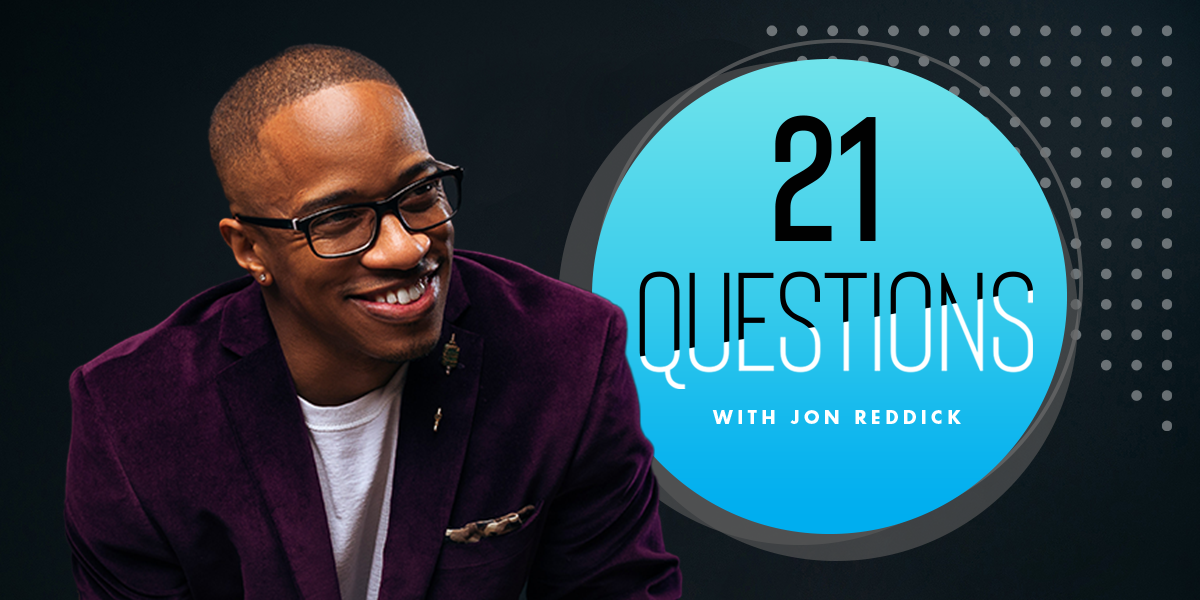 Before ever releasing a single to radio, recording artist @Jon Reddick had been faithfully road testing his original music at his home church, Church of the City in Franklin, Tenn., where he serves as a worship pastor. In fact, many of his songs continue to start with stories emanating from that community. From "You Keep Hope Alive" to "In The Room" to "God, Turn It Around," Reddick's signature anthems seamlessly transition from congregational church settings to personal moments of prayer and reflection, giving language to people's faith. @TobyMac thought the longtime worship leader's songs needed to be heard by a larger audience. He's since helped Reddick acquire a record deal and given him an opening slot on his annual "Hits Deep Tour." Talent runs deep in Reddick's family. His sister, Janice Gaines, is also a recording artist.
LISTEN NOW: "God, Turn It Around" Lyric Video
Not only is the father of three a gifted vocalist and lyricist, but he's also a masterful painter. Fans can look no further than the visuals for his own album covers and lyric videos to view his original work. K-LOVE sat down with the multifaceted artist to talk about his favorite painting, his musical influences, and the one person he most wants to be like when he grows up.
KLOVE.com: First concert you ever attended?
Jon Reddick: When I was a kid, I went to see New Edition. I'll never forget it. They were singing one song, "With You All the Way" — or was it "Lost in Love"? I guess I did forget that part — ha! But, the moment was unforgettable. They put this long musical break in it, right after the bridge, where the whole place went crazy.
KLOVE.com: Thing you love most about being a worship leader?
Jon Reddick: Getting to see God move in people's lives has to be my favorite thing about worship. You realize you get to be a part of a moment that really has little to do with you. Yes, we put in work to practice and things, but without God coming into a room, showing up in a song, or moving through an environment, it's just us humans. But His spirit changes everything. And I love it when He's on the move.
KLOVE.com: Favorite thing about collaborating with Matt Maher on "God, Turn It Around"?
Jon Reddick: Ahhh…so there's no one favorite thing about a guy like @Matt Maher. I love his heart for justice, humanity, God's people trying their best to act like God's people. There's another thing about Matt though — his musical capability is phenomenal. The styles he can weave in and out of… I found something online about his music history and said, "Bruh…you didn't say you were studying JAZZ in college!" He's forever my bro for that! I love jazz!
WATCH NOW: "God, Turn It Around" feat. Matt Maher
KLOVE.com: One thing people might not know about you?
Jon Reddick: I am allergic to onions.
KLOVE.com: Best part about being a dad?
Jon Reddick: I've gotta say the best part about being a dad is watching your kids grow. It's literally different every day. There's always something new to laugh at, even when they do something that makes me raise my eyebrow. I raise it in their presence to look like I'm disciplining them, but when I turn my head, I'm cracking up laughing wondering, "What in the world made them do that?!" Because honestly, it's usually little stuff that they're doing. They really don't give me any problems. They're really great kids! I'm super blessed.
KLOVE.com: Advice you'd give to someone who wants to lead worship at their church?
Jon Reddick: I would say keep your ears open to what God is saying, after you've prayed and asked Him what your next steps are. As I answer this question, I'm realizing that after high school, the thread of my life has been that God has always called me to a place to lead. It's been more of a calling away to a congregation, than a calling up from the congregation. Both are very purposeful callings. And, so I'd say, listen to what God is saying to you about your calling. Because our God is intricate. He knows where He's calling us, what He's calling us to do, and what purpose our calling will play in this cycle of life.
KLOVE.com: Best story you've heard about how your music has impacted people?
Jon Reddick: That's a hard one. I've heard so many stories that have left my jaw on the ground. I'm like the dad or the teacher that says, "They're all the best." One story that comes to mind is regarding "God, Turn It Around." I ran into a couple from my church at Chick-fil-A. I didn't know them, but they stopped me to tell me this story. The very first weekend we sang "God, Turn It Around" at church for our congregation, they had just separated. The husband told his wife he was leaving her for his mistress. The wife said the Lord has done such a work in their marriage that now they sing that song together — arms raised and holding hands! I was honored to sing that song at their vow renewal recently. Also, I heard from a spouse of someone in Intensive Care for nine weeks with COVID that they played "In The Room" in the hospital room every day. None of these stories are ever lost on me. What a gift to see how He is using these songs.
KLOVE.com: Why you chose to be a part of Christian music?
Jon Reddick: Looking back at the story of my life, I can see the hand of God guiding me — even when I didn't always go willingly. I am so thankful, because now I get to follow the thread God's weaving and His work — both in my life and in the lives of those I get to lead in worship each week. What a gift to get to go to "work" and worship. I love seeing people unified regardless of race, culture or economic status all singing and praising together in one body.
KLOVE.com: Current artist you can't get enough of?
Jon Reddick: Snarky Puppy and Stevie Wonder
KLOVE.com: All-time favorite book?
Jon Reddick: My all-time favorite book is The Voice of the Heart by Chip Dodd. It's also in my top 5 list of life-changing things for me.
KLOVE.com: First time you realized you wanted to be an artist?
Jon Reddick: When I was 9, I had a band called "The Solid State Band." It was literally just my "Solid State" record player, me, and two imaginary people named Bill and Lucy. The question here is not why an imaginary band, the bigger question is why I named them Bill and Lucy!?
KLOVE.com: Favorite thing you've ever painted?
Jon Reddick: Choosing a favorite piece that I have painted is like asking me to choose between my children. Each piece is special and memorable to me for different reasons. But one of the ones I like to look at is the one I painted for my first release of "You Keep Hope Alive." It's my hand, and I'm holding a light bulb that needs to be plugged in. Without His power, there is no light.
KLOVE.com: Person who inspires you the most?
Jon Reddick: Dan Pitts — friend, mentor, manager, overall good guy. Wanna be like him when I grow up.
RELATED CONTENT: Jon Reddick Joins Lauree for an Exclusive Interview
KLOVE.com: One thing people should know about your friend, @TobyMac?
Jon Reddick: He is one of the most loyal people I've ever met. He is always looking out for his people.
KLOVE.com: Artist you'd most like to collaborate with?
Jon Reddick: Stevie Wonder
KLOVE.com: Best thing about living in Tennessee?
Jon Reddick: I love the laid back, chill vibe of Tennessee. But I also love fast cities like NYC and Dallas. I am, by nature, an adventurer. I love to explore!
KLOVE.com: One thing you're currently learning about God?
Jon Reddick: New ways of how He weaves a thread. As my kids get older and I experience parenting every day, I notice how much He has really loved me and walked me through things I hadn't thought about.
KLOVE.com: First artist that made you want to sing and write music?
Jon Reddick: Michael Jackson or Stevie Wonder. I can't remember who was actually first, but probably Michael.
KLOVE.com: Favorite Bible verse?
Jon Reddick: Romans 8:18: "For I reckon that the sufferings of this present time are not worthy to be compared with the glory which shall be revealed in us."
KLOVE.com: Song that always makes you cry?
Jon Reddick: Ahhh…my sister's song, "One Day," by Janice Gaines.
KLOVE.com: One time God "turned it around" for you?
Jon Reddick: Every day, multiple times a day.
RELATED CONTENT: Jon Reddick Welcomes Matt Maher on Prayerful "God, Turn It Around"