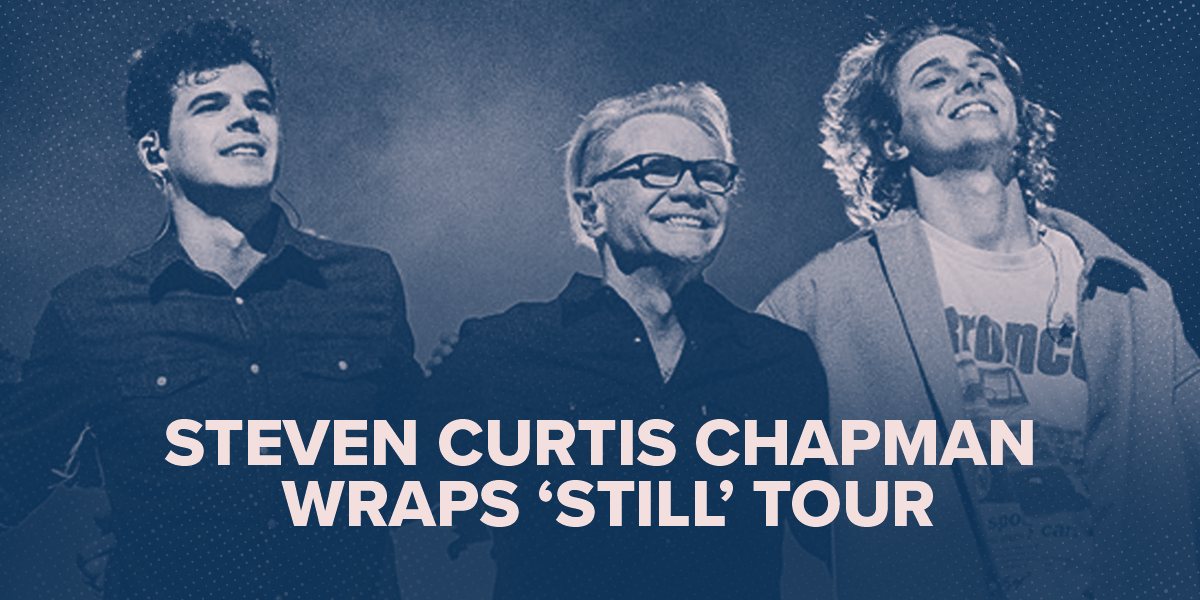 @Steven Curtis Chapman recently closed the book on another cross-country jaunt, wrapping the "Still Tour" in support of his latest studio project. The 24-city outing began Mar. 2, 2023, in Springfield, Mo., and concluded April 30, 2023, in St. Louis, with stops along the way in Waco, Minneapolis, Atlanta and Napa, among other cities. Fresh faces @Coby James and Joseph O'Brien not only opened for the CCM icon, but they also played in his backing band for the duration of his headlining set.
RELATED CONTENT: Steven Curtis Chapman Surprises Fellow Artists Coby James and Joseph O'Brien
James and O'Brien actually earned the high-profile touring slot after they wrote and recorded a "banger" dedicated to their hero. The clip went viral on TikTok eliciting a musical response from the legend himself. In reply, the duo, who also hosts "The CoJo Show Podcast," shared, "Thank you, Steven Curtis Chapman. This means more to us than you possibly know. We have looked up to you for years and have no words."
WATCH NOW: Steven Curtis Chapman's Surprise
K-LOVE took the conversation one step further and invited the newcomers into their studio in Franklin, Tenn., where they surprised the promising young artists with a co-writing session with Chapman. A few weeks later, the 50-time chart-topper asked James and O'Brien to join him on the road.
"This was a special tour, and I'm STILL amazed and so grateful that I get to play live music and share my heart with you all!" Chapman reflected after thanking the duo and his entire team. "I'll be back on the road this summer for some more concerts, so please come see me if I'm anywhere close to ya!"
"Incredible ride!" James replied as he shared the five-time GRAMMY® winner's post to his Instagram Stories. Meanwhile, O'Brien also shared the post along with the caption, "best tour ever."
It seems fans were in agreement. "This was the best tour yet, and I am so glad you had Coby James and Joseph O'Brien with you to share! Y'all are all so inspiring," wrote one concertgoer on social media. Another tour attendee commented, "Saw you in Boulder with my three daughters, who are in their 30s. What a beautiful show! And your talent!! THANK YOU SO MUCH!!!!!!!!!!!!! Your life is a testimony to the faithfulness and friendship of Jesus!" Following the Nebraska performance, a longtime SCC listener added, "Last night was special. I realized this was the 10th time I've seen you (dating back to the 'Heaven In The Real World Tour'). Each show has been unique and special in its own way. Selfishly, I hope you tour till you're 100. Your gift and ministry are strong as ever!"
Shortly after completing his spring run, on May 9, the 59-time GMA Dove Award winner championed some other rising stars in Colony House — the pop/rock band comprised of his two sons and their two friends — when he appeared with them on stage during their Grand Ole Opry debut. He'll return to the iconic circle at the end of the month and is slated to play dates throughout July and August in select markets across the country.
As for "CoJo," both James and O'Brien are working on solo material respectively. In addition to hosting their podcast together, the two avid Christian music fans also regularly drop original parody videos on TikTok, including an epic reel titled "K-LOVE Dad."