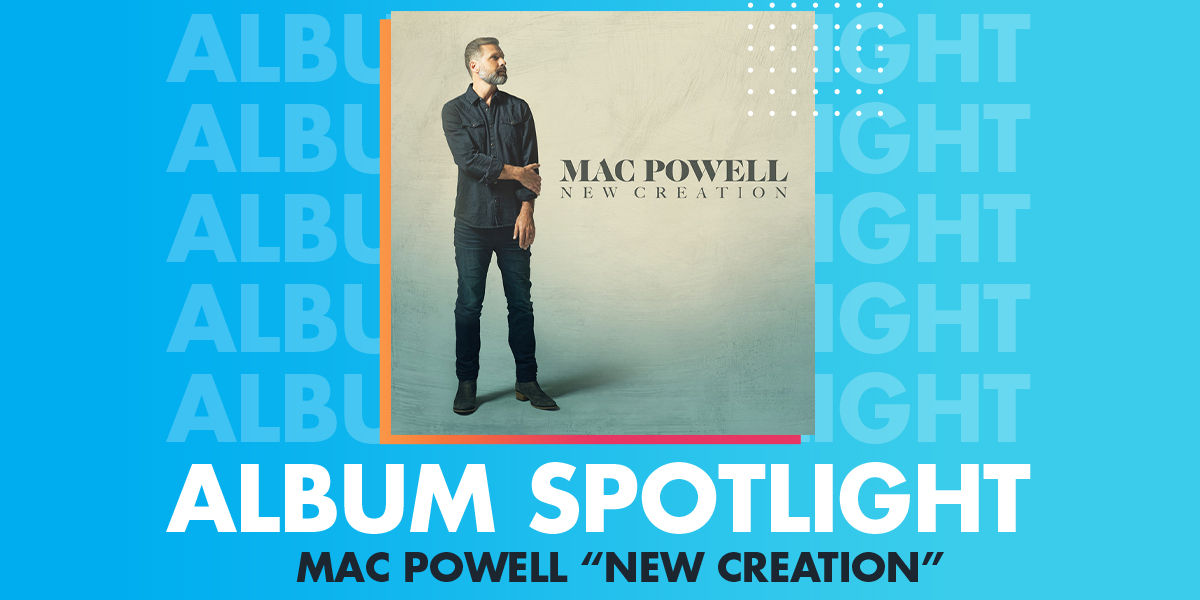 If @Mac Powell's solo Christian debut, New Creation, seems more personal in nature, that's because it is. Stepping out has enabled the former @Third Day frontman to dig into his own past versus writing from collective experience as was his long-held tradition with the beloved band.
While Third Day amicably disbanded in 2018 offering fans a formal farewell tour before officially saying goodbye, Powell initially struck out on his own charting an unknown course in country music. For the first time in his nearly three-decade career, he was an independent artist forging an entirely new sonic direction, leaning on country influences honed during his formative years in Alabama and then Georgia, and writing lyrics that encompassed all facets of life, including love songs for his wife Aimee. The fresh venture also found Powell performing with a new band affectionately called "Mac Powell & The Family Reunion."
Returning to his CCM roots, New Creation feels reflective of his current station in life. A longtime Atlanta resident, the father of five is now a worship leader at Church of the Apostles. His new position is mirrored in congregational-friendly tracks like "Be Praised" and "Everlasting Arms." Furthermore the rock 'n' roll frontman has mellowed with age, finding a sweet spot in the crosshairs of thoughtful lyricism and pop-centric melodies. At times, however, his love of Haggard and Jones still shines through. Exhibit A? The album's introductory single, "River of Life," a clever mix of foot-stomping acoustic goodness. Deeper into the tracklisting, "Joy of the Lord" follows suit.
WATCH NOW: River of Life (Official Music Video)
RELATED CONTENT: Mac Powell Invites Listeners Down To The "River of Life"
Some of New Creation's finest moments, however, come when Powell draws inspiration from his own life. The retro-fitted "1991" has his story etched into every line, and may just be the project's best track as Powell pays homage to the year he gave his life to Christ. Meanwhile, "Love Is The Reason" transports listeners back to the church of Powell's boyhood with three beautiful verses unfurling a lifetime of lessons gleaned from the advice of his Bible-reading mother, the sacrifice of his military-serving brother and the example of his cross-bearing Savior. Album closer "Baptized," featuring @Matt Maher, is a straightforward testimony song ending the record with a soaring Gospel/pop/worship fusion that merges all the assets Powell brings to the table as a singular artist: smoky vocals, southern roots and solid truth.
WATCH NOW: 1991 (Official Lyric Video)
Irrespective of the thematic direction of each song, the set is held together by the one thing that will never change no matter what genre Powell is classified under—the unmistakable grit of his voice. He also leaves his lyrical mark on each cut, co-writing all 10 tracks.
Ultimately, New Creation carries a bit of double meaning. As the title-cut suggests, Powell celebrates the fact that God is in the business of making all things new. Yet, this album in and of itself is a new creation. It marks the beginning of a new chapter for Powell as he fully takes the reins while still harnessing every bit of the niche he carved out for himself as the lead singer of Third Day.
"I believe this collection of songs has come from God," the four-time GRAMMY® winner says, "and I can't wait to hear the stories of how they connect with and help people through the days we're living in."
Powell will join @Casting Crowns, @CAIN, @Dante Bowe, @Jordan St. Cyr, and special guest The Skits Guys out on the 2021 K-LOVE Christmas Tour this December.