There's a special guest on @MercyMe's latest song, "On Our Way." Lead singer Bart Millard trades vocals with his oldest son, Sam Wesley, who's following in his father's musical footsteps. Not only does Sam sing the second verse, but he also co-wrote the upbeat track. In fact, Sam and a friend had already started writing the song when Millard heard it and was instantly drawn to the hopeful lyrics and catchy melody.
WATCH NOW: "On Our Way" Exclusive K-LOVE Performance
"I had to have this awkward conversation like, 'Hey buddy, Daddy loves your song. Now Daddy wants your song,'" Millard quips, laughing. "That was an odd conversation. He didn't know how to feel about it." After his dad explained that he would be listed as a co-writer and could actually earn songwriting royalties, Sam was far more enticed.
Originally, the plan was for Millard to sing lead on the entire song, but the longtime frontman was under the weather as he went into the studio to record the demo. So, he asked Sam to step in and sing the second verse in his place. When the label and Millard's bandmates heard it, they immediately advocated for Sam's vocal to land on the final version of the track.
"On Our Way" is now a full-fledged duet between father and son—Millard's proudest moment on MercyMe's new album, inhale (exhale), which also features guest appearances by Gary LeVox (Rascal Flatts) and Gloria Gaynor.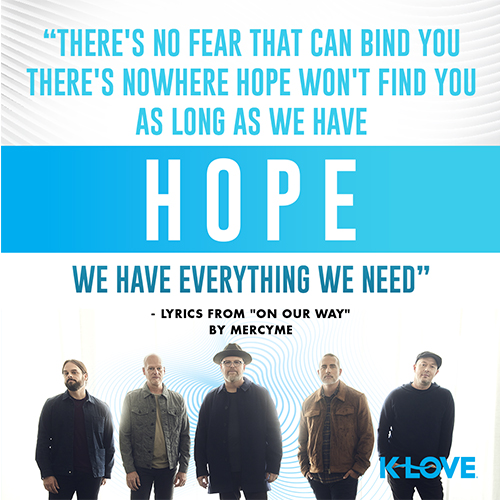 "Now I'm being the proud, bragging parent," Millard says. "He's such a great kid with an insane voice. You'll think he's such an old soul by the way he sings. It's beautiful."
Following powerful hit "Say I Won't," the familial collaboration is the second single to drop from inhale (exhale), for which MercyMe just released a companion 40-day devotional.
RELATED CONTENT: MercyMe Joins Skip & Amy for an Exclusive Interview
As for Sam, the rising star recently bowed his first official single as an artist. The song—three minutes and 12 seconds of alt-pop goodness—is called "Overthinking," co-penned by Sam, drummer for @The Afters and inhale (exhale) production ace Jordan Mohilowski and award-winning songwriter Mitch Wong.
Sam Wesley is currently the opening act for MercyMe's fall tour.