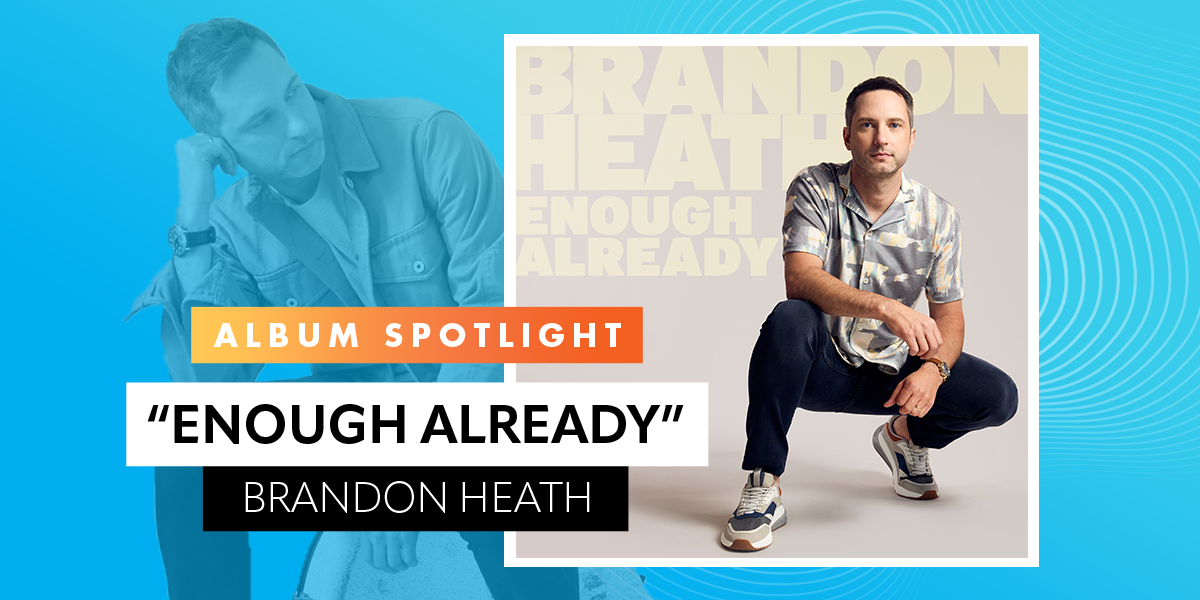 While it might seem @Brandon Heath is putting his foot down with the name of his seventh studio album, Enough Already — his first full-length collection in five years — in reality, the singer/songwriter is dropping a nugget of wisdom with the clever title: You are already enough.
WATCH NOW: "See Me Through It" Official Lyric Video
It's a truth Heath has consistently wrestled with as he confesses, he never feels like he quite measures up. It's ironic considering he's a well-known GRAMMY®-nominated artist. However, perhaps his candid admission simply makes him human.
Fortunately, Heath wears his humanity on his sleeve throughout the nine tracks on Enough Already, bookended by two versions (studio and acoustic) of lead single "Human Nature." The quirky opener sets the tone for the rest of the brief set's thematic content as Heath proclaims: "We're not God's problem; we are God's children."
Upbeat selections like the colorful "This Changes Everything" and tongue-in-cheek radio hit "See Me Through It" showcase the Dove Award winners ability to craft a slice of pop perfection. "Another Song About Love," co-penned with @Apollo LTD, follows suit with a significant message veiled by an infectious beat.
RELATED CONTENT: Brandon Heath Debuts Optimistic New Single, "See Me Through It"
Although the radio-ready hits stand out in all their shiny glory, longtime fans know Heath's secret sauce is buried in the deep cuts. "I want to make sure I write songs that are uniquely me — not just the ones that make you want to play it again, but songs that make you go, 'Oh wow, he just sang my story,'" Heath offers. "I think that is what makes people invest in an artist. It's not just the songs they like on the radio. It's cut three on the record that kind of makes you own that artist."
While the title-cut is a vibrant, breezy reminder of our worth, arguably bearing the best line of the record ("It's none of my business what anybody thinks of me."), there's another "enough" song that shouldn't be overlooked. "That's Enough," which Heath co-wrote with @Mallary Hope and Molly Reed Grayson, is one of Enough Already's most poignant tracks as the "Give Me Your Eyes" singer breaks down an often-overcomplicated Gospel into its simplest, purest form.
Meanwhile, Gospel-inflected "He Is Not Worried" serves up quintessential Brandon Heath. The signature offering reveals the father of two reflecting on a few seminal moments with his dad, who passed away prior to the birth of Heath's first child. He recalls only being worried as a kid when his father expressed concern and relates the sentiment to looking to his Heavenly Father for guidance, peace, and wisdom especially now, as he navigates fatherhood with his own young daughters. It's a full-circle story song about life and faith in the midst of uncertainty, playing to all of Heath's greatest strengths.
Listeners shouldn't sleep on "Minute By Minute" either. The darker track is deeply thoughtful and incredibly timely, encouraging listeners to focus on the present moment and trust God with an unknown future, leaning on Heath's uncanny ability to pack a lot of truth into three minutes.
Enough Already might be Heath's shortest project to date, clocking in at just over half an hour, but it adds another gem to his already impressive discography. His warm voice and deft lyricism converse like an old friend, and with repeat listens, Enough Already will soon feel like a favorite, well-worn souvenir.
Heath will take his new songs to people's backyards this spring and summer as part of his popular "Brandon in the Backyard" series.