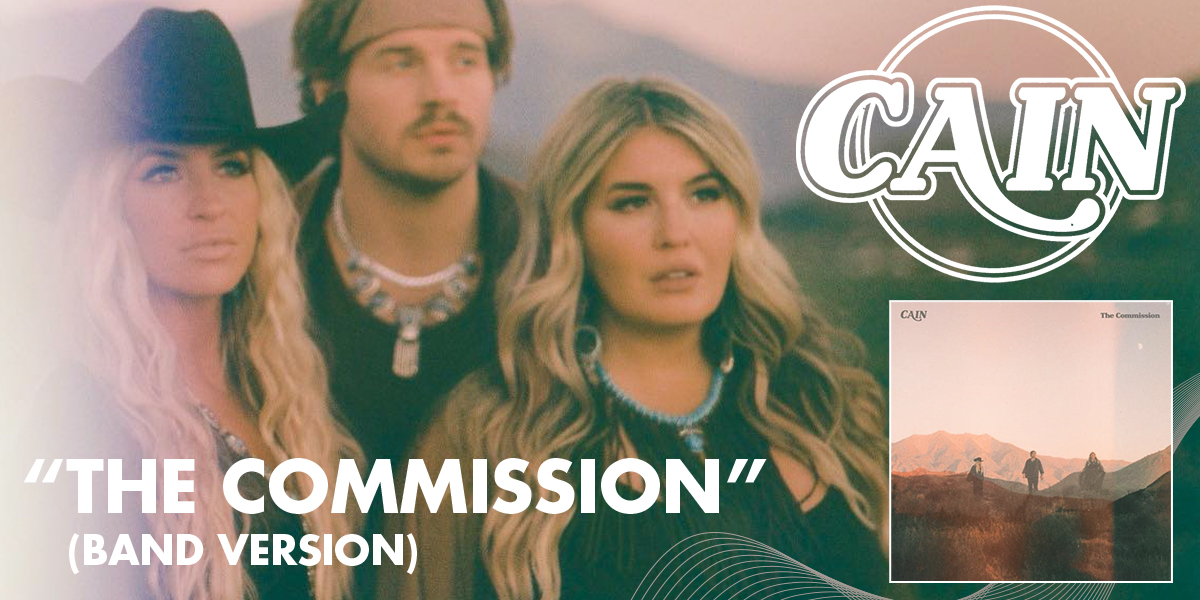 @CAIN showcases their stunning three-part harmony on "The Commission," the trio's latest single. The heart of the song beats for Matthew 28:19-20: "Therefore go and make disciples of all nations, baptizing them in the name of the Father and of the Son and of the Holy Spirit, and teaching them to obey everything I have commanded you. And surely I am with you always, to the very end of the age."
WATCH NOW: "The Commission" (Official Music Video)
Writing this song, the group's Taylor Cain Matz, Madison Cain Johnson and Logan Cain were inspired by the moving words issued directly from Jesus before He ascended to heaven. With these two verses, He gives new meaning and purpose to His disciples—and to every person who chooses to believe in Him.
"I think it's interesting that this is the moment in Scripture where the disciples become just like us," Madison observes. "Jesus said, 'Follow me,' and they used to follow a person. But from this moment on, they had to hang on to a promise—'I'll never leave you or forsake you.'"
WATCH NOW: "The Commission" Story Behind The Song
"The Commission" comes from CAIN's debut album, Rise Up, which also features their two back-to-back No. 1 hits, "Rise Up (Lazarus)" and "Yes He Can."
RELATED CONTENT: CAIN Releases Official Music Video For "Rise Up (Lazarus)"
For Taylor, it's her favorite track the K-LOVE Fan Award-winning trio has ever written. "We all struggle with purpose. I think you can even be a Christian artist and still feel like, 'What am I doing?' But those words echo in my head all the time: 'Go tell the world about Me,'" she says, referencing a key line in the song. "When you're listening to 'The Commission,' I really hope you feel like there is a God in heaven. He sent His only Son to die for you—just for you. And we get to spend all eternity with Him. This short life on earth—this isn't everything… Our whole purpose is to see Jesus as our King, but also as our friend, and someone who said, 'I'm entrusting all the Gospel, all the Good News, to you. And I'm counting on you to pass it along to somebody that you care about.'"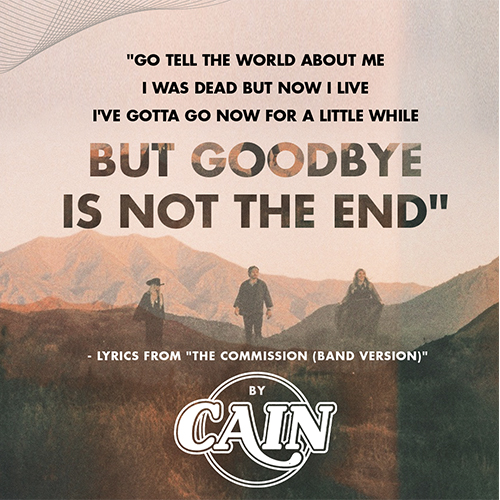 With every song they sing, CAIN passes on the Good News of the Great Commission. The siblings filmed the powerful music video for the ballad in Utah on the set of "The Chosen," the recipient of the "Film/TV Impact Award" at the 2021 K-LOVE Fan Awards. Those who saw Christmas With The Chosen: The Messengers in theaters this year were treated to a first look at the moving visual, which features clips from the first-of-its-kind television series based on the life of Jesus.
The trio is wrapping an unprecedented year as a featured artist on the 2021 K-LOVE Christmas Tour. Next year, they'll join @TobyMac's "Hits Deep Tour," followed by "The Brand New Tour" with @Matthew West.
RELATED CONTENT: 21 Questions Christmas Edition with CAIN on Family Traditions, Epic Treats and Unique Ornaments
No matter what stage they're standing on or what city they're in, "The Commission" continues to be a standout moment in each of CAIN's live concerts. "This is the moment in the show where I stand between the two of them, and I really feel like, This is what we sound like," Logan shares. "The three of us as one voice, as one sound."