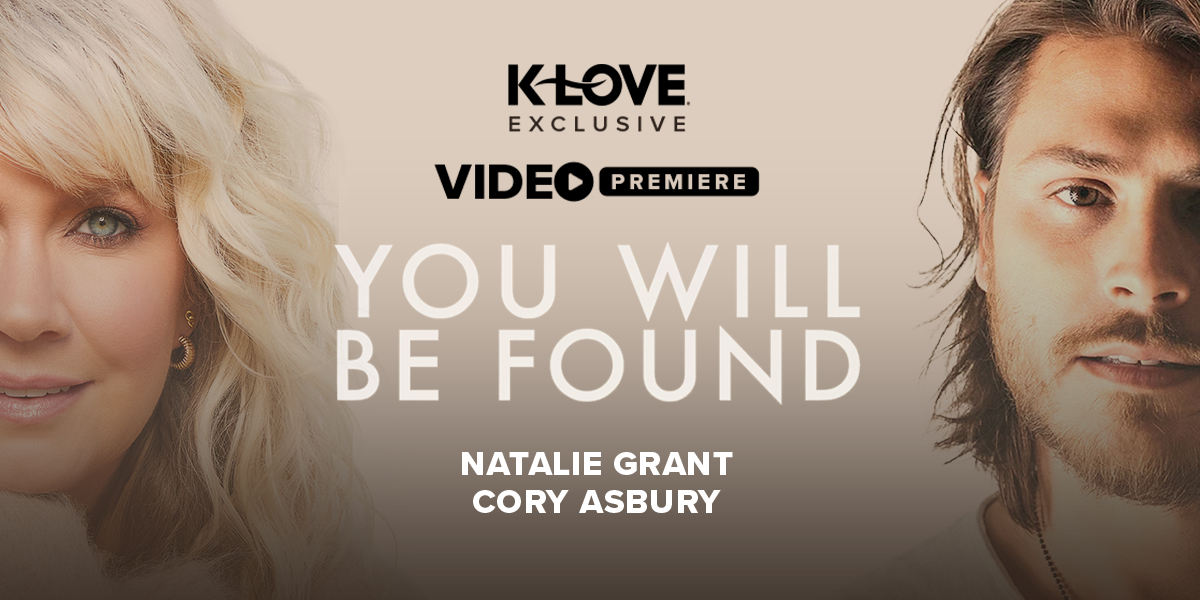 Natalie Grant and Cory Asbury just gifted us with the collaboration we didn't know we needed - and the brand new music video is almost here, too.
K-LOVE is excited to share the exclusive premiere of the official music video.
WATCH NOW: "You Will Be Found" Official Music Video
Who could have predicted the pair of Christian artists would take the quintessential finale from Act 1 of the musical-turned-movie "Dear Evan Hansen" and transform it into a poignant song about Jesus and His heart for people? We might not have seen it coming, but we're oh-so-glad they recorded this reimagined version of "You Will Be Found," complete with a high church choir.
The original was penned by master lyricists Benj Pasek and Justin Paul, the award-winning songwriting/production duo behind acclaimed cinematic blockbusters like "La La Land" and "The Greatest Showman."
RELATED CONTENT: Cory Asbury Celebrates Deliverance on "Egypt"
As the two acclaimed recording artists put their spiritual stamp on this fresh edition of the emotive track, Grant's impeccable range combines with Asbury's quiet grit to create an unparalleled redemption story. Suddenly, "You Will Be Found" isn't just a song about helping a friend find their way out of the fogginess of depression and anxiety; it's about a Savior who picks us up when we're broken and on the ground.
"I believe the love of Christ can find us wherever we are. No one is ever too far gone for the love of God to find them. But I was also just struck by how I have a responsibility to be that love to everybody around me," Grant contends. "This message is a right now message. So many people in our lives are hurting and need hope. We are all fighting battles, but a little love goes a long way…. Check on your people. Ask hard and honest questions. Be a listening ear, and always have open arms. I hope you enjoy our version of this song."
Both Grant and Asbury are respectively working on forthcoming albums. Meanwhile, Grant and her husband, Bernie Herms, will bring a string of stripped-down, living room-style performances to audiences this spring before Grant heads out on the all-female "It's Time Tour" with fellow leading ladies Tasha Cobbs Leonard, Naomi Raine and TAYA.
As for Asbury, he'll preview new songs on "The Pioneer Tour," which runs through April and features special guest Riley Clemmons.