Posted on Monday, Sep 13, 2021 by Lindsay Williams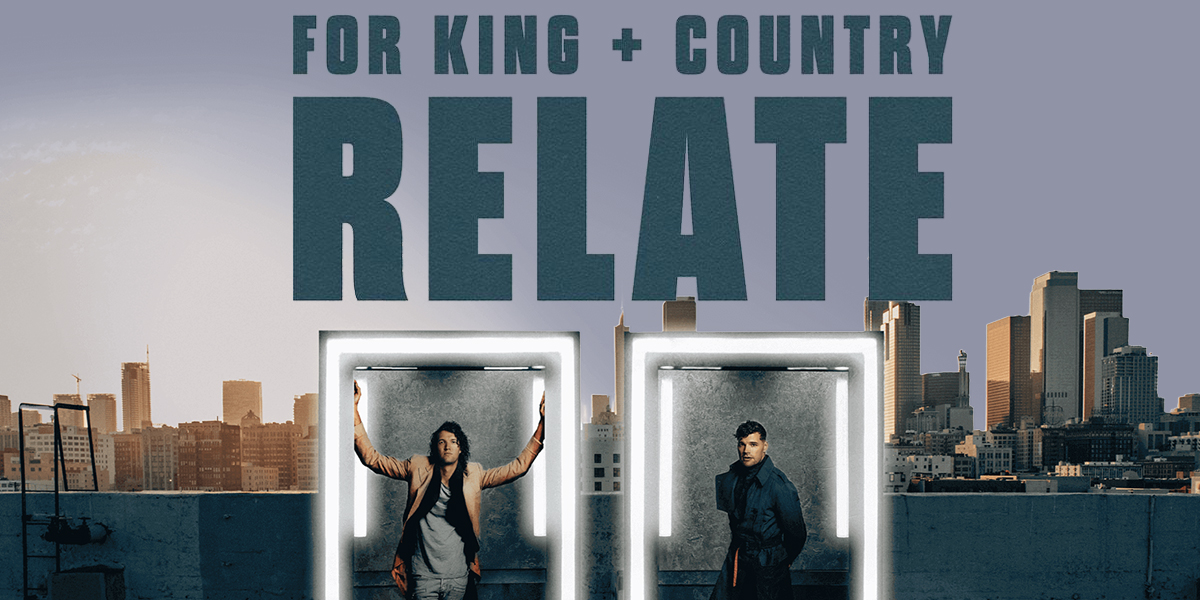 for KING & COUNTRY Celebrate Our Differences on "Relate"
Acclaimed duo @for KING & COUNTRY have returned with a timely new single, "Relate." The fresh track asks a pivotal question as brothers Joel and Luke Smallbone admit, "I don't know what it's like to be you. You don't know what it's like to be me, but what if we're all the same in different kinds of ways? Can you relate?"
WATCH NOW: for KING & COUNTRY "Relate" Official Music Video
The unifying song attempts to bring people together despite our varied journeys and viewpoints, inviting listeners to see the beauty in our differences. "Relate" also drives home the point that the human experience is a shared experience, no matter where you come from or where you're headed.
WATCH NOW: Story Behind The Song "Relate"
"When we were writing the song, 'Relate,' we were starting to ask ourselves the questions: What does it mean to relate to people who grew up a little bit different from you? What does it mean to relate to people who have different thoughts than you? Is it possible to actually have empathy and compassion for people that you may not agree with?" shares Luke, who penned the single with Joel, Josh Kerr and Tayla Parx. "And so this song, 'Relate,' is very near and dear to our hearts, and it asks the question, simply: Can you relate?"
The song's official music video brings the poignant lyrics to life. Filmed in an old industrial warehouse on Skid Row in Los Angeles, the creative visual portrays Joel and Luke stepping into elevator shafts that transport them down numerous stories as an array of personal stories play out in front of them.
WATCH NOW: for KING & COUNTRY "Relate" Live Performance Video
"Relate" follows for KING & COUNTRY's unprecedented five No. 1 hits gleaned from their Gold-certified album, Burn The Ships, and serves as the lead single from the act's upcoming fourth full-length studio release.
The 13-time K-LOVE Fan Award winners will share "Relate," as well as other new selections, on "RELATE | The 2021 Fall Tour," their first arena outing in two years. Then, the brothers will cap the year with a 14-city Christmas tour.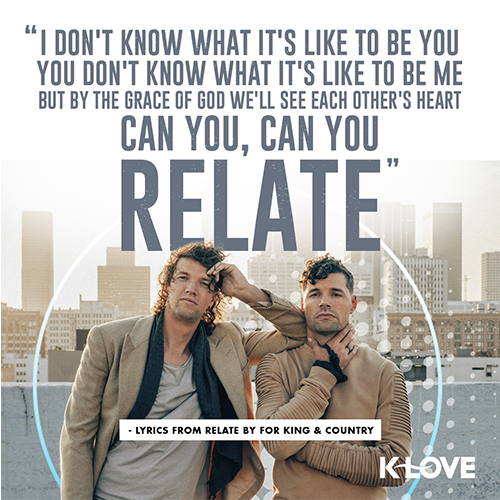 ---
Don't Miss a Beat & Sign Up for K-LOVE's Music Updates!
Get monthly emails with updates on new music, videos, and exclusives from your favorite Christian artists on K-LOVE!