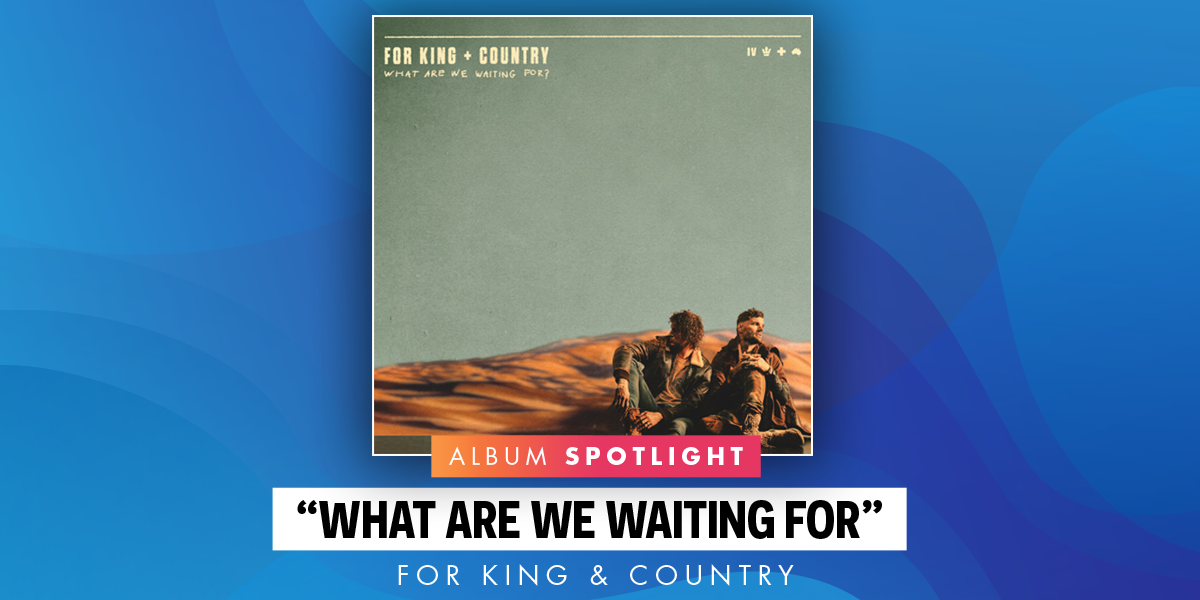 What are we waiting for?
This is the overarching question brothers Joel and Luke Smallbone ask on @for KING & COUNTRY's fourth studio project. But rather than offer pat answers or serve up tangible solutions, the acclaimed duo leaves it open to listener interpretation, thoughtfully propelling fans toward action.
Listen Now: What are we waiting for?
From the universal empathy of opening track "Relate" to the prayerful refrain of album closer "Benediction," What Are We Waiting For? swirls with relevant conversations around relatable topics like unity, unconditional love and unseen insecurities.
WATCH NOW: "Relate" Official Music Video
With rare space to pause and ponder the state of the world, no doubt, crafting their latest effort during a global health crisis enabled for KING & COUNTRY to approach What Are We Waiting For? through a different lens.
"I think it made us all search a little bit deeper, look a little bit wider, and ask some different questions," Joel admits of their recent opportunity to record while off the road. "For me, man, I like boxes. I like order. I'm a little bit of a control freak, and so I just found myself reconciling this idea of where true happiness is found. Is it when we try and contort ourselves or God or others to fit into our own small box of what we think life should look like? Or is it when we open up our hands and release control?"
Much of the new, open-handed collection centers on family — likely because of the brothers' physical proximity to their own family as they were working. For the first time in their career, Joel and Luke were able to craft a record from the comfort of home. The gift of long stretches of concentrated time allowed them to observe the life that was happening all around them daily and, in turn, write about it.
That's why warm selections like "Seasons" and "Cheering You On" feel like astute sketches of lifelong relational commitment, with their wives, Moriah (Joel) and Courtney (Luke), undoubtedly providing inspiration, along with Luke's four kids. The album's most familial track, however, comes in the form of the cinematic "Unsung Hero," a song dedicated to the Smallbones' parents. The tear-inducing track tells a slice of the Smallbone story and the sacrifices made by the family's beloved patriarch and matriarch, who taught their seven children to rely on God's provision in all circumstances.
WATCH NOW: "Unsung Hero" Official Music Video
It's this same genuine faith, passed down from their parents, that shows up on multiple tracks on What Are We Waiting For? While "Love Me Like I Am" could easily be construed as a song about the unreserved love of a spouse or even a parent, those who know the heart of the brothers, realize the song is about the lavish love of their Heavenly Father. "For God Is With Us" attempts a modern retelling of both the birth and death of Christ, and "Shy" boasts of their desire to boldly share the Gospel.
WATCH NOW: "For God Is With Us" Official Music Video
In the spirit of community, for KING & COUNTRY invite @Kirk Franklin and @Tori Kelly to join them on "TOGETHER," the act's quarantine anthem that soared to No. 1 in advance of the album's release. Alternative artist Sleeping At Last appears on "Harmony," the companion track to "Unsung Hero." Additionally, @Dante Bowe — the group's spring tour mate — provides an assist on a call for a ceasefire on standout cut "Unity."
WATCH NOW: "TOGETHER" Official Music Video
Longtime for KING & COUNTRY collaborator Josh Kerr co-produced and co-wrote the majority of the record alongside the 13-time K-LOVE Fan Award winners. While Kerr (brother to recording artist @Hannah Kerr) is best known for working with country acts like Little Big Town, Kelsea Ballerini and Maddie & Tae, he's been a champion of for KING & COUNTRY from day one and brings a strong lyrical bent and a unique pop sensibility that appear to be key elements in the duo's successful formula. Case in point, Kerr helped bring to life their smash hit, "God Only Knows," a masterclass in faith-filled pop.
RELATED CONTENT: K-LOVE Cover Story: for KING & COUNTRY
Together with Kerr, Joel and Luke have managed to create an album that perfects the combination of ingredients that have made them a Platinum-selling act and a perennial fan favorite — shared sentiments, tight harmonies and a modern pop soundscape. Above all, it's their steadfast authenticity, heartfelt delivery and unwavering brotherhood that continue to define for KING & COUNTRY's growing discography.
As always, the songs on What Are We Waiting For? are simply waiting for an audience, primed for the duo's electrifying live show. Fans can catch them in concert as they bring their state-of-the-art production to 33 cities this spring.
Get your copy of What are we waiting for? here.