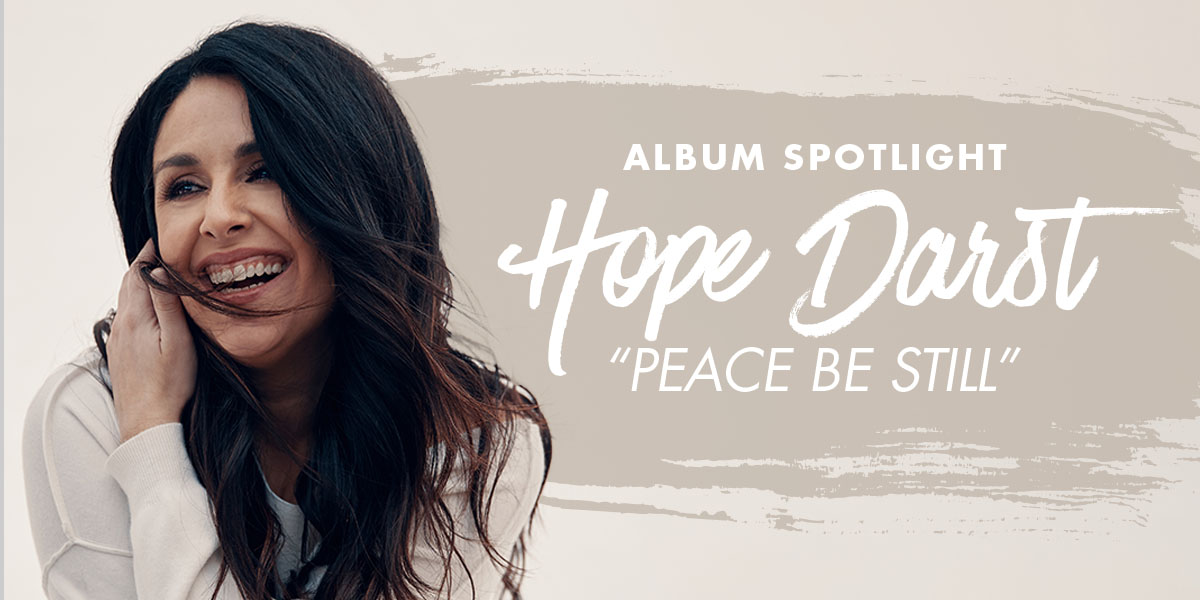 @Hope Darst has waited her whole life to release an album, but Peace Be Still is far more than a debut. It's the culmination of a lifetime of dreams, prayers, and moments of surrender.
The mother of two laid down her aspirations of becoming an artist years ago in favor of raising her family and serving her local church. Yet, God was faithful to bring her dead dreams of artistry back to life.
While Peace Be Still serves as Darst's official artistic introduction, the collection feels like a natural offshoot of who she is as a songwriter and worship leader. Interspersed with moments of spontaneous worship, seven of the album's 12 tracks were recorded with a full band and choir of voices at Nashville's Tracking Room, allowing listeners a glimpse into how Darst leads worship at her home church, The Belonging Co., and giving the studio album a live feel.
From the bright instrumental opening of "Surrender" to the sparse, prayerful conclusion of "Start Over," Peace Be Still traces Darst's personal story across the dozen tracks. Filled with lush, sweeping melodies, instances of gentle reflection and robust choruses ready-made for worship, Darst's debut is sonically satisfying on every level. Her more intimate vocal moments recall Christy Nockels, while her turn of phrase is often reminiscent of Brooke Ligertwood.
RELATED: Hope Darst Releases Official Music Video For "Peace Be Still"
The stunning title-cut, "Peace Be Still," is evidence of Darst's powerful voice and ability to pen a lyric that breaks through the noise. Interestingly, the song had a past life before Darst ever recorded her own version. She wrote the worship anthem with fellow songwriters Mia Fieldes and Andrew Holt back in 2017 for their church. Lauren Daigle ended up recording it for a Belonging Co. project, and Daigle's rendition quickly made its way to churches around the globe.
"To know this song has gone all over the world declaring God's peace over people's lives and fears has absolutely blown me away and been a picture of what I hope all the songs on the album do—remind us that the promises of God will never fail," shares Darst. "I am beyond grateful for all the radio stations, like K-LOVE, who have made that possible by supporting 'Peace Be Still.' I will never stop being amazed by all God has done with the song."
Rich in lyrical depth, the album also showcases her gift for penning songs that help the listener proclaim the promises of God, despite their current circumstances. Much like "Peace Be Still," selections like "Promise Keeper" and "Sing My Way Through" declare the promise before it's seen. It's a practice Darst herself is well acquainted with, and perhaps that's what makes these songs so sincere.
Overall, Peace Be Still feels less like a debut and more like an offering a veteran artist would release. It might appear Darst is a late bloomer, but Peace Be Still argues the 39-year-old is right on time.
WATCH: Hope Darst "Peace Be Still" (Official Performance Video)