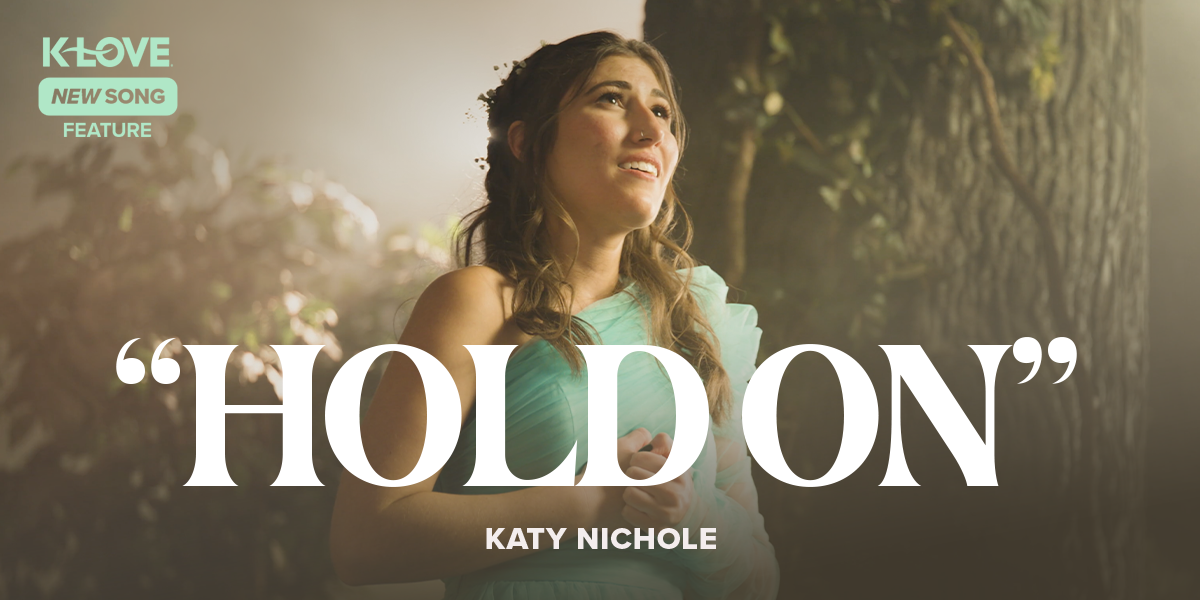 @Katy Nichole almost ended it all with a bottle of pills. The singer/songwriter was experiencing so much pain from chronic illness, putting a permanent stop to the suffering felt enticing. Yet, in her darkest hour, she chose to believe her story wasn't over. And now, the 22-year-old shares her incredible account of transformation and redemption on "Hold On."
WATCH NOW: "Hold On" Official Music Video
Swiftly arriving and settling in around her like "a dense fog," depression overtook Katy's life in her season of sickness. It was during this time that the K-LOVE Fan Award winner came to the end of herself and considered suicide. She was literally gripping a bottle of pills when she says she heard the voice of God clearly tell her, "Hold on. I'm not done yet."
RELATED CONTENT: Album Spotlight: Katy Nichole, "Jesus Changed My Life"
That pivotal moment gave her the supernatural strength she needed to see beyond the darkness that threatened to engulf her and eventually birthed her third radio single, "Hold On," a piano-led, string-laden track found on her full-length debut aptly titled "Jesus Changed My Life." "This song was written over so many seasons of my life. It's been probably eight or nine years in the making," Katy shares of the selection she penned with David Leonard. "Really, this is a song of hope. I actually discovered who God was. God wanted me, and I didn't even understand that until the moment I wanted to give up. Even as a believer, I didn't know it was God until later on when I realized, 'Oh, my life's purpose is to serve.' This song encapsulates that there's a bigger picture beyond what you can see in the moment — beyond the pain, beyond the struggle. And holding on was the only way I could see that."
WATCH NOW: Exclusive Interview with Katy Nichole
The compelling visual for the delicate ballad brings the two-time chart-topper's story to life. Dressed in a stunning crystal blue gown, Katy's future self sings of hope and perseverance while standing in the midst of a framed portrait depicting a dark forest. Meanwhile, her present self battles the demons of depression that ultimately lead to a fateful moment of indecision. In the end, present-day Katy steps into the portrait in search of the girl she knows she can become. The clip concludes by offering a phone number and website where those who are struggling with suicidal thoughts can seek help.
Like a rainbow after a storm, Katy hopes listeners are able to cling to the promise waiting for them on the other side of depression when they hear her new single. "I wouldn't be here today if I hadn't held on in that moment of darkness," she offers. "Believing there was a light at the end of the tunnel was the best thing I ever could have done for myself."
WATCH NOW: This Is My Story With Katy Nichole
Propelled by the unexpected viral energy of "In Jesus Name (God of Possible)," the virtually unknown singer/songwriter skyrocketed onto the Christian music scene at the top of 2022 and hasn't stopped since. The rising star recently wrapped up a spring stint opening for @CAIN and made her second appearance at the historic Grand Ole Opry. She has a full slate of festival and fair performances on her calendar throughout the summer.
If you or someone you love is struggling with depression or suicidal thoughts, a K-LOVE pastor would love to pray with you. Call 1-800-525-5683 or click here to request prayer.